A Couple of Short Takes on Customer Experience
Antiquated Telephone Company Practice
I am moving for the first time in 25 years. And the quarter-century-ago move was within the same city. So my landline telephone number (yes, I still have one of those) hasn't changed in well over 30 years! But I am now moving about 30 miles away, to a different area code, and, unfortunately, a different home/home office telephone number.
When I asked why I couldn't keep my number—even offering to pay a monthly fee to do so—I was told that Verizon (from whom my landline and number was transferred to a cable-based VoIP telephone line) would not allow same-number-transfer across "regions." According to my cable sales rep, "Even people in the next town from yours can't port their number because it is a different region." She told me that Verizon set those rules many years ago, and there is currently no way to get around it.
Verizon, or whichever telephone companies are still holding tight to the controls over phone lines, needs to loosen its grip and move into the 1990s (not to mention 2014). Mobile phones have supported transferring cell numbers for decades now. Why isn't the same portability available for "landlines" (and many of these are internet-based, such as cable-supported voice services)? Even though I'm not familiar with the technical aspects of telephony, I am certain that technology isn't the stumbling block. It is probably a cost issue—there is technology to make it happen easily, but it might cost the phone company to implement the tech (at least initially).
I expect that landline portability will happen within five years. Customers, educated by mobile practices, will demand it. And, as us old timers die off and are replaced by generations of mobile-only callers, the only way any landlines (or the companies that own them) will survive is to have equity between the two types of phones and calling capabilities. It's happened before; when cell phones started offering free long distance, the landlines were forced to follow or lose even more business.
Unfortunately, this change will happen too late for me. For those readers/clients who have my direct home office line, note that it will change as of next Monday—check www.customers.com for my new direct number after then.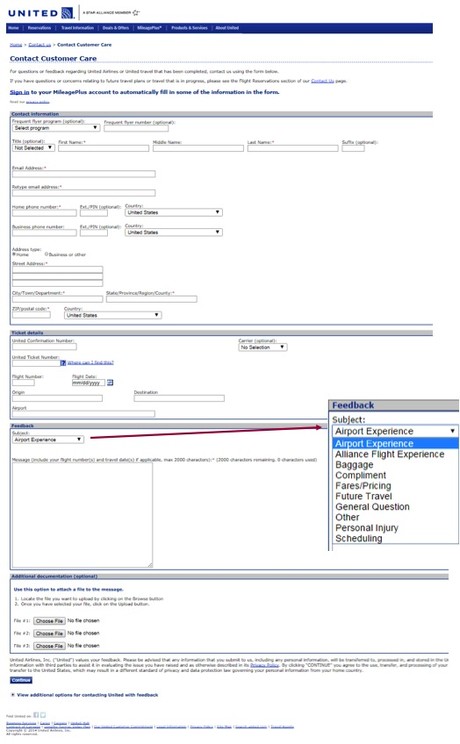 Make It Easy to Give Good Feedback As Well As Bad!
I recently returned from a trip to San Francisco (where I mentored a terrific client through her Customer Scenario Mapping Facilitation Certification process with her customers). I flew United Airlines. Now, United isn't my favorite airlines for a number of reasons:
Seat room is smaller than many competitors
Boarding method isn't based on where you are seated, but some other method I can't figure out, but which may have to do with price of ticket, loyalty membership, and whether you are seated in window or aisle (e.g., back rows aren't seated first, so you have to fight your way to the back of the airplane while others in lower numbered rows are dealing with overhead bins)
In-seat TV isn't free (as it is on, say, JetBlue); you have to pay about $8 to have access
But the airport and on board staff more than made up for it on my return flight. You see, I had slipped the morning before my flight, and my bad back was acting up. By the time I got to the airport at 11:30am, I was in quite a bit of lower back pain. I approached the agent behind the desk at the gate and told her my situation and asked if there was anyway I could board before my group (3 or 4, I'm not sure which boarding group I was in). She graciously said that I could pre-board and asked if I wanted a wheelchair. I gratefully declined the chair but accepted the early boarding. And, when boarding began, she gestured me over and sent me down the entry immediately.
I had been assigned an aisle seat in the third-to-last row, but I was concerned about getting into the seat because of my back (and getting out if I had to use to restroom or just stand to alleviate back pressure. I mentioned my predicament to one of the flight attendants, Stephanie, who was helping me put my bag in the overhead bin. She called over her associate Ann, and the two of them went to work. Just a few minutes later, they had a volunteer with an aisle seat (in the last row) who was happy to switch with me (he didn't like being right in front of the restroom).
Ann moved my suitcase to be right above me as Stephanie helped me out of my window seat into my new aisle seat. They both checked in with me a number of times during the flight, offering me Advil and, more important, their sympathy and support. As the flight drew near Boston, they offered to get me a wheelchair to de-board, but I again gratefully declined.
A few days later, I wanted to send a thank you to Stephanie and Ann. I went to the United Airlines website. It took about three clicks to reach an email feedback form. When it came to selecting the subject of the email, my choices were:
Airport Experience
Alliance Flight Experience
Baggage
Complaint
Fares/Pricing
Future Travel
General Question
Other
Personal Injury
Scheduling
I selected "Other" and sent this message: "I want to commend two of your flight attendants: Stephanie and Ann, on flight 1752 from San Francisco to Boston on September 5. I had fallen prior to arriving at the airport and was in some pain. Stephanie and Ann looked out for me throughout the flight to make sure I was comfortable, didn't need any extra assistance, and that I was doing okay despite a rather bumpy flight. They were so kind and concerned. They made what might have been a terrible flight so much better! Please thank them for me. And let them know I'm much better!"
I received an automated response immediately saying that my message was received and would be reviewed and responded to in few days. It did take nine days to get a personal response, but it was worth the wait:
"Thank you for contacting United Airlines although I apologize for the delayed response.

Thanks for taking the time to compliment the great service you received from Stephanie and Ann on your flight from San Francisco to Boston on September 5, 2014. It's always a pleasure to hear that our customers had a wonderful travel experience. I will be sure to forward your comments to their supervisor and know that they'll be thrilled to hear from you.

We appreciate your business and look forward to welcoming you on board a future United Airlines flight.

Regards,

Naomi Langley
Customer Care
8196621"
I liked the fact that I was given the name of the customer rep, that it was obvious that my message had been read, and that Stephanie and Ann would be commended for their actions.
But it made me think. Why wasn't there an email feedback topic for positive feedback? There was one for complaints! I do know that more people complain than compliment, but why not encourage the good feedback by making it an obvious category. They say you get what you ask for, so ask for kudos as well as complaints.
Incidentally, I would also like to see a feedback topic for suggestions. This would encourage customers to do more than just complain—they could also offer their remedies for what they don't like. Moral of all this? Let your customers tell you what you are doing well and how you can do better!
How Customers Want to Get Their Products Fixed and Problems Resolved
Identifying and Measuring the Key Moments of Truth in "Break/Fix" Customer Scenario® Patterns
By Ronni T. Marshak, EVP and Senior Consultant, September 18, 2014
If you would like to receive our weekly customers.com emails, click here.
0 comments