A Proud Day in Boston Sports History
Two nights ago the Boston Red Sox won the World Series at home for the first time in 95 years! As a Boston-based company filled with BoSox fans, we are thrilled (and sleepy—the festivities ended late) and want to share our delight with our readers.
All through the Series, however, we were constantly reminded of the Boston Marathon bombing and resulting devastation to so many people. Cries of "Boston Strong" were frequent—that motto was even moved into the grass in center field at Fenway Park.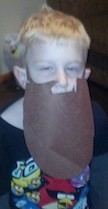 I found it a bit disingenuous. It felt as if the media was trying to play on the heartstrings of viewers, suggesting a cause-and-effect relationship between the tragedy and the victory (the Sox played better because they were playing in honor of the victims). I don't believe that. The Sox played well because they worked hard and have a great new manager in John Farrell.
But then I remember how I felt in 2005 and 2006 after the devastation of Hurricane Katrina. I found myself routing for the New Orleans teams because 1) it was good for the city's economy, and 2) it gave the citizens something to feel good about. I guess that heartstrings do play a part at least on the fan support level, and you never can underestimate the impact of support on performance.
For those Cardinal fans who read this, your team played valiantly, and we're sorry you are disappointed. But…Hurray!
Why the Beards?
According to Steve DiMatteo on Fansided.com, a team comes together for the stretch run of a grueling season by growing out their beards as the ultimate signal of male unity. "The tradition actually began in 1980 as the New York Islanders were in the midst of their own run to the Cup. Since then, it has been customary for teams to ditch the razors when the playoffs come around, with championship teams looking like haggard, battle-tested warriors finally tasting the sweet fruits of their labor."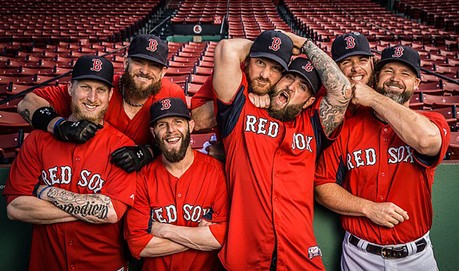 Boston's beard brigade (left to right): Mike Carp, Jonny Gomes, Dustin Pedroia, Ryan Dempster, Mike Napoli, Jarrod Saltalamacchia, and David Ross. Source: Sports Illustrated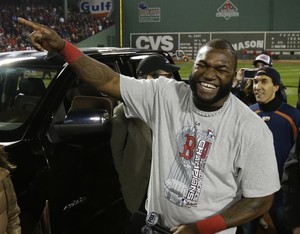 Boston Red Sox designated hitter David Ortiz enjoys the moment after being named the MVP after Game 6 of baseball's World Series Thursday, Oct. 31, 2013, in Boston. The Red Sox won 6-1 to win the series. Photo: Matt Slocum, AP. Source: SFGate, Hearst Communications, Inc.
0 comments