Best Sources for Complex Customer Service
Apologies to Ray Parker Jr. While your question or a problem may not be about ridding your neighborhood of ghosts, "Who You Gonna Call" to get the answer or solution that you need?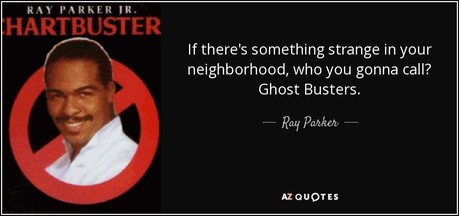 Getting help on the Internet or on your mobile device is easy—type it into the search box of your favorite Internet search engine or ask Siri, now Alexa and Cortana, too. But it's not always easy to get an answer or a solution to complex, detailed, or involved questions and problems. Who You Gonna Call with those?
Answering Questions and Solving Problems
Over the past several months, I have had quite few questions and problems for which answers and solutions were not so easy to find. Here are some of them:
My Whirlpool electric dryer doesn't heat (or maybe it overheats before it doesn't heat).
My Toro gasoline powered lawnmower is hard to start and stalls when it does start.
My new iPhone 6s doesn't pair with the Bluetooth audio system in my car.
Which should I buy: an electric induction cooktop, a standard electric cooktop, or a natural gas cooktop?
DIY Answers and Solutions
Getting answers and solutions to these question and problems involves getting your hands dirty, literally or figuratively. These questions and problems are about what things do, how things are put together/assembled, and the way that things work. I want the inside information that I can use to get the answers and apply the fixes myself. I'm a DIY (Do It Yourself) kind of person, a DIYer. I'm willing and eager and I have tools. I enjoy the challenge and I revel in the satisfaction of getting the answers or fixing the problems myself. I'm not looking for a pro to do the work for me for a fee.
So who was I gonna call to get answers and fixes to the list of questions and problems? Let's take a look at these possibilities:
Social networks
Communities and forums
YouTube
Brand sites
Build and repair sites
Social Networks
Crowd sourcing answers and fixes from the members of my social network might not work for these kinds of questions and problems. While many of my friends and followers are DIY kind of people, too, the most I expect from a crowd-sourced approach is a reference to a web site or to an expert. Very helpful to be sure, but a step removed from what I need.
Communities and Forums
Communities and forums let members post questions and problems within topics in the hopes that other community members will reply with comments that contain answers and solutions. There are two types of communities and forums. The first type are those hosted and moderated by the brand about which customers ask questions or pose problems and receive answers and solutions from other customer as well as from subject matter experts (SMEs) who may also be customers or may be on the brand's customer service staff. These communities can be very helpful, especially so when the brand's employees monitor and moderate customers' questions and problems. Brand employee participation ensures correct answers and solutions. They're not so helpful when their answers and solutions lack detail or when their topics do not include the subjects of questions and problems. We've seen communities for software providers that seem only to suggest consulting services as answers and solutions. We've seen communities with topics only about making suggestions for product or service improvements or only about customer experience with a brand.
The second type of community or forum is hosted and managed independently of the brand that is the subject of its topics. Posts on these communities commonly contain complex, detailed, technical questions and problems. Comments frequently contain exactly the answers and solutions in the level of detail that DIYers crave. On the other hand, many of these communities have no moderation or monitoring by SMEs. They exercise no control over comments. For example, below is a post from acuraworld.com that accurately represents my question about Bluetooth pairing a new iPhone. The comment contains an unmoderated and unappealing answer.

Perhaps this answer does solve the problem, but I would never "Reset All Settings" on my iPhone to solve it. A better answer lists the steps to establish a new pairing in the car, a pain for sure because voice tags are phone-specific in my car's system. Be careful with communities and forums.
YouTube
YouTube has a huge library of DIY videos. Find the video that answers your question or solves your problem by searching within the site. YouTube's videos are posted by brands, by repair pros, and DIYers. YouTube does not monitor or moderate their content. So, DIYer beware. Be careful of whose advice you take.
A YouTube DIYer video, https://www.youtube.com/watch?v=0Ni-rdRyxA0, contained the fix to my starting/stalling lawnmower problem. I found it after searching independent communities for the problem symptom and learning that my problem was somewhere in the lawnmower's fuel system, likely the carburator. Note that Toro.com, the brand site for my lawnmower, was similar to Whirpool.com, offering downloads of product manuals.
Brand Sites
Brand web sites of brands may contain the level of information that answers detailed questions or that fixes problems with their products. For my dryer problem, I went to whirlpool.com, clicked the Owners tab, and clicked the Support tab to get to this site: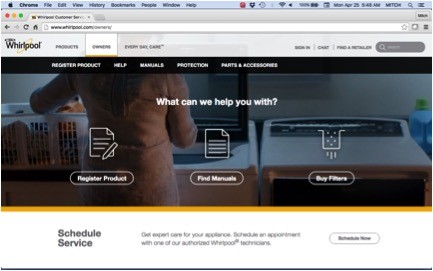 I followed the Manuals tab/Find Manuals link then enter the Model number. For my model, Whirlpool provides three downloads:
Owners Manual
Installation Instructions
Parts List
The Owners Manual is a "Use and Care Guide." Its content is not model-specific or even specific to dryer type—electric or gas. It does contain an If You Need Assistance or Service section that provides some high-level troubleshooting information as well as telephone numbers and mailing addresses (It's an old dryer.). The Parts List contains numbered schematics and corresponding lists of parts numbers and brief description or names of every single part of the dryer. This information is essential to every fix because every fix usually requires replacement of broken parts and parts numbers are the mechanism for their identification. The Parts List manual also provides an idea of how the dryer is assembled and of how it works. The heating element, thermostats, and fuses are the causes and effects of not heating and overheating. These are parts are numbers 6, 7, 8, 15, and 17 on the schematic for Bulkhead parts shown below.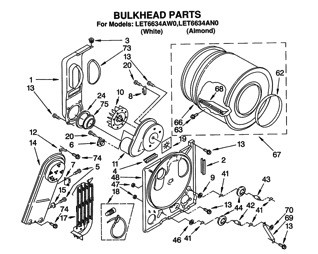 Looking at the schematic, it's difficult to visualize an assembled dryer and the locations of and accesses to the heating element, thermostats, and fuses. Mechanical/electrical aptitude and actual repair experience are required for that. You'll have them after a single repair, but don't call a pro yet. More online help is available.
Repair and Parts Sites
Repair and parts sites are exactly that online help. My fav is repairclinic.com. Go there, enter your model number and you'll see an extremely helpful page like this: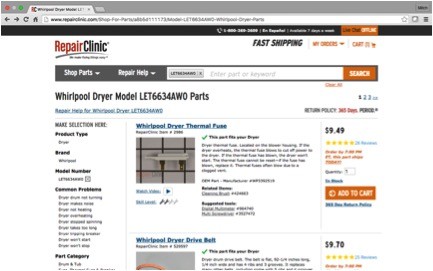 In addition to a list of parts with pictures and descriptions, Repair Clinic also provides a list of Common Problems on the left of the page. Click "Dryer overheating" to reach this page: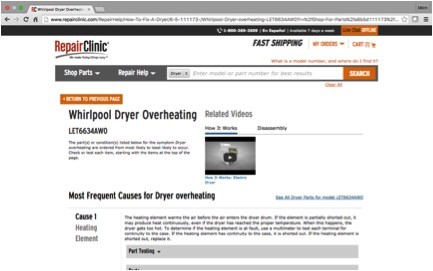 Now the fix is very close. This page contains everything you'll need to understand how dryers work, how/why they break, diagnose and verify the problem, identify the part causing the problem, and order the part to fix the problem. The ordered list of likely causes with descriptions and videos is especially helpful. I love this site. It contains similar information for lawn equipment, heating and cooling, and power tools as well as appliances. But, repairclinic.com is not the only site that provides diagnostics and parts for fixing these types of problems.
SearsPartsDirect.com contains information similar to RepairClinic.com and not just for Sears' products. ThisOldHouse.com, the web site for the long-running PBS series contains a wealth of answers and solutions to a wide range of home improvement and repair questions, problems, and projects. Answers and solutions are easy to understand videos presented by the show's experts. The video library is continually growing.
Cooktops
The last item in my list is a product research question about cooktops. Regarding cooktops, I was ready to replace my 30 something year old electric cooktop with a gas cooktop. My product research started, as it usually does on ConsumerReports.org. It's a subscription site. I've been a subscriber and a member for many years. First, I looked at the Buying Guide for cooktops where I learned about electric induction cooktops. The description and analysis changed my mind about gas. Then I went to product ratings of electric induction cooktop products. Consumer Reports rated GE Profile products highly and my wife and I have been very happy with the other GE Profile appliances in our kitchen. That's what we bought. Of course, I installed it.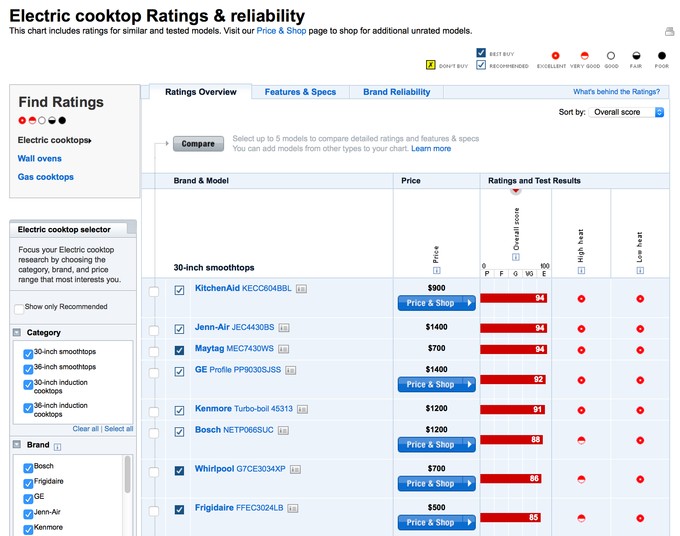 Recommendations
The Internet is a wonderful resource for getting DIY answers and solutions. The challenge for DIYers will be identifying the correct and most usable answers and solutions from a myriad of reasonable possibilities. Who You Gonna Call? Generally, we recommend:
Brand sites
Moderated and monitored communities
Build and repair sites
YouTube
More specifically, RepairClininc.com and, especially, ConsumerReports.org are our favorites. Your subscription and membership fees to Consumer Reports will be paid back many times over with the best product research.
0 comments