Co-Designing a Community Center
On Saturday, August 29th, we held the Grand Opening of our new Community Center here in Boothbay Harbor, Maine. It was a fantastic event--about 300 people showed up to tour the new facility during the Open House. What makes this event significant is the way it was done, what it portends for things to come in this small rural coastal community, and a few lessons learned about grassroots community development.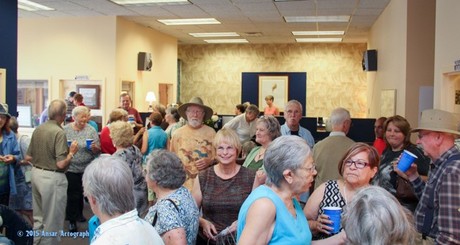 Patty Seybold grinning in the center of the crowd at the Community Center Grand Opening.
Lessons Learned
Build trust and enthusiasm by inviting customers/end-users/citizens to customize and to contribute.
Create a simple, small governance structure -- a handful of folks who care, listen, and adapt.
No hidden agendas--what you see is what you get.
Don't understimate peoples' willingness to get involved in something that will benefit others.
Be inclusive: collaborate with all the key players in the community.
Move quickly to get something simple up and running and then evolve.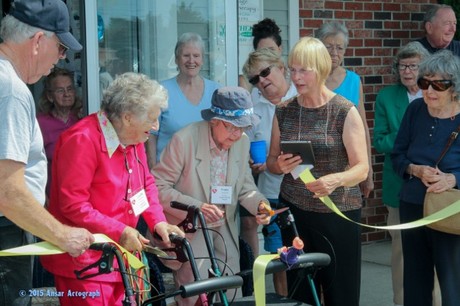 Ribbon cutting: Lucille Machon, 98-year old Boothbay Harbor native (left), Trudie Seybold, 98-year old summer resident, both cut the ribbon, marking the official opening of the Wellness Foundation's new Community Center.
Why a (Senior) Community Center?
The idea for having a Senior Center on the Boothbay peninsula where I live in Maine, arose two years ago from the research our non-profit organization (Boothbay Region Health & Wellness Foundation) did about health and wellness needs in the area in the aftermath of the closure of our community's 105-year old full service hospital and 24-hr. emergency room. We discovered that our year-round population of 7,000 skewed heavily towards the senior set, and that our summer influx of 18,000 seasonal residents were primarily retirees, their children, grandchildren, and great grandchildren. We also learned that many people who live in the area during the winter live alone, and their children live far away.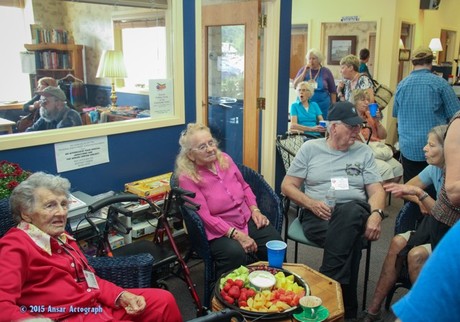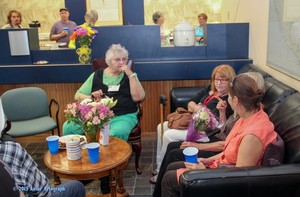 Our winters are harsh. It can become quite isolating to live in a small town that empties out in the winter. All the seasonally-supported restaurants and shops close, leaving a bare bones set of services (which still include some amazing amenities, like our well-endowed YMCA, and Coastal Botanical Gardens, both open year round). But, in the winter especially, and throughout the year, there are lonely people, elderly couples who struggle to care for one another, as well as younger retirees who are looking to become more engaged in their community. There are also younger families with single parents or two working parents who live close to the poverty line, and don't have the time or wherewithal to support this Naturally Occurring Retirement Community (NORC).
Maybe Not
Although it seemed that the need for a Senior Center existed, many of the people in other local non-profits serving seniors weren't sure about whether we needed yet another place for folks to congregate. We already had the library, the Y, a couple of coffee shops, the pizza place, the local retirement complex--St. Andrews Village, and quite a few churches, they pointed out. So, we put the idea on the back burner and went back to our main initiatives: Our Seniors Walk Free at the Y program, our People Helping People program--a web of volunteer-provided services for seniors who need help living independently in their homes as they age--, and a new primary care/mental health/behavioral health center, Boothbay Region Health Center, to keep people proactively healthy and happy.
Inspiration Came from Bangor, Maine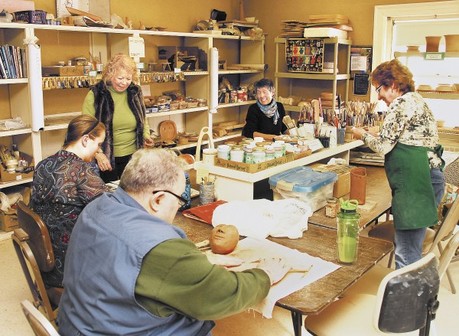 The pottery room at the Hammond Street Senior Center in Bangor, Maine
This past Spring, one of our Board members, Shawn Lewin,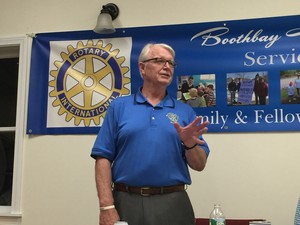 who had moved to our area from Bangor, Maine, suggested that if we wanted to see an example of a good Senior Center in action, he would lead a tour to the Hammond Street Senior Center in Bangor, which has been in existence for 15 years. Two other Board Members, Jane Good, and Margaret Perritt, took Shawn up on the offer and they embarked on what turned out to be a catalytic road trip. They toured the Senior Center in Bangor, talked with many of its members, watched folks enjoy the myriad activities there -- from pottery to gardening to billiards to poker, to a Senior University and a complete Fitness Center, to name just a few. The trio spoke at length with the Executive Director, Kathy Bernier. The wonderful three story Senior Center on Hammond Street has been in existence since 1999 and has over 1,000 members, ages 55+. But, the organization has been struggling to maintain the beautiful 3-story building they were given and keep all its many programs going, with too little financial support from the towns it serves. Her advice: start small in rented space, grow slowly and organically. And, make sure you have a lot of parking--Mainers are independent; they won't carpool or ride in a van, she said. Shawn reports that during the 2-hour drive home, Jane and Margaret talked non-stop about ideas they now had for a Senior Community Center in our region.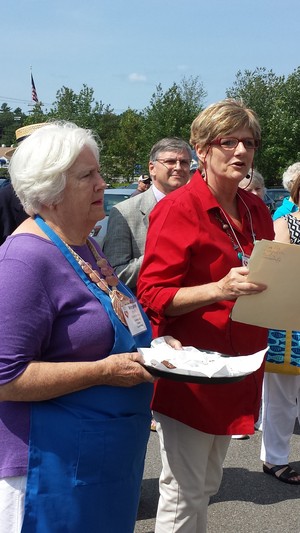 At the next Foundation Board meeting, in June, 2015, Jane, Margaret, and Shawn pitched their ideas. The Board unanimously approved the idea of piloting a Senior Center in a rented space with ample parking for one year. The idea would be to make it free to all, to see whether it could be sustained by donations, and whether the four towns on our peninsula would vote to support the Center financially once it was up and running and serving the people in our four communities.
The team quickly settled on the perfect venue: a long unoccupied former bank branch office in the strip mall in the middle of town, next to the Family Dollar store, across from the local supermarket, near the drug store, the pizza parlor, the movie theater, a local doctor's office, a used clothing and housewares store, and our popular tech support/print shop, Harbor-Tech. There's a large parking lot and the single story location is handicapped-accessible. In order to get the landlord on board, Shawn gave another tour around the Hammond Street Senior Center in Bangor to showcase what our group had in mind for the currently under-occupied mall in Boothbay (with three big retail spaces empty). As a result, the team negotiated a one-year lease at favorable terms as a non-profit. Then, they found a generous donor (my mom!) to cover half of the first year's rent and utilities--confident that they could raise the rest.
Community Center Committee members, Margaret Perritt (left) and Jane Good (right) giving the opening address.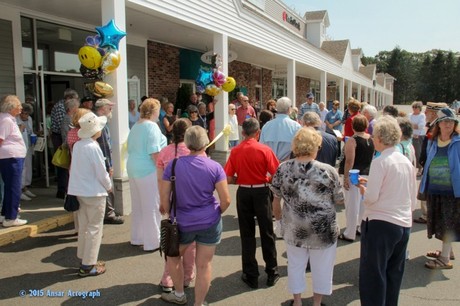 The Community Center is located in the Meadow Mall in the commercial center of Boothbay Harbor, (not the tourist center)
Then, miracles began to occur, as they do when people in a small town come together to create something new. Donations of furniture, paintings, and labor poured in. Within 4 weeks, the entire 6-room suite was beautifully furnished, repaired, and equipped with all the necessary supplies and many beautiful touches.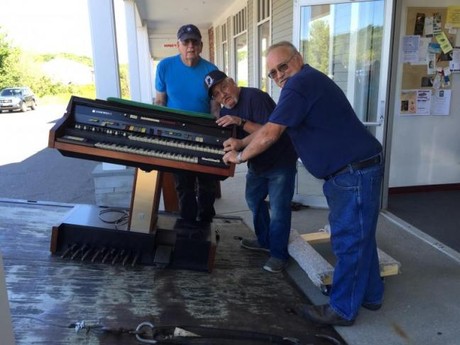 Photo courtesy of Boothbay Register
An organ was donated. Local contractors repaired the plumbing, resurfaced the kitchen floors,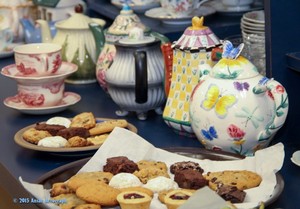 fixed the bathroom lock so nobody could be stuck inside. Mary Connelly and Alice Grant, two board members, replaced the plywood covering the former drive through window, refinished the wall, and painted it to match the rest. Other board members scrubbed floors, washed the collection of beautiful dishes that began to arrive. Every day, people dropped by to sneak a peak, see what was needed, and lend a hand.
From Senior Community Center to Community Center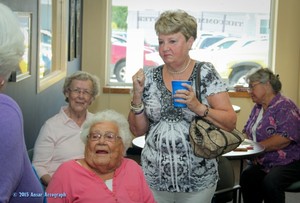 During the weeks of frenzied preparation, before our Grand Opening, the community was abuzz. We ran articles in the local newspaper each week, keeping folks up-to-date on progress and reporting on what was still needed. There were many comments about the name and purpose of the Center. Many of the people for whom the Center was being designed and who welcomed the idea had one major reservation: "I don't want to go to a SENIOR Center," they all said. "That's for people who sit around drooling. I'm still young and active!" And so, the Center Committee--Jane Good, Margaret Perritt, Shawn Lewin, Donna Morey, and retired Sea Captain, Ted Schmidt--decided to drop the "Senior" and just call it a Community Center. The vision all along was that the Center would encourage multi-generational activities--serving as a welcoming place for kids to come after school to get some help with their homework from an adult, or to show an adult how to use a computer to Skype with their grandkids.
Engaging People to Customize THEIR Community Center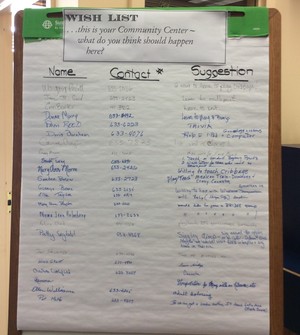 From the outset, Jane Good made it clear that community members should decide what they wanted to do at the Community Center. She told everyone that there would be two big lists from day one:
What Activities would I like to have here?
What Activities Can I Provide?
At the Grand Opening, the lists went up -- and the 300 people who came to see and enjoy the new space, quickly filled a several pages with suggested and offered activities. Several classes were created and offered, sign up sheets miraculously appeared. People began scheduling activities.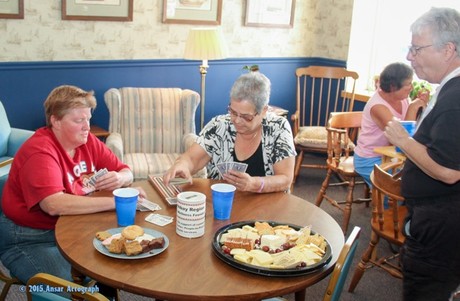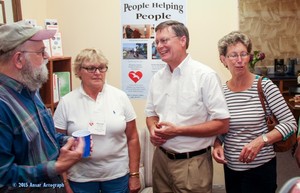 The Community Center began operations today. It is staffed by volunteers. Quite a number of people dropped in to hang out, socialize, work on a puzzle, play a tune, get a cup of coffee and read the papers. I suspect that it will become part of a number of peoples' routines.
From Community Center to Health Center?
I believe that our Community Center will pave the way for our much more ambitious initiative: a community-governed Health Center. The Health Center's services are badly needed, but we believe that the community needs to become really involved in its creation and its birth in order to value and use it.
What we're learning from the Community Center effort is that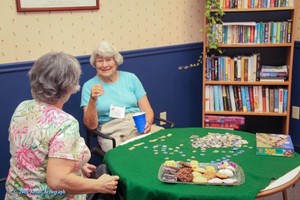 if we build it, offer it to the community, provide the framework, and ask for people to contribute their skill, talent, furniture, and good will, they WILL come. I am hopeful that we'll find the same spirit of cooperation and level of participation as we launch the Health Center. Instead of having the build out done by professionals "from away," I'm hoping that our local tradesmen will contribute their time and talent and use local materials to build and design a modular facility that can evolve over time.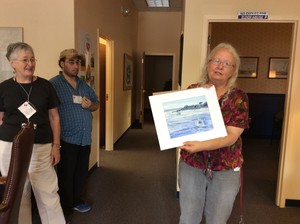 Judy Stone shows off a watercolor she did in a class with Selina Reid at the Community Center
A Lesson from Uganda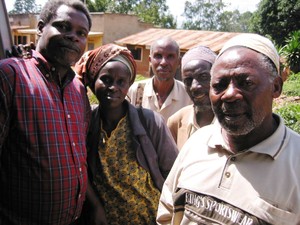 Over the weekend as I have been ruminating about the Community Center achievement and what it portends for how we can pull off our Health Center project, I remembered a story that my mentor, Mwalimu Musheshe, told me about his early days as a community development professional. Musheshe was working in a rural village in western Uganda, trying to help the local people create a vision for what they wanted and to help them achieve it themselves. After talking to many of the village elders and farmers (both men and women), as well as to people of all ages, Musheshe "knew" what the community needed most: they needed a better road between their town and the next nearest town in order to get their produce to market and their kids more easily to school. Musheshe knew how to mobilize people to do the work themselves. He could show them how to clear the brush, widen the paths to make a real road, and help them get work parties going to get it done.
But, to his surprise, despite the fact that everyone said they needed and wanted a new road, they weren't showing up to help organize to build one. So, he asked again, "what do you really want in this community?" One of the young men said, "we need a place to play football." This suggestion was greeted with lots of approval. Musheshe was a bit put off. Having a sports field didn't seem to him to be the highest priority for the people in this undeveloped region. But he went along and asked where they thought they could get the land for a football field. There was a lot of discussion, and finally one farmer offered a piece of unused land that was too small, and his neighbor, offered a parcel from his abutting farm. Everyone went trooping over, and they agreed that this would work. Almost immediately, people began to clear the land, and to level it out. Musheshe came back a week later and brought soccer balls. His gift was well received, teams were formed and a game was started, with much enthusiasm.
About 6 months later, Musheshe returned. The football (soccer) games were now a regular part of the community's life, but the teams were getting restless. "We're getting pretty good," they said. "We think we can beat the team in the next town, but it takes us too long to get there, and for them to get here. We need a better road between our two towns." "No problem," Musheshe said, "I can show you how to build your own road. You start at your end, they'll start at their end, and soon, you'll have a better road."
0 comments