Customer Service Suppliers' Quarterly Update 3Q2013
This week, continuing our tenth year of quarterly updates on the suppliers and products in customer service, we published our 3Q2013 Customer Service Update Report. Just a reminder, these reports examine customer service suppliers and their products along the dimensions of customer growth, financial performance, product activity, and company activity. We currently cover 10 leading customer service suppliers: Clarabridge, Creative Virtual, eGain, Intelliresponse, Kana, Moxie, Next IT, Nuance, Oracle, and Salesforce.com. They lead in overall market influence and share, in market segment influence and share, and/or in product technology and innovation. These firms provide a variety of customer service software solutions, most of them hosted in the cloud and accessible via mobile devices. Their solutions include customer service case management, knowledge management, and process management, tools to support agent and customer collaboration, and tools to monitor and analyze customer conversations on social networks and respond to them. Some of these firms provide virtual assisted-service using virtual agents. Others provide Voice of the Customer monitoring, analysis, and interaction. Some provide targeted marketing offers based on customers' interactions.
3Q2013 was a good quarter for customer service. Customer growth was up and improved customer growth resulted in improved financial performance. Product activity was light. Six of our suppliers did not make any product announcements, but remember that third quarters are usually never big for product announcements. Company activity was also on the light side, but what company action we saw was highlighted by expansion into new markets by four of our suppliers.
Moxie claims to have doubled its European customer base in the last six months. New customers include Allied Irish Bank and the British Army. IntelliResponse and BolderView recently launched "Olivia," their first joint virtual agent deployment. Olivia is the virtual agent for Optus, Australia's second largest telecommunications provider. And Creative Virtual, a UK-based virtual agent software supplier that we've been covering in our quarterly reports for the past four quarters, recently announced Sabine, the Dutch-speaking virtual agent for NIBC Direct, the online retail unit of the Hague, NE-based bank. Sabine's deployment is supported from Creative Virtual's new Amsterdam office. See Sabine at the bottom right of NIBC Direct's home page, below.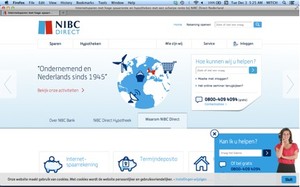 International expansion demonstrates the strength and viability of customer service suppliers. Their products have reached the level of maturity and reliability that their deployment "far from home" carries little or no risk. They have the resources to open offices and hire the staff to promote, sell, and support their products in new markets. And they recognize the potential for new and additional business in those markets.
That's a key customer service trend and a solid indicator of customer service growth in the quarters ahead. Here's a bit more detail:
On July 17, IntelliResponse and BolderView, a Melbourne, AU-based consultancy specializing in virtual agent solutions for large enterprises in utilities, banking, technology, higher education and government markets, jointly announced that BolderView had become a value-added reseller of IntelliResponse VA for Australia and New Zealand. Within the release, IntelliResponse also announced the opening of its own office in Sydney, AU.

On September 5, KANA and Wipro jointly announced a partnership that will apply Wipro's consulting, systems integration, and insurance industry expertise and experience to accelerate deployments of KANA Enterprise for large global insurers and financial services providers. The companies will form a dedicated, joint deployment team to work on customer deployments.

On September 17, Clarabridge announced the expansion of its global operations into Latin America. A sales team will use Miami, FL offices and will leverage Clarabridge's partnerships with Accenture, Deloitte, and Salesforce.com initially to focus on opportunities in Argentina, Brazil, Chile, Colombia, Mexico, and Peru.

On September 25, Moxie announced the expansion of its operations in Europe. The expansion includes opening an office in Reading, UK, forming partner ships with Spitze & Company in Denmark and IZO in Spain, and appointing Andrew Mennie General Manager for EMEA.
This expansion is a win for customer service suppliers, a win for their customers, and a win for their customers' customers. Our suppliers' customers and their (end) customers in Australia and New Zealand, Latin America, and Europe benefit, too. Customer service applications like Clarabridge Analyze, a CEM (Customer Experience Management) app; Creative Virtual V-Person and IntelliResponse VA (Virtual Agent) virtual agent apps; and Moxie Social Knowledgebase, a social customer service app, have been proven to lower cost-to-serve and to improve customer experiences. Companies in expanded markets that deploy these apps will have more satisfied, more profitable customers. These apps will help answer customers' questions and solve customers' problems more quickly and more easily.
We've been ready for this expansion. Language support has long been a criterion in our frameworks for evaluating customer service applications. We examine the languages that the apps support for internal users and the globalization/localization facilities to deploy the apps to end-customers. Generally, we've found that most customer service apps can be localized to support locale-specific deployments. On the other hand, the tools and reporting capabilities for internal users tend to be implemented and supported only in English.
In 2013, we published in-depth reviews of the following solutions:
Currently planned in-depth product evaluations include:
Next IT Alme will be published on December 12, 2013
Nuance Nina Web product evaluation is planned for 1Q2014
Creative Virtual V-Person product evaluation is planned for 1Q2014
KANA Experience Analytics product evaluation
Moxie Software Social Knowledgebase product evaluation
That's the plan, but we're flexible. If you need or want the evaluation of a particular product, then please let us know. We're happy to adjust the calendar.
Customer Service Supplier and Product Update
3Q2013 Review of Ten Social Monitoring, Case Management, Self-Service, and Virtual Agent Suppliers
By Mitch Kramer, Senior Consultant, December 5, 2013
(Read the short sample and download the full article in PDF.)
0 comments