Desk.com from Salesforce.com—Way More than Entry-Level Customer Service Capabilities
We've just completed our product evaluation of Desk.com, Salesforce.com's customer service offering for very-small, small, and mid-sized businesses as well as for small departments in larger organizations. The product is based on technology that came to Salesforce.com in its acquisition of Assistly in September of 2011.
From positioning, pricing, and packaging perspectives, Desk.com is an entry-level customer service application. The smallest organizations can purchase subscription licenses for its core case management capabilities on email, telephone, Facebook, and Twitter channels for $3 per user per month for up to three users. Its next price point is $30 per user per month to add chat, knowledge management, community, web self-service, and reporting capabilities and an API for integrating external apps. $50 per user per month adds more users and support for multiple languages and multiple brands.
Desk.com's customers are exactly small and fast-growing companies. The list of reference customers provides a good idea about the kinds of companies that are best fits. Some of them are:
BarkBox
HotelTonight
One Kings Lane
SoundCloud
Susty Party
ZenPayroll
Volotea
For example, here's the web self-service site for Volotea, a low-cost Spanish airline.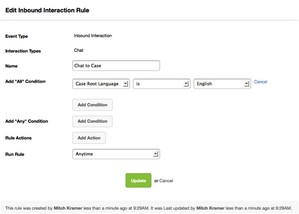 Top Two Takeaways
Our top two takeaways from our research are Desk.com offers:
Fast and easy deployment
Rich customer service capabilities
Let's take a closer look at why.
Fast and Easy Deployment
As we expected for an entry-level app, Desk.com is easy to learn and easy and fast to deploy.
We took the "Free Trial" offered to any business on desk.com, learned how to deploy and use the product, configured it to support our evaluation, and used its facilities (almost) as if we were a customer service organization. Note that trial deployments are preconfigured for a one agent customer service operation. It was absolutely fast and easy. Case management on a packaged agent UI works out-of-the-box.
Knowledge management capabilities are built-in, too, but, of course, you'll have to populate the knowledgebase with relevant knowledge items. Desk.com helps with samples and predefined, configurable "Topics" for categorizing them. Web self-service also works out-of-the-box on a packaged but configurable UI. We did some very basic configuration for the self-service UI below.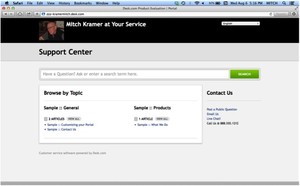 Rich Customer Service Capabilities
We found Desk.com's customer service capabilities to be way more than entry-level, especially case management. For example, the table, below, shows the predefined fields of Desk.com's case objects. The product packages application services that support all of the fields. The large number of date/time fields demonstrates the breadth and depth of case management capabilities.
Desk.com Case Objects

Field

Description

ID

String identifier for this object

External_ID

Unique identifier to reference this case to an external system

Blurb

Short summary of, or excerpt from, the case

Subject

Subject of this case

Priority

Number between 1 and 10 (1 being lowest priority)

Description

Case description or background information

Status

Current state of the case: new, open, pending, resolved, closed

Type

Channel of the case source: chat, Twitter, email, Questions and Answers, Facebook, or telephone

Labels

Labels associated with this case

Label_IDs

Label ids associated with this case

Language

The case's ISO language code: EN, FR, DE, IT, JA, SP

Custom_fields

Deployment-specific fields

Created_at

Date/time this case record was created

Updated_at

Date/time this case record was last updated by any action

Changed_at

Date/time this case was last updated by a user

Active_at

Date/time this case was last active

Received_at

Date/time the most recent message was received

Locked_until

Date/time the lock on this case will expire

First_opened_at

Date/time this case was first opened

Opened_at

Date/time this case was most recently opened

First_resolved_at

Date/time this case was first resolved

Resolved_at

Date/time this case was most recently resolved
Table 1. Predefined fields in Desk.com's Case objects
Worth a Closer Look
Desk.com is an impressive offering. Its fast and easy deployment and rich customer service capabilities could make it a best fit as your business's first cross-channel customer service app. And it can grow with you to the point where you have a staff of several dozen customer service agents. Take a closer look. Read our Product Evaluation Report.
Desk.com from Salesforce.com
Customer Service for Small and Growing Businesses
By Mitch Kramer, Senior Consultant, Patricia Seybold Group, August 22, 2014
0 comments