Disaster Planning: Put Yourself in the Shoes of the Victims' Families!
Having recently blogged about the branding issues associated with Malaysia Airlines' twin disasters in 2014, I was impressed by an article, Seeing Disaster through Consumers' Eyes, in the Philadelphia Inquirer about how the Pennsylvania disaster planners handled the derailment of Amtrak 188 in which 200+ passengers were injured:
"After a major accident or disaster, rescue operations have always focused on the nuts and bolts - saving the survivors, searching for those who didn't make it, securing the evidence.

Now an added dimension - call it the consumer perspective - has expanded how disaster planners think. Philadelphia emergency management officials say it guided their response to the Amtrak derailment that killed eight and injured more than 200 a dozen days ago.

Passengers are going through 'the most traumatic time of their lives,' said Everett A. Gillison, Mayor Nutter's chief of staff and deputy mayor for public safety. 'Seeing the world through their eyes really kind of forces us to always question: 'Are we providing what we really need to provide to them?'

That includes understanding what frantic families are going through. 'If you haven't heard from somebody, you kind of have to assume the worst,' he said."

Don Sapatkin and Aubrey Whelan, Inquirer Staff Writers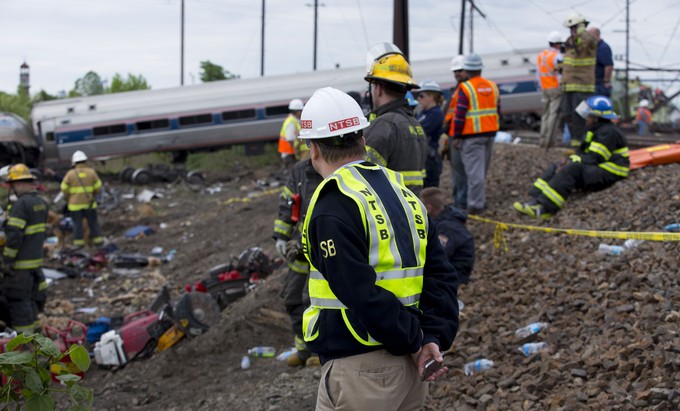 Helping Families and Friends Get Info about their Loved Ones
While airlines are (unfortunately) experienced in dealing with the families of missing and deceased passengers, municipal disaster planning organizations are just now becoming more attuned to putting themselves in the shoes of missing peoples' families:
"The city accounted for every one of the 243 passengers and crew on Train 188 in 36 hours.

'I think the city responded well,' said Samantha Phillips, who arrived at the Office of Emergency Management when it had six employees in 2007, and now directs a staff of 30....

On June 5, 2013, a building that was being demolished toppled onto a busy Salvation Army thrift shop in Center City, killing six people. 'Before the Market Street building collapse we didn't have a citywide mass fatality plan and we also didn't have a plan for how to support families,' Phillips said in an interview. She has spent much of the time since then developing response plans, testing them in simulated disasters, and using them in the Amtrak crash.

'Everything we do has to be for the families and designed around the families,' she said."

Don Sapatkin and Aubrey Whelan
One mistake she regrets making, the article reported, was not checking Amtrak's toll-free number soon enough. The recorded message included the usual recording about reservations and schedules, with no mention of the train crash and where friends and family members could call to request information about their loved ones.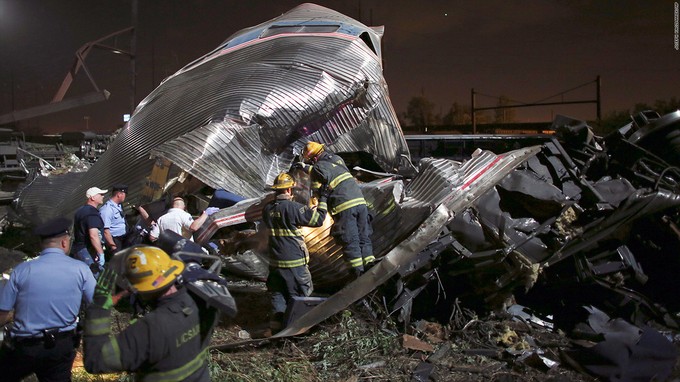 Tracking Down Survivors
Tracking down the crash survivors became a high priority, in order to more quickly identify the victims, and to reassure the families:
"Most Philadelphia-area residents had gotten off the northbound train just before it derailed; many remaining passengers live in Washington or New York. Cellphones were lost in the crash. Their families wouldn't know where to go to look for them, or whom to call.

To track everyone down, Phillips said, about 40 to 50 people - hospital workers, medical examiner staff, first responders, police detectives - worked off a manifest that Amtrak supplied within hours.

But where were they?

'People who did not go to hospitals just walked off the scene,' Phillips said. So the city put out a broadcast on TV and radio asking any passengers to call a toll-free number and report in.

Traveling Amtrak employees don't need tickets and were not on the manifest. One woman had lent her monthly pass to her niece; she was among the last to be accounted for.

Detectives searched Facebook posts and Twitter messages. They asked police in other cities and towns to knock on doors to see if residents had gotten home."
Lessons Learned?
Have a dedicated (and sizable team of people on hand to track down the survivors who may have left the scene of an incident.
Provide a number for friends and family members to call to get the latest info and to report in.
Change the responses on your customer-facing sites and phone lines to provide up-to-date info about the disaster and the number to call if you are affected.
Above all, put yourselves in the shoes of the friends and family members of the missing people!
What about the survivors? How do they deal with their guilt? For a heartfelt, spiritual essay about survivors' guilt, fate, and God's hand in disasters, read this article by Daniel Burke, CNN Religion Editor, Why Was I Spared from Amtrak 188's Crash?
0 comments