Ecommerce Ain't Always Easy!
As regular readers are aware, I've had my share of holiday shopping disasters this year. And I finally realized that my innocent belief that online shopping was significantly easier than going to brick and mortar establishments was fading.
Advantages of Online Shopping
Oh sure, there are lots of advantages to online shopping:
Convenience. You don't have to go out in the cold, spend 45 minutes finding a place to park, deal with hundreds of shoppers in crowded stores, go to multiple stores to find all that you need, carry heavy bundles back to your car and into your home, and collapse, exhausted, into bed. You let your fingers do the walking through Google, your favorites, link-upon-link to swell deals and hidden finds, all from the comfort of your cozy chair. Then you just claim your packages from your friendly delivery man at your front door.


Saving money. Comparison shopping is easier online (although mobile apps that find the best deals for you as well as the habit of research online then shopping in the real world reduce that advantage somewhat), so you can find the best prices, great online discounts, free shipping offers, not to mention saving on gas and the ever danger of shopping expansion (you go into the store for one thing and leave with five!). That's less likely online where you can put things into a shopping cart and then contemplate your purchases with a bit of leisure before you hit the buy button.


Larger Shopping Universe. The world is open to you. You aren't limited to your local shopping areas. You can order sweaters from Guatemala, watches from Switzerland, or, my new favorite, an official lordship or ladyship of a square foot of land in Scotland (no kidding!).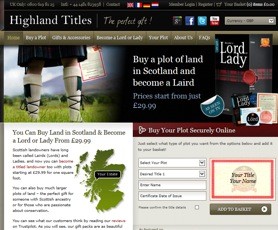 But there are also disadvantages. The one I've been writing about lately is the danger that your gifts won't arrive in time or as promised. The anxiety that I, and I'm sure many of you, feel as you await the UPS/FedEx/USPS deliveries can become overwhelming. If you aren't home when they come around, you have to go pick up the items (and, for example, the UPS pickup locations aren't open late in the evenings or on weekends). Or you have to wait around all day in hopes that the delivery will come, (keeping you under virtual house arrest as you await delivery). And then, they don't come as promised, so you miss giving the gift on the holiday (being reduced to giving a picture of the intended present wrapped in a bow). This doesn't work well with kids, let me tell you. They aren't into delayed gratification. And, truth to tell, neither are adults.
At least when you walk out of a store with your purchase, you have it in hand, you have time to wrap it, and you know you can give it on the day you intended.
Another disadvantage is window shopping and in-store browsing. When you are online, you have to search for something, and you at the mercy of the website design to get other ideas or recommendations (people who looked at this also looked at that). In a store, at a mall, on a small town main street, you will find wonderful items serendipitously—items that you wouldn't even think of searching out online.
Finally, there is something that feels good about the hunting and gathering of gifts out in the wild. The sense of adventure and the pride in carrying home your prey just isn't the same when you can do it from the sofa while sipping a cappuccino. This year is the first time I did 100% of my holiday shopping online, and I reluctantly admit that I kind of miss the crowds and the chaos…and the camaraderie of fellow holiday shoppers.
0 comments