Evaluating Nuance Nina
We evaluated Nina, the virtual assistant offering from Nuance, for the third time, publishing our Product Evaluation Report on November 21st, 2015. This Report covers both Nina Mobile and Nina Web.
Single Platform for Web & Mobile Virtual Assistants with Mobile Voice Input & Output
Briefly, by way of background, Nina Mobile provides virtual assisted-service on mobile devices. Customers ask questions or request actions of Nina Mobile's virtual assistants by speaking or typing them. Nina Mobile's virtual assistants deliver answers in speech and/or text. Nina Mobile was introduced in 2012. We estimate that approximately 15 Nina Mobile-based virtual assistants have been deployed in customer accounts.
Nina Web provides virtual assisted-service through web browsers on PCs and on mobile devices. Customers ask questions or request actions of Nina Web's virtual assistants by typing them into text boxes. Nina Web's virtual assistants deliver answers or perform actions (after you've OK'd them to do so). Nina Web was introduced as VirtuOz Intelligent Virtual Agent in 2004. Nuance acquired VirtuOz in 2013. We estimate that approximately 35 Nina Web-based virtual assistants have been deployed in customer accounts.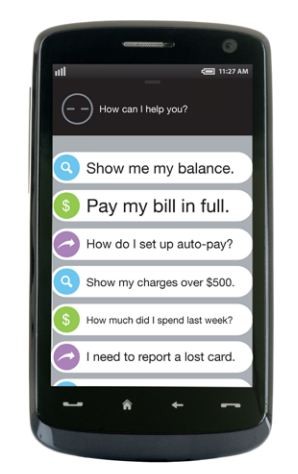 The two products now have common technologies, tools, and a common development and deployment platform. That's a big deal. They had been separate and pretty much independent products, sharing little more than a brand. Nuance's development team has been busy and productive. Nina also has many new and improved capabilities. Most significant are:
A new and additional toolset that supports key tasks in initial deployment and ongoing management
PCI (Payment Card Industry) certification, which means that Nina virtual assistants can perform ecommerce tasks for customers
Support for additional languages
Packaged integrations with chat applications
Nina Evaluation Process
We did not include an evaluation of Nina's Ease of Evaluation. Our work on the Nina Product Evaluation Report was well underway before we added that criterion to our framework. So, we'll offer that evaluation here.
For our evaluation, we used:
Product documentation, which was provided to us by Nuance under an NDA
Demonstrations, especially of new tools and functionality, conducted by Nuance product management staff
Web content of nuance.com
Online content of Nina deployments
Nuance's SEC filings
Discussions with Nuance product management and product marketing staff
Thorough (and very much appreciated) review of report draft
We also leveraged our knowledge of Nina--knowledge that we acquired in our research for two previously published Product Evaluation Reports in July 2012 and January 2014. We know the product, the underlying technology, and the supplier. So we were able to focus our research on what was new and improved.
Product Documentation
Product documentation--the end user/admin manuals for Nina IQ Studio (NIQS) and the new Nuance Experience Studio (NES) toolsets--was the key source for our research. We found the manuals to be well written and reasonably easy to understand. Samples and examples illustrated simple use cases and supported descriptions very well. Showing more complex use cases, especially for customer/virtual assistant dialogs, would have been very helpful. Personalization facilities could be explained more thoroughly. Also, there's a bit of inconsistency in terminology between the two toolsets and their documentation.
Nina Deployments
Online content of Nina deployments helped our research significantly. Within the report, we showed two examples of businesses that have licensed and deployed Nina Web:
up2drive.com, the online auto loan site for BMW Financial Services
The Swedish language site for Swedbank, Sweden's largest savings bank
The up2drive Assist box accesses the site's Nina Web virtual assistant. We asked, "How do I qualify for the lowest rate new car rate?" See the Illustration just below.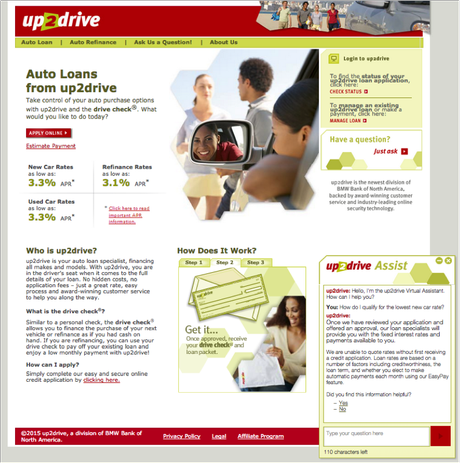 Online content of Nina Mobile deployments show how virtual assistants can perform actions for customers. For example, we showed how Dom, the Nina Mobile virtual assistant, could help you order pizza from Domino's in our blog post of May 14, 2015. See https://www.youtube.com/watch?v=noVzvBG0GD0.
Don't Underestimate the Work of Deploying Virtual Assistants
Take care when using virtual assistant deployments for evaluation and selection. They're only as good as the deploying organization wants to make them. Their limitations are almost never the limitations of the virtual assistant software. Every virtual assistant software product that we've evaluated has the facilities to implement and deliver excellent customer service experience.Virtual assistant deployments, like all customer experience deployments, are limited by the deploying organization's investment in them. The level of investment controls which questions they can answer, which actions they can perform, how well they can deal with vague or ambiguous questions and action requests, and their support for dialogs/conversations, personalization, and transactions.
No Trial/Test Drive
Note that Nuance did not provide us with a product trial/test drive of Nina. In fact, Nuance does not offer Nina trials/test drives to anyone. That's typical of, and common for, virtual assistant software. Suppliers want easy and fast self-service trials that lead prospects to license their offerings. Virtual assistant software trials are not any of these things. They're not designed for self-service deployment either for free or for fee.
Why not? Because virtual assistant software is complex. Even its simplest deployment requires building a knowledgebase of the answers to the typical and expected questions that customers ask, using virtual assistant facilities to deal with vague and ambiguous questions, engaging in a dialog/conversation, escalating to chat, or presenting a "no results found" message, for example, and using virtual assistant facilities to perform actions that customers request and deciding how to perform them. (Performing actions will likely require integration apps external to virtual assistant apps.) This is not the stuff of self-service trials and test-drives.
In addition, most virtual assistant suppliers have not yet invested in building tools that speed and simplify the work that organizations must perform for the initial deployment and ongoing management of virtual assistants software even after it has been licensed. Rather, suppliers offer their consulting services instead. (That's changing for Nuance with toolsets like NES and for several other virtual assistant software suppliers and that's certainly a topic for a later time.)
Thank You Very Much, Nuance
One more point about Ease of Evaluation. Our research goes into the details of customer service software. We publish in-depth Product Evaluation Reports. We demand a significant commitment from suppliers to support our work by responding in a timely fashion to questions. Nuance certainly made that commitment and made Nina easy to evaluate for us. We so appreciate Nuance's support and the time and effort taken by its staff.
Nina was very easy for us to evaluate. The product earns a grade of Exceeds Requirements in Ease of Evaluation.
0 comments