Framework for Evaluating Customer Service Software Products
Recently, we created a new version of our Framework for Evaluating Customer Service Software Products. We plan to use the Framework to evaluate every type of customer service product within our current research—case management; knowledge management; virtual assistant; and social network monitoring, analysis, and interaction. These completed evaluations are available to our Customers.com Technology Advisory Service members. But this Framework has exceptional value for (and is available to) all readers, offering guidance in how to think about the customer service software that you need and implement. It points out why specific features are important and how to evaluate those features when selecting a solution that is right for your organization.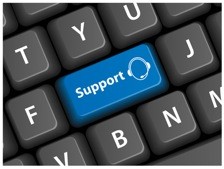 We had two goals for this new design. First, we wanted your evaluation, comparison, and selection processes to be simpler and faster. Second, we wanted shorter and more actionable Product Review Reports. The new Framework eliminates evaluation criteria that do not differentiate. For example, we no longer analyze and evaluate web content management for a product's self-service and assisted-service UIs. These UIs have become a bit static. They're configurable and localizable, but they're no longer as customizable and manageable as they had been. The new Framework also decreases the number of factors (sub-criteria) that we consider within an evaluation criterion. For example, the Knowledge Management criterion now has two factors: Knowledge Model and Knowledge Management Services. The previous version of the Framework examined these and six others.
We also added a criterion—Case Management. When we began evaluating customer service products back in 1993, we felt that case management, while a critical customer service process, was well understood, did not differentiate, and was not really customer-centric. We've changed our point of view. We still believe that the purpose for customer service is answering customers' questions and solving customers' problems. However, we also recognize that at the point in time that a customer asks a question or poses a problem you might not have an answer or solution available. You create a case to represent that question or problem, and your process to resolve the case is a process to find or develop an answer or solution, and its resolution is, itself, the answer or solution. Our evaluation of case management considers four factors that focus on a product's packaged services and tools for performing the tasks of the case management process. The process includes finding and using case resolutions in communities and social networks.
Customer Service Best Fit and Customer Service Technologies are the Framework's two top-level evaluation criteria. Customer Service Best Fit presents information and analysis that classify and describe customer service software products. Customer Service Technologies examines the implementation of a product's customer service applications. The graphic below shows the Framework, its top-level criteria, and their sub-criteria.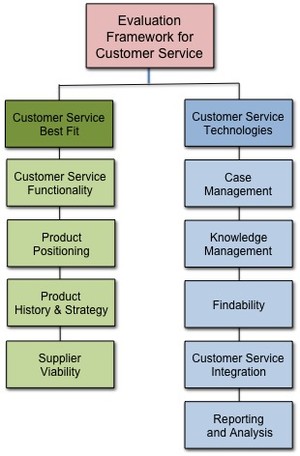 The Customer Service Best Fit criterion applies very nicely to any product. The application of the Customer Service Technologies criterion is product-type dependent. Look for our upcoming Product Review Report on Salesforce Service Cloud. It will be the first against the new Framework. Based on the draft of that report, the Framework works very nicely.
Framework for Evaluating Customer Service Software
Delivering Answers and Solutions; Creating and Resolving Cases
By Mitch Kramer, Senior Consultant, Patricia Seybold Group, October 16, 2014
If you would like to receive our weekly customers.com emails, click here.
0 comments