IBM Adds Dialog Capability to Watson Engagement Advisor Virtual Agents
We just updated our Product Evaluation Report on IBM Watson Engagement Advisor. It's an update to our July 10, 2014 report. Both the scientists at IBM Research and the developers in the IBM Watson Group have been busy improving Watson and Watson Engagement Advisor; busy and productive enough to drive us to do the update.
Here are the highlights:
Dialog is a new feature of IBM Watson Engagement Advisor that provides facilities tosupport complex interactions between virtual assistants and customers. These interactions include prompt and response conversations as well as business processes, transactions, and supplementary questions. Dialogs can guide customers through the necessary steps to an outcome or help answer customers' vague and ambiguous questions.
Knowledgebase additional input file support. MHT and ZIP files can be ingested into Watson's knowledgebase, adding to HTML, Microsoft Word, and PDF file formats.
Tools. Watson Experience Manager is the visual toolset that subject matter experts use to configure, train, test, and administer Watson Engagement Advisor deployments. Improvements include new tools to configure Dialog conversations.
Consulting. The Cognitive Value Assessment (CVA) is a consulting offering designed to help organizations identify use cases and benefits through examination of issues and pain points in their customer and end-user business processes.
Product positioning. First contact self-service resolution
Dialog is the most important product improvement. Watson Group used technology from its May 2014 acquisition of Aussie virtual assistant software supplier Cognea (My CyberTwin) to help build Dialog.
Supporting Dialogs with Virtual Assistants is now a Competitive Requirement
This feature helps IBM catch up with its virtual assistant software competitors. The leading suppliers—Creative Virtual, IntelliResponse, Next IT, Nuance, and Oracle—had all been offering Dialog-like capabilities for some time. Prompt and response conversations have become a key customer service requirement for virtual assistants. These conversations have been the approach for answering vague or ambiguous customer questions, helping virtual assistants gather information from customers that concretizes or disambiguates questions (or problems) like, "I can't get my printer to work," or "What's my balance?"
And, on that "What's my balance?" example, prompt and response conversations are also an approach for supporting personalized tasks and transactions, a hot trend and an emerging requirement for virtual assistants to "act" more like live agents within their interactions with customers. Personalized tasks and transactions take a bit of application integration—therefore, some programming—to access, retrieve, and use customer profile data and account data, but, once a virtual assistant has that data, it can perform a wide range of activities for customers, in addition to delivering answers and solutions.Think of the Nuance Nina virtual assistant taking pizza orders for Domino's:
or Sara, a Creative Virtual V-Person virtual assistant helping consumers with online and mobile banking presenting account balances at Commercial Bank of Dubai:
IBM has Added Dialogs to its Virtual Assistant Offering
Dialog is the mechanism that enables Watson Engagement Advisor virtual assistants act more like live agents and web concierges. With that additional bit of application integration/programming, they can perform personalized and/or transactional tasks for customers.
Watson Engagement Advisor's virtual assistants also have the advantages of Watson's cognitive technology, which lets them have more flexible, more varied conversations. Watson can answer many types of questions: questions that have answers like a simple fact, the definition of a term, the description of a topic, yes/no or true/false, and the steps in a procedure, or an approach to troubleshooting a problem. Dialog lets customers interject relevant, but out of band, questions within prompt and response conversations, then, after the virtual assistant delivers the answer, either return to the Dialog or continue out of band interactions, perhaps entering other Dialog flows.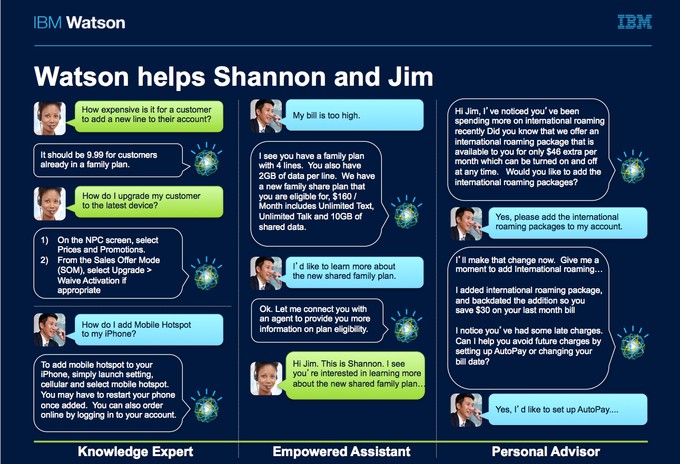 For example, in a customer/Watson Engagement Advisor virtual assistant session about property and casualty insurance, the customer might interject a question about extra coverage for jewelry in the middle of a Dialog, implementing the application for a standard property policy. The virtual assistant can answer the jewelry question, answer any additional jewelry coverage questions, return to the policy application conversation, or even complete an application for a jewelry rider. For new customers, the policy application conversation will collect appropriate customer data and pass it to the external app. For existing customers, the virtual assistant will access the appropriate external app for the customer data. Live agents might do that data access manually from their desktops. Virtual assistants must do it with programming.
In the current Watson Engagement Advisor release, Dialog functionality and tools are essentially what Cognea had built and offered. Watson Group's developers are working hard to integrate the functionality more seamlessly within Watson Engagement Advisor and to integrate and improve the tools on the Watson Experience Manager toolset. We don't think that Dialog is part of any of the five or so live Watson Engagement Advisor deployments, but going forward, we think that it will become part of most deployments. In fact, every virtual assistant should provide the capabilities to perform actions on behalf of customers.
Read the full article here, it's available for download to our Customers.com Technologies' service members.
0 comments