In Customer Service, Ease of Evaluation is an Important Differentiator
Our evaluation frameworks have never had an Ease of Evaluation criterion. We've always figured that we'd do the work to make your evaluation and selection of products easier, faster, and less costly. Our evaluation of Zendesk has us rethinking that. We've learned that our Product Evaluation Reports can speed and shorten your evaluation and selection process but that your process doesn't end with our reports. You do additional evaluation, modifying and extending our criteria or adding criteria to represent requirements specific to your organization, your business, and/or application for a product. Understanding Ease of Evaluation can further speed and shorten your evaluation and selection process.
So, beginning with our 2016 Product Evaluation Reports, you'll find that Ease of Evaluation criterion in our framework.
By the way, Zendesk would earn an Exceeds Requirements grade for Ease of Evaluation. We did a 30-day trial of the product. We signed-up for the trial online—no waiting. During the trial we submitted cases to Zendesk Support and we used the Zendesk community forums. In addition, Zendesk.com provided a wealth of detailed information about the product, including technical specifications and a published RESTful API.
Scroll down to the bottom of Zendesk.com's home page to see a list of UNDER THE HOOD links.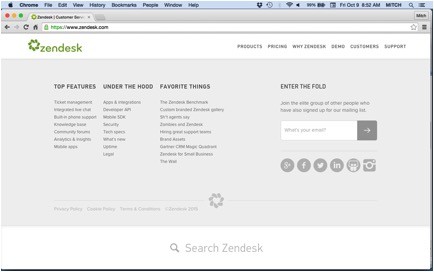 Looking at the UNDER THE HOOD links in a bit more detail:
Apps and integrations is a link to a marketplace for third party apps. Currently there are more than 300 of them.
Developer API is a link to the documentation of Zendesk's RESTful, JavaScript API. It lists and comprehensively describes more than100 services.
Mobile SDK is a link to documentation for Android and iOS SDKs and for the Web Widget API. (

The Web Widget embeds Zendesk functionality such as ticketing and knowledgebase search in a website.)

Security is a link to descriptions of security-related features descriptions lists of Zendesk's security compliance certifications and memberships.
Tech Specs is a link to a comprehensive collection of documents that describe Zendesk's functionality and implementation.
What's new is a link to high-level descriptions of recently added capabilities
Uptime is a link to info and charts about the availability of Zendesk Inc.'s cloud computing infrastructur
Legal is a link to a description of the Terms of Service of the Zendesk offering
We spent considerable time in Tech Specs and Developer API. We found the content to be comprehensive, well organized and easy to access, and well written. The combination of the product trial and UNDER THE HOOD made Zendesk easy to evaluate. And, we did not have to sign an NDA for access to any of this information.
Zendesk is one of the Leading Suppliers of Customer Service Solutions
Zendesk is the customer service offering from Zendesk, Inc. a publicly held, San Francisco, CA based software supplier with 1,000 employees that was founded in 2004. The product provides cloud-based, cross-channel case management, knowledge management, communities and collaboration, and social customer service capabilities across assisted-service, self-service, and social customer service channels.
We evaluated Zendesk against our Evaluation Framework for Customer Service and published our Product Evaluation Report on October 15, 2015. Zendesk earned a very good Report Card—Exceeds Requirements grades in Product History and Strategy, Case Management, and Customer Service Integration, and Meets Requirements grades for all other criteria but one, Social Customer Service. Its Needs Improvement grade in Social Customer Service is less an issue with packaged capabilities than it is a requirement for Zendesk customers to use a specialized external app designed for, and positioned for, wide and deep monitoring of social networks.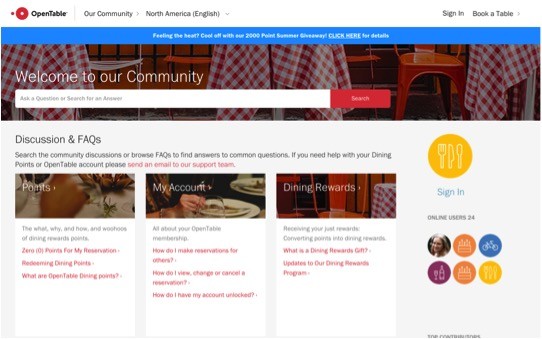 Groupon is one of 30,000+ organizations that uses Zendesk for its customer support solution.
How do we DO our in-depth Product Evaluations?
We rely on the supplier for product marketing and product management information. First we gather that info from the supplier's website and press releases and, if the supplier is publicly held, from the supplier's SEC filings. We speak directly with the supplier for anything else in these areas.
For functionality and implementation, the supplier typically gives us (frequently under NDA) access to the product's user and developer documentation, the manuals and help files that licensees get. In this era of cloud computing, we've been more and more frequently getting access to the product, itself, through online trials. We also read any supplier's patents and patent applications to learn about the technology foundation of functionality and implementation. We lurk in customer forums to better understand any issues customers are having with the solution.
We review all similar offerings against a common (evolving) evaluation framework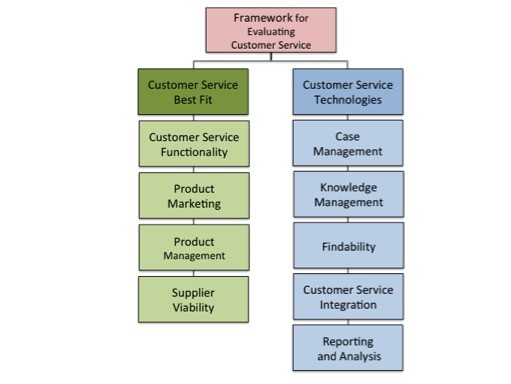 Mitch Kramer's Framework for Evaluating Customer Service Solutions
In addition, we entertain the supplier's presentations and demonstrations. They're useful to get a feel for the style of the product and the supplier and to understand future capabilities. However, to really understand the product, there's no substitute for actual usage (where we drive) and/or documentation.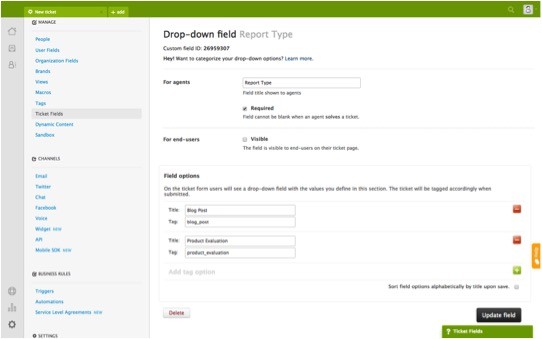 This Illustration shows Zendesk's Ticket Field editing workspace for the Report Type field, a field that we defined for the sample deployment we created in order to evaluate Zendesk.
Our research process includes insisting that the supplier reviews and provides feedback on a draft of the Product Evaluation Report. This review process ensures that we respect any NDA, improves the accuracy and usefulness of the information in the report, and prevents embarrassing the supplier and us.
Ease of Evaluation is Important to Prospective Customers
Many suppliers make their offerings as easy to evaluate as Zendesk, Inc. made Zendesk for us. On the other hand, many suppliers are not quite so willing to share detailed information about their products and, especially their underlying technologies. Products and technologies are, after all, software suppliers' key IP. They have every right to protect this information. They don't feel that patent protection is enough. Their offerings are much harder to evaluate at the level of our Product Evaluation Reports.
We feel (as you should feel) that in-depth evaluations are essential to the selection of customer service products. You'll be spending very significant time and money to deploy and maintain these products. You should never rely on supplier presentations and demonstrations to justify those expenditures. Certainly rely on our reports and use them as the basis for your further, deeper evaluation, including our new Ease of Evaluation criterion. Put those suppliers that facilitate these evaluations on your short lists.
0 comments