Microsoft Now has a SERIOUS Customer Service Offering
In our more than 10 years of customer service research, publishing, and consulting, we'd never before published a report about a Microsoft offering. It's not because Microsoft hasn't had a customer service offering, or that the company hasn't had success in business applications.
Since 2003, its CRM suite has always included a customer service app. And, its Dynamics CRM brand has built a customer base of tens of thousands of accounts and millions of users.
But, Dynamics CRM had always been more about its sales app and that app's integration with Office and Outlook. Customer service capabilities have been a bit limited.
No longer.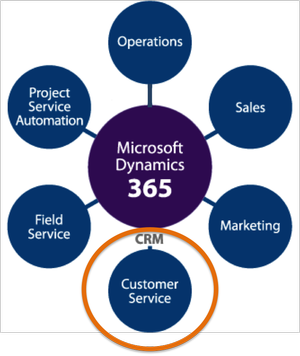 Key Competitors for Microsoft Dynamics 365 for Customer Service
Microsoft names Salesforce Service Cloud as the primary and key competitor to Dynamics 365 for Customer Service. Both are components of larger application suites. Both offer broad and deep cross-channel customer service capabilities. Salesforce Service Cloud is a bit pricier and more of its capabilities are separately priced add-ons, but many of those capabilities are richer than, and not as new as, comparable capabilities in Microsoft Dynamics 365 for Customer Service—web self-service, communities and collaboration, and social customer service, for example. However, with its new packaging and licensing, Dynamics 365 for Customer Service may address every customer service requirement for a lower price.
We've got you Covered
Deeper analysis is needed for product selection. Our most recent Product Evaluation Report on Microsoft Dynamics 365 for Customer Service, published November 30, 2016, will help in your analysis. Also check out our Product Evaluation Reports on Salesforce Service Cloud for a big jump-start on that analysis, as well as our other recent Product Evaluation Reports on Salesforce Desk.com and its competitors: Freshdesk and Zendesk. You should also take a look at our review of Salesforce Social Studio.
Highlights of Microsoft's New Customer Service Offering
Up until recently, Microsoft CRM focused primarily on supporting sales; not customer service. There are new and/or significantly improved customer service components in Dynamics 365:
KNOWLEDGE MANAGEMENT. Key to any customer service offering, Microsoft now offers a comprehensive knowledge management system with a rich and flexible knowledge model, a large set of useful knowledge management services, and a easy to learn and easy to use toolset.
SEARCH: Search is not a strength in Dynamics 365. But one new feature--Categorized Search--retrieves database records with fields that begin with the words in search queries and lets administrators and seekers categorize search results.
CUSTOMER SERVICE UI. Interactive Service Hub is the user interface for customer service, including knowledge management, and case management, and it provides useful dashboards
WEB SELF-SERVICE & COMMUNITIES. Portal Service is a template-based toolkit for developing (web development skills are required) and deploying browser-based web self-service and communities/forums sites. It's based on technology from Adxstudio, which Microsoft acquired in September 2015.
SOCIAL CUSTOMER SERVICE. Microsoft now bundles Microsoft Social Engagement with Dynamics 365 for Customer Service. Social Engagement provides facilities that listen for social posts across a wide range of social sources (Instagram, Tumblr, WordPress, and YouTube as well as Facebook and Twitter), that analyze the content and sentiment of those posts, and that interact with social posters.
For more details, read our overview of Microsoft Dynamics 365 for Customer Service. Members of our Customers.com Technologies Advisory Service may also download our full, detailed product evaluation report: Microsoft Dynamics 365 for Customer Service.
0 comments