Microsoft Reboot: Pretty Impressive
Last month I pointed out how far Microsoft had dropped on the relevancy radar for both business and consumer customers. I chronicled a few of my reasons for suspecting that Microsoft's reboot attempts might actually work. On October 6th, Microsoft held its major Device Event in NYC. The showmanship rivalled Apple's. The apparent seamlessness of the product line up is impressive.
Microsoft's Devices Chief, Panos Panoy, announcing a new Surface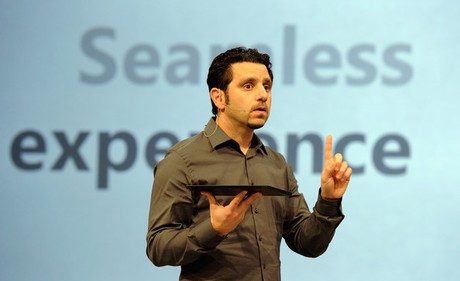 My Initial Reactions
I'm impressed. We now clearly have two horses in the devices+cloud+ecosystem race. Apple and Microsoft. (Google and the Android ecosystem being the third major player).
Continuum of Microsoft Devices Launched on Oct. 6, 2015

-- Seamless Experience? Windows 10 provides a single continuum from XBox to Lumia Phone to tablet to clipboard to PC. It makes the bumps between Apple's iOS and OS X operating systems more visible. I felt that the most dramatic proof point was the demo of connecting a Lumia 950 phone (running Windows 10) to a small docking station with a screen, keyboard, and mouse and doing simple MS Office cut and paste tasks.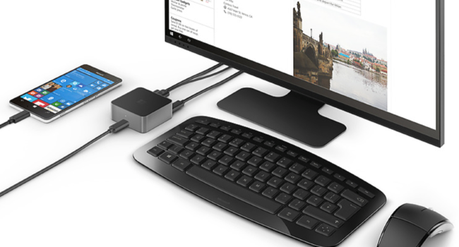 -- Integration of Gaming Features into Mainstream Computing. As our Pioneer Phil Gibson suggested, Microsoft needed to capture the hearts and minds of XBox gamers and commercial developers. Phil wrote:
"Join the youth of gaming with the business savvy of the MS developer community. Enable APIs and hardware as only MS can that connect these two worlds and watch the new market demands that emerge out of the cloud/featured phone/PC audience."
Microsoft clearly demonstrated that it has now merged Windows 10/XBox and its new HoloLens with holographic computing into an attractive development environment for next gen 3D immersive applications. The development toolkit will be out in Q1 2016, will cost $3,000--which will attract lots of enterprise developers and commercial developers aiming at the biotech and CAD markets. Combine 3D visualization with massively parallel processing and 3D printing, and you have the potential to disrupt many industries. All those frustrated game developers, who haven't been able to break into the highly competitive gaming market, will find open arms in corporations' innovation labs.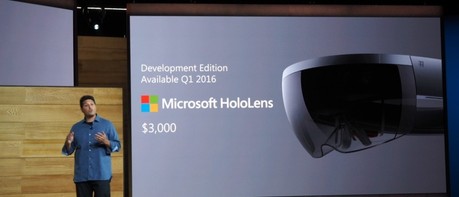 -- Microsoft's Commitment to the Hardware Business
Although MS has been a major player in gaming hardware and peripherals, the company has never before launched its own laptops and PCs. The earlier Surface and Lumia phones were the toes in the water, and were not blockbuster products. Now, the gloves are off. Microsoft is competing with hardware partners in its ecosystem to provide best of breed devices from the phone to the desktop (with the new Surface Book Pro).
Subtle Digs
The main points that I felt Microsoft did a good job of scoring against the Apple ecosystem were:
The customer's phone isn't the center of the ecosystem; he is. Devices will come and go. The customer's experience aggregated across devices is what matters.
We are much better at Cloud computing and storage than Apple is. More seamless, less work, more productive.
You aren't the only company that gets esthetics. Look how beautiful and usable our new devices are: magnetic pen holder, dynamic hinge, pen with interchangeable tips, laptop that becomes a clipboard.
Not so Subtle Comparisons
Of course, Microsoft also made direct comparisons from Surface to MacBook Air and Surface Book to MacBook Pro. They stressed performance and productivity over and over again.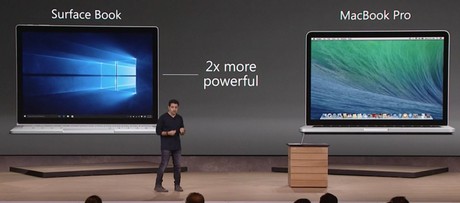 Consumerism Run Rampant
Both Microsoft and Apple seem to be catering to the least attractive aspect of modern day culture: our throw away consumerism. All of these shiny new toys released just in time for the holidays scream "buy me now!" I found myself wondering how this toys/devices/consumer gadgets fetish feels to the billions of people at the bottom of the pyramid. A free OS is wonderful for all. Low cost devices and ubiquitous cloud computing provide more access to more folks. But accessibility to the low income billions IS Microsoft's remaining differentiator. Linux has yet to become as accessible or ubiquitous as even the older versions of Windows.
Windows in the Pockets of Billions of People?
I also felt that Microsoft missed the opportunity to tout "computing for the rest of us." Apple's elitist branding and higher prices make Apple vulnerable to competition from products with broader appeal, lower price tags, and more accessibility.
However, just because computing for the rest of us wasn't the theme in this pre-holiday US-based devices launch, as almost a throw away, Microsoft announced its Lumia 640 at $79.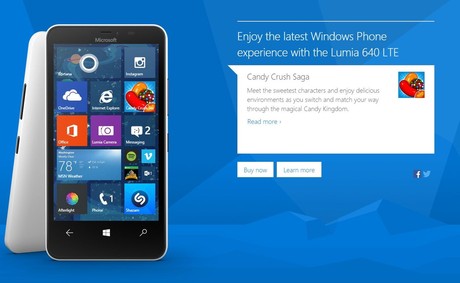 Pioneer Peter Horne commented from Asia:
"Those low cost Windows smart phones are going to be killer products for workforce-supplied phones.

All we need is for Windows to swap in the Linux kernel under the Windows GUI, which I now rank as possible, and they are the perfect work platform."
Missed Opportunities
The Microsoft Band is now a year old and MS announced the new and improved model with additional sensors (barometer), and a better form factor, and maturing health and fitness applications, along with the obligatory integration with email, messaging, and social media. But the emphasis in the demo was clearly on fitness and athletics; not as much on health and preventive care. At least one slide of a 90-year old monitoring his/her blood pressure fluctuations in consultation with her doctor would have increased the allure of the Band.

I felt that the HoloLens demo focusing on shoot em up games left the audience hungry for a different demo: navigate me through a human genome, too.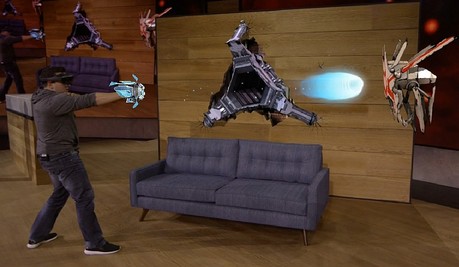 Enterprise Doors Re-Opening?
In his preliminary reaction to the Microsoft Device announcement, Pioneer Peter Horne was also quick to notice that Microsoft has probably just made it much easier for large enterprises to easily expand the number of Microsoft devices they can support without any new legal or contract reviews.
"Can you imagine the value prop that MS can now offer to their enterprise clients under their enterprise license agreement model? They can now roll in phones, notepads, tablets, office, email, development platforms, and Azure cloud services all under one agreement; agreements that enterprise customers already have in place and can grow???? The value is massive; and they are not idiots."
Microsoft's Chilling Big Brother Effect
One of the first things that struck me during the Microsoft Device Announcement were all the statistics Microsoft was spewing about what people were doing on the 110 million Windows 10 devices that had been instantiated in its first 10 weeks. Microsoft knew how much browsing time, videos watched, gaming hours played, software apps purchased and used, stairs climbed, miles run. Of course they know these things. But it's rather unsettling to know that they know. I'm sure we'll come back to this question of privacy and security in the Microsoft vs. Apple vs. Google worlds many times. But here are a couple of (opposite) quick takes from two of Patty's Pioneers.
Peter Horne writes:
"I hate to say it, but I was actually amazed at the experience I had when I logged in to my Microsoft account. All my apps, all my devices, all my login records, all my activities, all in one dashboard. It was the first time I have seen the cloud actually pull my devices together, rather than my devices just swap data in the cloud. MS actually does put cloud first, apps second, and devices third.

It lets you allocate licenses to family devices, it lets you control the security settings, browser settings, etc. on your fleet of family-connected Windows 10 devices; it lets the individual have the enterprise view of their family enterprise.

Given that the information is nothing more than what your Telco has, i.e. it's metadata; then it's not even worth arcing up over the privacy issues, as I see ALL the commercial enterprises as having zero privacy credibility. So yes; it's a honey trap. But as a professional looking for inspiration; it's professionally inspirational in terms of what I would like to give my customers from my offering.

MS understand the cloud... I am convinced now."
Scott Jordan replied:
Re: "Given that the information is nothing more than what you Telco has; ie. it's metadata; then it's not even worth arcing up over the privacy issues as I see all the commercial enterprises as having zero privacy credibility."
___________________________

"I hope you're right.

My son has a Win10 virtual machine that he uses on occasion... perhaps once a month, mostly to verify that his web development work looks and behaves acceptably on Windows.

Since his last use of the VM he's booked and made a trip by plane. The e-tickets were delivered to his gmail.

So he booted up his Win10 yesterday prior to his return flight. And immediately upon boot, up popped some sort of helpful reminder that reminded him of his flight later in the day.

Wha? The machine was not running for more than a month. It had no knowledge of his flight arrangements, which had all come and gone when the machine was turned off. He had not bothered to put the flight info in any calendar. The only notification that could have existed was in his gmail. He had not configured an email client in the VM, and the browser was closed.

What the hell. He concluded (perhaps correctly, perhaps not) that Win10 had captured his gmail login from his browser the last time he'd used this VM, and that some Microsoft cloud service had leveraged that to helpfully scan his emails in the intervening weeks, ready to alert him next time he logged on.

I have many questions about this, but one way or another: wow."
Unfortunately, the seamless cross-device experience that Microsoft is offering comes with a double-edged sword. Who is able to see all that data about what we are doing? How can we gain the seamless experience we crave without any Big Brothers watching us?
Lumia 950 + AT&T only in the US was a BIG Mistake
The biggest faux pas Microsoft made, in my opinion, was to tether sales of its Lumia phones to AT&T. In the US market, AT&T is the only provider that claims to be offering Lumia 950s. Yet for many, AT&T is not the preferred provider. There are many places the AT&T cellular network doesn't reach as well as rival Verizon. I don't understand why Microsoft didn't notice how unhappy early iPhone users were with the AT&T exclusivity on the iPhone. What a stupid mistake to make, particularly when you are so far behind in mobile phone marketshare in the US market!
0 comments