Pleasant Customer Experience in Online Shopping
I do most of my holiday shopping online, and have become very close to the UPS delivery guy. Today, he delivered me 2 packages from Zazzle.com. (I've ordered a bunch of gifts from the site--this is the third year in a row.)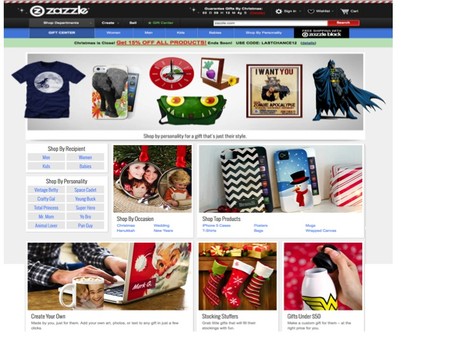 I was delighted to receive a t-shirt I had ordered in one package. The other package held a similar t-shirt, but one I hadn't ordered. Looking at the packing slip inside the packaging, I realized that it was ordered by a different customer in a different state and was supposed to be part of a shipment of 2 items. I doubled checked--the mailing label was addressed to me.
I decided to call Zazzle customer service because I didn't want the other customer--K. in Rhode Island--to be short one holiday gift. I chose not to email my customer service issue because it was sort of convoluted, and I wasn't sure how to explain it all--what with order numbers and shipping numbers and number of items in the packages, etc.
My one complaint was the very long wait on hold before I reached someone, but I multi-tasked, so it wasn't too annoying. When Ryan, the customer service rep can on the phone, he was very helpful, spent a long time with me to get all the correct information, to double check on all my outstanding orders to make sure everything was on target, and assured me that he would contact K. in Rhode Island to check on her deliveries and outstanding orders.
He then told me to keep the shirt with Zazzle's compliments, thanked me for letting Zazzle know about the error, and wished me a great day.
A few minutes after I hung up, I received an email from Zazzle Customer Suppport that said:
Hello Ronni,

Thanks for contacting the support team at Zazzle.com.It was a pleasure speaking with you today.

If you have any further questions or concerns about what discussed, please respond back to this email and I will address them accordingly.

We hope you have a wonderful holiday season.

Best Regards,

Ryan
Customer Support Hero
Zazzle
Having an email with a person's name that I can respond to is a great example of what customers want. Bravo to Zazzle for personalizing the customer service acknowlegement experience. And I now have a great shirt, Ryan can be a hero for K. in Rhode Island, and Zazzle has pleased a very hard-to-please customer experience consultant!
0 comments