Quick Take on Oracle Service Cloud Virtual Assistant
We just concluded our in-depth evaluation of Oracle Service Cloud Virtual Assistant. It's a relatively new branding (November 2013) for a product, originally known as Q-go, from a privately held, Amsterdam, NE-based supplier of the same name. Q-go was first commercially deployed in 2001. Now it's part of Oracle's Cloud-based Customer Service portfolio.
Neither RightNow, which acquired Q-go in 2011, nor Oracle, which acquired RightNow in 2013, has done very much to enhance the old Q-go other than to rebrand it. (RightNow branded it RightNow Intent Guide and Natural Language Search at the time of the 2011 Q-go acquisition. As we mentioned just above, Oracle branded it Virtual Assistant in November 2013.) Today, Oracle Service Cloud Virtual Assistant doesn't support voice. It deploys on web browsers in HTML. Its deployments are language-specific and only Western European languages are supported.
However, even after all this time, the product technology remains reasonably attractive and quite useful as the foundation for virtual assistants. The product's core NLP technology, the technology developed by Q-go that analyzes customers' questions and matches them with knowledgebase answers remains fresh and innovative. This is the technology that makes virtual assistants that are deployed on Virtual Assistant powerful and flexible.
Briefly, here's how it (still) works. Customers enter questions as natural language sentences or phrases or as individual keywords or short "telegram-style" phrases. Virtual Assistant uses NLP technology to analyze customers' questions and to match them with Questions in its knowledgebase.
Virtual Assistant presents the knowledgebase Answers that are linked to the Questions that best match the customers' questions.
If Virtual Assistant cannot find a best match, it presents a short list of Questions that are likely matches to customers' questions. From this list, customers select the Questions that best represent their questions. Virtual Assistant delivers the Answers associated with the Questions selected by customers.
Alternatively, the matching Questions may trigger a Prompt and Response Dialog with customers to arrive at an answer through conditional sequence of steps.
Here's an example from klm.com. KLM Royal Dutch Airlines had deployed Q-go. The Customer Support tab on klm.com continues to use the NLP technology to answer customers' questions.
We asked the question, "golf clubs," two keywords, certainly not a full sentence or even a good phrase. Virtual Assistant did not find a single best match. It found five likely matches and presented them as links as shown in Illustration 1, below.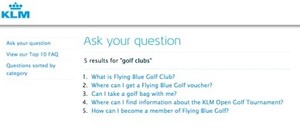 Illustration 1. In response to our question, "golf clubs" klm.com presented a list of the five Questions shown in this illustration.
Question 3, "Can I take a golf bag with me," represents our question. We clicked it and klm.com presented the Answer shown in Illustration 2, below.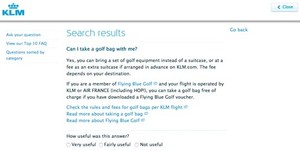 Illustration 2. When we clicked Question 3, klm.com gave the Answer shown in this illustration.
That's exactly the information we wanted, a "Very useful" Answer. We then clicked the "Read more about taking a golf bag" link to get additional information. Illustration 3 shows what klm.com showed us.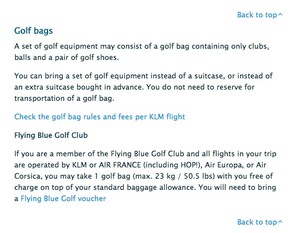 Illustration 3. When we clicked "Read more about taking a golf bag" link, klm.com showed us the page in this illustration.
Pretty good, no? Flexible and powerful. When Virtual Assistant can't find a best match, finding and presenting a short list of likely, possible matches is very useful. It's a reasonable and fast extra step to take to get to that best match. Note though that this example was not implemented by an automatic process. No surprise there. Analysts and administrators had some work to do to specify and manage the keywords that customers would likely use and to associate those keywords with knowledgebase Questions, like those in Illustration 1, to help Virtual Assistant find likely matches. They also had to specify and manage the Questions.
Oracle certainly has some work to do to bring Virtual Assistant up to its competition, but the work builds on a very good foundation.
Our in-depth evaluation is available for download for members of our Customers.com Technologies Advisory Service:
Oracle Service Cloud Virtual Assistant
A Good Solution for Oracle Service Cloud Subscribers
By Mitch Kramer, Senior Consultant, Patricia Seybold Group, February 20, 2015
We also published these other evaluations of Virtual Agent offerings:
If you'd like to discuss Mitch Kramer's product evaluations and consulting services, please contact him directly at mkramer@customers.com.
0 comments