Salesforce Radian6: An Evolving Ecosystem for Social-Service Monitoring & Analysis
Customer social-service is all about monitoring customers' conversations in the social cloud, identifying customers with questions, problems, and issues, and then interacting with those customers to answer questions, solve problems, and address issues. The number of customer posts and conversations in the social cloud that may be relevant to a business can be very large, ranging to thousands or even tens of thousands per week and, in the extreme, hundreds of thousands per day. Monitoring and analyzing all of them, identifying the (few) posts that require attention, and then handling each one individually and handling all of them consistently are daunting and complex tasks—daunting because of the sheer volume and complex by the diversity and nuance of language, breadth of topics, and depth of emotion (sentiment).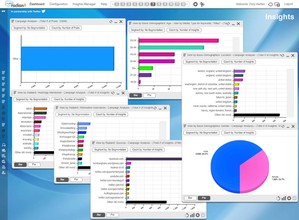 Radian6 is the component of Salesforce Marketing Cloud that does social monitoring, analysis, and interaction. Its tight integration with Salesforce Service Cloud—automatic creation of Cases and Contacts—makes it the obvious social-service choice to add to the customer service application portfolio of Salesforce CRM users.
Most social-service products use third parties to monitor social posts, to crawl and search the key social networks and the hundreds of millions of blogs and forums where customers ask questions, get answers, and make comments. The value-add of these products is in their analytic capabilities, capabilities that can "understand" the content of social posts. Natural Language Processing (NLP), sometimes called text analytics, is the technology that they most commonly use. And, also most commonly, each of them is built its own NLP implementation. Their companies are built on it, too. These NLP implementations are frequently patented and almost always proprietary. They're the crown jewels of analytics companies. So, the selection of a social-service application usually involves the evaluation and comparison of NLP implementations, a difficult selection of sophisticated and complex technology.
Not the case for Radian6. It takes the opposite approach. Rather than leverage the data collection capabilities of third parties and apply its own analytics, Radian6 does its own data collection (The current version searches and crawls over 650 million social sources.) and leverages the analytic capabilities of third-party analytics suppliers to understand the content of social posts. (Radian does a bit of its own analytics, too, although its analytics are a bit basic and are not built on NLP.) These 14, third-party analytics suppliers comprise what Salesforce.com calls the Radian6 Insights Ecosystem, Insights for short. They apply their analytic technologies to the social posts collected by Radian6.
The 14 are:
Bitext

Communication Explorer

Clarabridge

EpiAnalytics

Hottolink

Klout

LeadSift

Lymbix

OpenAmplify

Open Calais

PeekAnalytics

Soshio

The SelfService Company

Trendspottr
Let's take a little closer look at three Insights to get an idea of their capabilities.
The Bitext Sentiment analytic perform Entity extraction and sentiment analysis for posts in Spanish (European and Latin American), Portuguese (Brazilian and European), Italian, and English using natural language processing technology (NLP).
Clarabridge provides two analytics. Clarabridge Link Sentiment provides sentiment analysis of social posts in Chinese, Dutch, English, French, German, Italian, Portuguese, Russian, and Spanish using NLP; Clarabridge Link Classification applies a Universal Category and Classification model to social posts in Chinese, Dutch, English, French, German, Italian, Portuguese, Russian, and Spanish using NLP.
OpenAmplify also provides two analytics. OpenAmplify Cust Svc uses NLP to identify social posts containing potential customer service issues and the topics of those potential issues. OpenAmplify uses NLP to identify sentiment, intention, and topics of social posts.
Salesforce.com offers these Insights like usage-priced cell phone minutes within the subscription licenses and their monthly fees for Radian6 Editions. (Editions are licensing tiers that bundle applications resources.) More specifically, Radian6 Editions include blocks of Insights partner credits. The analysis of one social post by a one analytic application from one partner costs one partner credit. At the low end, Marketing Cloud Radian Basic Edition includes 1,000 Insights partner credits. At the high end, Marketing Cloud Radian Enterprise Edition includes 500,000 Insights partner credits. Blocks of 10,000 additional Insight partner credits are available for a fee of $100 per month. Credits are expired every month (like cell phone minutes).
Insights' suppliers set up pre-configured deployments of their analytic applications for access and usage by Radian6 licensees at runtime. That approach can be a disadvantage. For NLP based Insights, runtime access means that language models and processing configurations are those implemented by their suppliers for general-purpose usage, not language models and configurations of deployments tailored to the applications and vocabularies of specific businesses and their customers. For example, the Clarabridge Link Classification Insight uses a "Universal Category and Classification" to classify social posts. Analytic processing will still be quite useful, just not custom tailored.
There are also advantages to Radian6's Insights' approach of runtime access to analytic applications. Most significantly, Radian6 lets businesses easily combine and nest these analytics. For example, analysts might use the entity, fact, and event extraction capabilities of Open Calais to find posts relevant to a product launch and then use PeekAnalytics to identify the demographics of those posters. Also, specifying language models and processing configurations for NLP-based analytic applications is complex work, work that Radian6 users do not have to do to get much of the benefits of these sophisticated applications.
The approach to analysis in Radian6 is a significant differentiator and a key factor for selection. Radian6 delivers most of the power of a wide array of third-party analytic applications and the flexibility to use them separately or to combine their processing. Pricing is based on usage. Value is very good.
Salesforce Radian6: An Insight Ecosystem
The Social Monitoring, Analysis, and Interaction Application of Salesforce Marketing Cloud
By Mitch Kramer, Senior Consultant, August 1, 2013
(Read the short sample and download the full in-depth Product Review in PDF.)
0 comments