Salesforce Service Cloud Winter '15 Improves Self-Service with Salesforce Communities
We've just completed our evaluation of Salesforce Service Cloud Winter '15, which provides case management and contact center support, and its collection of tightly integrated but variously packaged and priced features and add-on products for knowledge management, chat, social customer service, and communities. The full 60-page report is available to our Customers.com Technologies Service members. But here's an important highlight of interest to all of you:
Salesforce Communities
Salesforce Communities is one of the new capabilities in Winter '15. It packages an attractive set of facilities that let customers perform a wide range of collaboration and self-service activities and tasks. However, none of these facilities use new technology; all of them have been existing features of Salesforce applications. What's new and what's innovative is their use as the platform for customer self-service. With Communities, Salesforce.com has extended the customer service provider-centric, web content-intensive self-service of portals with social and collaborative self-service that lets customers (and customer service agents) answer and solve customers' questions and problems. Here's what we mean.
End-customers can use Communities' packaged, portal-style facilities to perform these self-service tasks:
Search a Salesforce Knowledge knowledgebase to find existing answers and solutions for similar questions and problems.
Browse a hierarchy of "Topics" to find existing answers and solutions to their problems in the knowledgebase or within community content.
Create new Service Cloud Cases when they can't find answers and/or solutions via searching or browsing a knowledgebase, or by browsing Topics and community content.
During the case creation process, Communities uses Automatic Knowledge Filtering, a Salesforce Knowledge feature, that automatically suggests knowledgebase Articles relevant to the content of the fields of the new Case.
Contact support for escalation to assisted-service.
End-customers can also use Communities' packaged social and collaborative facilities to perform self-service tasks:
Post their questions or problems on a threaded, post-and-reply forum to solicit answers and solutions from other customers or from customer service staff members who monitor community activity. Note that Communities' threads are implemented with Salesforce Chatter Feeds. Feeds are Twitter-like stacks of posts and replies/comments.
Search post-and-reply Feeds to find existing answers and solutions or previously posted questions and problems and replies/comments about them.
You may have read these lists of bullet points and said, "So, what. There's nothing new here. We already have these facilities on our portal and on our community." Exactly right, but that separate portal and community approach forces your customers to go to two places to find answers and solutions, and, based on the experience that you've given them, they go to one place or the other depending on the type of question or problem they have or the quality and usefulness of answers and solutions that they've found. Salesforce Communities gives end-customers one place to go for self-service answers and solutions. One place, not two, makes it easier and faster for them to do business with you and makes it easier and more efficient for you to do business with them.
For example, Seagate Technology LLC, the provider of hard disk drives and storage solutions based in Cupertino, CA, has a Salesforce Communities-based self-service site. Its home page is shown in the screen shot below.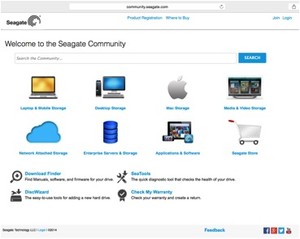 As a Mac user needing some advice on drives for backups, I clicked on the Mac Storage Topic and was taken to the Mac Storage products page shown below in the next screen shot. This page presents a list of combined questions, (Salesforce Knowledge) Articles, Solved Question, Unsolved Questions, and Unanswered Questions in the center with a drop-down at top of the list to filter the presentation. Links to product-specific pages are at the left.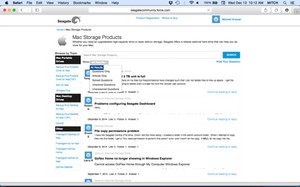 At the bottom of the Mac Storage Product Page are links to additional customer service facilities, including, "Get Help from Support." We show them in the screen shot below.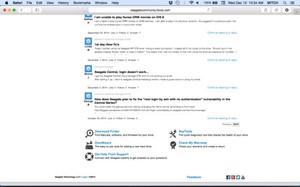 The Seagate community offers a complete set of easy-to-use self-service facilities. Community-style self-service gives customers everything they need for customer service—finding answers and solutions or getting assisted-service when answers and solutions don't exist or can't be found.
By the way, Salesforce Communities includes tools and reusable templates that can make it easy and fast to deploy customer self-service communities. Community Designer is the toolset for building and managing the web pages of Communities' deployments. Community Designer can also customize the three web page templates packaged with Communities—Koa, Kokula, and Napili. For example, the web pages for the Koa self-service template contain facilities that let customers search for, or navigate to, Salesforce Knowledge Articles by categories (called Topics), or contact support if they can't find answers or solutions.
Salesforce.com is changing and improving self-service with Salesforce Communities. What a good idea!
Salesforce Service Cloud
Capabilities for Self-Service, Assisted-Service, and Social Customer Service
By Mitch Kramer, Senior Consultant, Patricia Seybold Group, December 19, 2014
If you would like to receive our weekly customers.com emails, click here.
0 comments