Social Customer Service
The social web has hundreds of millions of users who spend incredible amounts of time posting and responding about any and every possible aspect of their personal and professional lives. Many of these users are prospects and/or customers who use the social web to get help in evaluating and selecting the products and services that they want to or need to buy and in installing and using those products and services after they've bought them.
These users want to leverage the experience and expertise of their peers, who are also social web users, who have already made these purchasing decisions or have already encountered these installation and usage problems. These users have also come to expect that the products' and services' suppliers are listening to their social conversations and will contribute timely and accurate answers and solutions. Get it?
Clarabridge Analyze and Clarabridge Act Deliver Social Customer Service
Clarabridge Analyze and Clarabridge Act comprise a product suite that can help suppliers deliver social customer service.
We had published an evaluation of Clarabridge 5.5 on March 28, 2013. Since that date, Clarabridge, Inc. has made significant improvements to the offering within two new versions: Clarabridge 6.0, which was introduced in April 2013 and Clarabridge 6.1, the version we evaluate in our report, which was introduced in November 2013.
This is a strong offering that earns a very good report card—Exceeds Requirements grades for the critical Monitoring and Analysis criterion and Meets Requirements grades in Product Viability and Company Viability. The Needs Improvement Grade in Customer Service Integration should improve soon through planned enhancements in future product versions.
Three factors, all product strengths, differentiate Clarabridge Analyze and Clarabridge Act and drive toward its selection. One of those factors is powerful and flexible monitoring and filtering of customer conversations in multiplelanguages.
The Social Web Is Noisy and Getting Noisier All the Time
Filtering is critical. The social web is very, very noisy. It's a major challenge for suppliers to identify the social conversations with questions and problems that require customer service. Why? Because:
Huge and increasing volumes of customer conversations take place on the social web
The number of social web users continues to increase
The number of social apps continues to increase
Customers are increasingly social
Also, the conversations of social web users about products and services, even named products and services, can be ambiguous and misleading. Product category, product, and company mentions might be:
Geographical. Make a left turn at the Publix.
Ambiguous. Is "Asics" a brand of running shoes or Application Specific Integrated CircuitS? Is "4X4" a product category for automobiles or dimensional lumber?
Conversational. "I'll pick you up at the airport. I'll be driving a black Volvo." Lost: North Face backpack.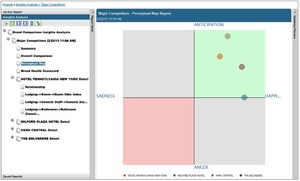 Querying social conversations by keywords or SQL-like keyword expressions, the approach of many social customer service products, results in a very large number of results, maybe tens of thousands of results that will not require any social customer service action. Querying by keyword collects every conversation that contains the keywords—relevant or not, misleading, and ambiguous. Querying by keyword puts the onus on social customer service staff to filter the noise and to identify the social conversations that need attention through manual investigation of reports that list these results.
Recently, as social networks have begun to (try to) generate revenue, social noise now includes ads, coupons, and spam—more noise, more results from keyword querying.
Clarabridge Filters the Noise
The filtering capabilities of Clarabridge can reduce the noise—big time. Specifically, Clarabridge Analyze can filter customer conversations by language, structured data attributes, social media attributes, data type, and/or content type. Here's how.
Language. Clarabridge Analyze automatically detects the language of customer posts, messages, and feedback. Language filtering is useful, but it won't reduce noise.
Structured data attributes/metadata. Clarabridge Analyze lets analysts filter customer conversations by any available attributes. If a social conversation includes tagged content data, then Clarabridge Analyze can filter based on those tags. For example, ecommerce web pages might be tagged with product categories, product names, or company names. Case/incident content might be tagged with customer identifiers and product identifiers. Metadata filters can cut through noise quickly and easily.
Social media attributes. Social media attributes are social source-specific. Analyze instruments all available social data attributes in customer posts, comments, and replies for the social sources that it supports. Attributes may include the poster's full name, username, and/or locale/location. This is information that can help find a poster's customer record, if one exists. With a customer record, suppliers can find information about current offers, purchased products, and historical cases/incidents, information that can determine whether the conversation is noise.
Data types. Data type attributes filter customer conversations by a data source ID, which is defined by the deployment, and by verbatim type. Verbatim types are post, tweet, reply, and comment. Data type filters can focus social customer service efforts on the posts and tweets that include questions and problems.
Content type. Content type filtering distinguishes between "contentful" posts, messages, and feedback and "noncontentful" posts, messages, and feedback. Noncontentful content types are ads, coupons, links to articles, and spam, and Clarabridge Analyze automatically recognizes and flags them. Analysts can configure content type filtering to discard or to retain noncontentful content. Content type filtering is new. This is an excellent noise reducer.
The monitoring and filtering capabilities of Clarabridge Analyze help businesses collect customer conversations across all social and internal channels in a wide range of languages and then filter the ever-increasing levels of noise to identify and analyze the most meaningful and important customer conversations. Filtering is a key strength and differentiator.
Finding Customers' Questions and Problems in Social Conversations
Customers are talking about companies and their products on the social web. They're making comments, asking questions, posing problems. It's critical but increasingly difficult to find those conversations that include questions and problems then to deliver answers and solutions to their posters. That's social customer service. Clarabridge offers tools to help.
0 comments