Virtual Agents Improve Customer Satisfaction While Lowering Cost to Serve
Virtual agents deliver bottom-line benefits. They can lower cost to serve as compared to live agents, and they can improve customer sat by improving the speed, accuracy, and consistency of the answers to customers' questions.
Contrast virtual agents with search and knowledgebase approaches that deliver many answers and leave it to the customer to pick the correct one. This single correct answer makes virtual agents useful for answering many kinds of customers' questions; certainly customer service questions but also questions about your business and about your business policies, processes, and practices, about your products, and everything about your customers' relationships with you—accounts, orders, bills, and passwords, for example. They can be your agents for marketing, for sales, and for service.
Leveraging Your Knowledgebase
Like your live agents, it takes time and effort to get virtual agents ready to engage with your customers. You have to give them the knowledge about the business areas that they support. You have to train them to understand your customers' questions and to correlate or match those questions with the correct answers. The knowledge is contained in/represented by the items in their knowledgebases, their store of predefined answers. Anticipate the questions that your customers will ask, specify the answers, and store them in the virtual agent's knowledgebase. All virtual agent products that we evaluate have knowledgebases and provide tools and facilities for creating and managing answers. Your customers' questions will change and evolve with their relationships and with changes to your offerings of products and services and to your business. Virtual agent's knowledge has to keep up with those changes (just like live agents' knowledge).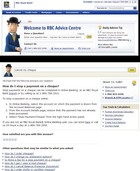 Training Virtual Agents Can Be Hard Work!
Training virtual agents to understand your customers' questions and to correlate/match them to correct answers is the harder part. Virtual agents use very sophisticated and complex technology to analyze customers' questions and to match them with the answers in their knowledgebases. Analysis and matching is the core processing that virtual agents perform. Analysis and matching technology is the virtual agent supplier's core IP, its secret sauce. Each of the four has patented some or all of this technology. The suppliers want you to appreciate the sophistication and power of the technology. They don't give you much detail of what it does or how it works. (We describe and evaluate how a virtual agent analyzes and matches questions in our product reviews. We actually read many of the suppliers' patents to help us understand the technology. In our reports, we describe it a bit, but we focus on what you'll have to do to use it effectively.)
For a successful virtual agent deployment, you provide critical input to your virtual agent supplier's Natural Language Processing (NLPs), for example:
• Words that your customers will likely include in their questions
• Misspellings, typos, slang, idioms, ad stems for those words
• Conditions/rules/expressions for how your customers combine words into phrases
• Parameters for configuring the NLP processing
If you don't specify the actual words and their various alternative forms that your customers use in their questions, then your virtual agent cannot deliver answers. Complete specification of your customers' vocabularies is critical. Virtual agent products help considerably with packaged dictionaries of common industry and application terms, but it's on you to provide the vocabulary specific to your business and your products.
Virtual agent suppliers also provide consulting services to help the NLP specification. These services are essential for a successful virtual agent deployment. These services are also essential for ongoing management of your virtual agent. Remember that customers' questions are always changing. So is your business.
Our Body of Research on Virtual Agents
We've published evaluations of the four leading virtual agent offerings:
Creative Virtual V-Person
IntelliResponse VA
Next IT Active Agent
Nuance Nina Web (VirtuOz Intelligent Virtual Agent when we published. Nuance acquired VirtuOz earlier this year.)
Virtual agents implemented on all four can deliver a single answer to a customer's question on web, mobile, and social channels. Expect the answer to be correct about 90 percent of the time.
Creative Virtual V-Person, Next IT Active Agent, and Nuance Nina Web use Natural Language Processing (NLP) technology for their analysis and matching. Each has its own NLP implementation. NLPs perform computational linguistic analyses on customers' questions, parsing for subjects, verbs, object, and qualifiers, extracting entities, identifying actors and roles, and codifying relationships. This is sophisticated and complex processing.
This Week's Research Report: IntelliResponse Virtual Agent
This week's report is our Product Review of IntelliResponse Virtual Agent (IntelliResponse VA), the virtual assisted-service offering from IntelliResponse Systems, Inc., a privately held supplier founded in 2000 and based in Toronto, ON, Canada. The report completes our latest research series on virtual agents/virtual assisted-service.
IntelliResponse VA uses machine learning technology for its analysis and matching. Machine learning is an algorithmic approach. The algorithm learns by training it with sample data in a controlled environment. It applies its learning when it goes live. The sample data that you provide to train an IntelliResponse VA virtual agent are the typical questions that you want it to answer, not the words and phrases in those questions, not various forms of those words, not the relationships between them, just the questions. IntelliResponse VA can do the rest of the work, even to accommodate the ongoing changes in customers' questions and in your business. IntelliResponse VA virtual agent deployment is easier and faster than NLP-based deployments. Read our report for the details and note that IntelliResponse can also provide those consulting services to help you deploy and manage virtual agents. The details of the work will be a bit different and there will be less work to do, but the objective will be the same—deploying virtual agents that answer customers' questions.
0 comments