Why Does Good Service from Contractors Surprise Us?
Even in this era of customer-centricity, when everyone and their brother espouses the importance of customer experience, we are often still surprised when we have a great experience! Recently, I was describing my experience with a local painting contractor (who patched and painted some small cracks in the walls of my condo in preparation for putting my house on the market and getting ready for the Open House about a week and a half later).
Giovani Rocha was referred to me by the management company who takes care of my condo complex. They arranged for him to come to check out my needs (a nice bit of customer service there—I didn't have to call him myself). They told him to be at my place at 9 a.m. on Thursday, and at 9:02 a.m. on Thursday, my doorbell range, and Giovani was here! He looked over the work to be done, said it would take two visits (one to prep and one to paint), that it wouldn't cost much (I was so happy that he was here I didn't even ask the price—more fool me!), and that he could start on Monday at a time convenient to me. I asked him to come at 1 p.m. so I could get work done in the morning, and at 1 p.m., he was at my door with a big smile and all his equipment.
While he was prepping the few cracks that needed fixing, I pointed out some spots that just needed a fresh coat of paint. Could he also take care of those? "Of course, no problem," he replied with a big grin. "I'll be back to paint on Wednesday at 9 a.m., if that's good for you." It was, so we parted ways.
Was I in for a fall? Was I going to be charged through the roof? Again, I just needed the repairs made quickly, so I just took his word for it.
So, Wednesday morning, Giovanni rang the bell at 9. Greeted me again with a big smile and hearty hello, and set about painting. When he was done about an hour and a half later—including cleaning up any mess—I looked at the excellent job he had done asked how much I owed him. He smiled and said, "How about $80?" Sold! I also took a number of his cards to give to my real estate agent (who is always looking for good contractors) and to pass along to anyone I knew who needed painting done.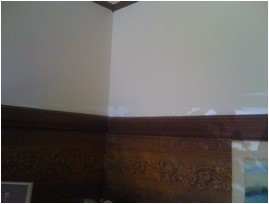 Can you spot the repaired and painted crack in my wall? Neither can I!
I was on my phone with my brother, David Marshak (who used to write for Customers.com) and described the experience. "Wow," he said. "I'd pay $80 just to have a contractor show up when he said he would!"
So why are we so surprised when we get excellent service like that? I think that we have come to expect stellar service from corporations who now understand that consumers as well as business customers will abandon any provider who doesn't offer a good experience. But we still feel at the mercy of contractors. They do things we either don't know how to do (electricians, plumbers) or that we don't want to do (painters, house cleaners, snow shovelers, and lawn mowers). We are so grateful to them for actually taking that burden off our hands that we put up with bullying, no-shows, and inflated prices. But we shouldn't! We should expect just as much excellence and service from independent contractors as we do from Amazon or IBM or Wells Fargo. More, in fact, because we are face-to-face with these people, interacting on an individual and personal level.
Services such as Angie's List exist to help us find exactly this level of contracting excellence. But we should also start expecting good service from anyone we contract with. Contractors get away with so much because we allow it. Shame on us! And thank you, Giovani.
Contractor Do's and Don'ts
Why Customer Experience Is So Important When Choosing a Contractor
By Ronni T. Marshak, EVP and Senior Consultant, September 4, 2014
If you were forwarded this message and would like to receive our weekly customers.com emails, click here.
0 comments