Why Don't Customers Count in Rural Healthcare?
The voters on the Boothbay, Maine peninsula where I live are engaged in their annual Spring rite of voting and town meetings to discuss and pass their budgets for the year. It's a wonderful slice of Americana. As many of you know, I have been involved for over 10 months in trying to keep our local community hospital from being shut down by its larger "parent" – MaineHealth (the largest Healthcare system in Maine, now expanding into New Hampshire).
The voters in three of the four towns on our peninsula have just voted on a non-binding referendum to keep our local hospital open—to maintain its 24 hour emergency room and at least some of its 25 hospital beds for local residents in need of acute care or recovery.
The votes from the three largest towns are:
In Southport, Maine, 95% of people who voted want to keep St. Andrews Hospital's Critical Access Status (24x7 ER + up to 25 beds).
In Boothbay Harbor, 83% of voters said they wanted to keep St. Andrews as a Critical Access Hospital.
In Boothbay, 87% of those who voted also want to keep their hospital open.
We have one more town to vote on our peninsula—Edgecomb will vote on Saturday. They are the farthest away from St. Andrews and closer to Miles Memorial in Damariscotta, so we expect their numbers to be lower.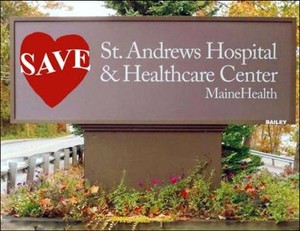 But 95%, 83%, and 87% of voters (which means the hospital's CUSTOMERS) say they want the hospital to continue serving them—A hospital which has been viable, nay, profitable for the past 11 years (with an avg. of $450K/year surplus).
So tell me again, why a nonprofit charitable corporation that was incorporated specifically to provide a hospital with a 24 hr. emergency room for the people on this rural peninsula should ignore what their customers want?
Tell me again why a larger nonprofit corporation gets to swoop in and close our hospital down and move all of its services and equipment to another hospital they own—one that is 40 minutes away from us on a bad road??
Tell me again why closing this hospital makes economic sense when its absence will cause our real estate taxes to increase, our jobs to decrease, and cause the number of retirees who have been moving here in droves to go elsewhere and to take their $6 million/year of philanthropy with them, as well as all their local spending in shops, restaurants, and home repairs and landscaping.
Oh, and what about the many lives that have been saved of people who live and work and vacation on our peninsula and its scores of surrounding islands? What are those lives worth?
The doctor-led Board that made the decision to close our ER should move to the big city where they belong and would obviously feel more comfortable. Their talents and expertise are clearly being wasted in our rural communities. They are trying to insist that a small rural community hospital can't save lives because we don't have enough emergencies and therefore can't afford to staff a full trauma center with 5 or 6 specialty doctors. They're wrong. Doctors and nurses at St. Andrews have been saving lives for 105 years. They can keep on doing it, particularly with the assist of telemedicine for challenging cases. This can be done as simply as using FaceTime via the iPads that our doctors love so much. We have a helipad. Critical heart patients are often air-lifted out after being stabilized at St. Andrews. Countless lives have been saved that way.
There are many doctors who WANT to practice rural medicine. Several of them have been serving us well for years—Dr. Nancy Oliphant, Dr. Alan Barker, Dr. Steve Cook, Dr. Chip Teel—as well as scads of Physicians' Assistants, RNs, Nurse Practitioners, Respiratory Therapists, Physical Therapists, and mental and behavioral health professionals. We thank those of you who are already serving us and we welcome more of you!
Our fight continues as we—the citizens and the healthcare CUSTOMERS—go, once more, to the Maine State House and the Maine Legislature and the Maine Attorney General to win the right to run our own community hospital again.
0 comments