Will Apple CX Continue to Wow?
There's no doubt that Apple knows how to stage an announcement. It's always great theater! There were probably more people watching the September 9th 2015 Apple product announcements than typically watch a major sporting event. But instead of "goofing off," an Apple product announcement is construed by most bosses as a valuable use of our time. After all, we are seeing the future of consumer and business communications and computing unfold.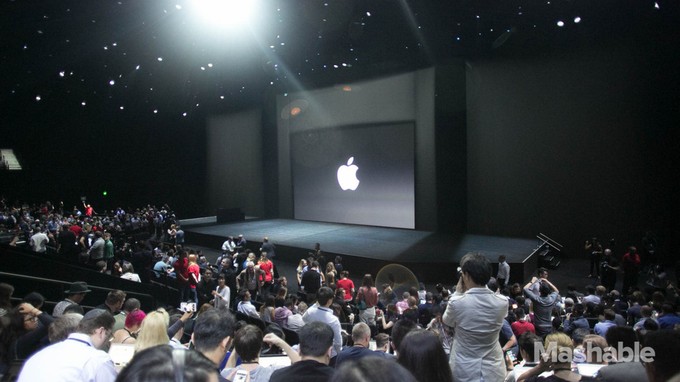 It never ceases to amaze me that ONLY Apple commands this kind of "stop the world, I need to watch the Apple announcement" fervor. I'm old enough to remember when other technology players commanded (almost) that kind of clout. When the world revolved around Microsoft, its announcements made us stop and listen. Then Google. But Apple has commanded top of mind billing among technorati for over a decade now. That's quite a feat!
Major CX Announcements:
I was not disappointed. Many pundits and Apple watchers were. In order of importance (to me), Apple's announcements yesterday were:
Live Photo--a seemingly simple, but very seductive attribute of the new Apple picture-taking and viewing experience. It turns every photo you take into an animated one. This is very cool. It makes amateur photographers rock! It's already really easy to create a "Ken Burns-style" video out of a series of still photos set to music. With the Live Photo capability, these amateur video productions will jump to life and amaze your friends.
Thomas Ricker at the Verge seemed to agree with my assessment that Live Photo may be the most innovative capability that Apple announced yesterday:
"Announced yesterday, Live Photos extends the moment of capture by a second-and-a-half on either side of the 12 megapixel stills snapped by the new iPhone 6S and 6S Plus. A Live Photo isn't a GIF (it includes sound) and it's not a video (motion is created using a "space efficient frame-to-frame technology"). It's something "new" from Apple and the results are pretty dramatic....Sure, HTC had Zoe long before yesterday's Apple event. But the difference between Zoe and Live Photos is the execution and scale. In typical Apple fashion, it's not first to use the tech but it stands a good chance of being first to make it popular."
IPad Pro as a productivity, not an entertainment, device, complete with click on keyboard and stylus/pencil--which kills off Microsoft Surface. It was telling that Kirk Koenigsbauer, head of MS Office was the one who carried out the mercy killing, by showcasing Word, Excel and Powerpoint on the new IPad Pro.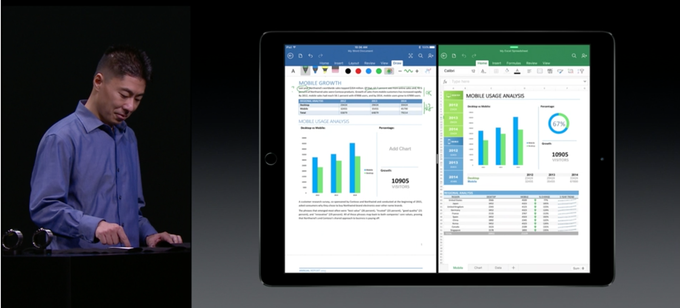 One of Patty's Pioneers immediately commented: "Microsoft's presentation of Office is really impressive. They just killed their own Surface Pro." (This comment from a financial services CIO who had just invested personal time in getting his new Surface set up.) When asked whether he planned to continue to use the Surface now, he replied: "Will abandon it. Not worth the learning curve."
Many of us were also impressed by the rapprochement between Apple and Adobe shown by the page layout and interactive design 3-app workflow that Adobe demo'd exclusively for the iPad Pro.
Apple watchOS 2. The next gen of the Apple Watch OS now provides the ability to "Time Travel". You can rotate the dial to fast forward and rewind your appointments. It also provides even better real time monitoring of remote sensors (including patients' fetal monitors and EKG's. Airstrip's Dr. Cameron Powell demonstrated his company's Sense4Baby app running on the new Apple WatchOS 2. This demo really resonated with a lot of folks in the crowd. Luc Dorhmel at Cult of Mac commented:
"For my money, AirStrip's Sense4Baby fetal monitor and Watch app was the best tech demo of yesterday's event. It showed a doctor remotely checking on a pregnant woman, who was able to remotely stream her heartbeat using her Apple Watch and a special cardio strap. In addition to collecting a medically-accurate cardiogram, it could also detect and differentiate the heartbeat of the unborn baby. Amazing!"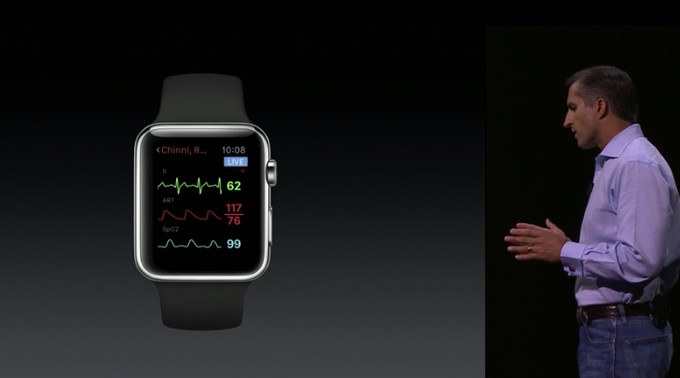 Airstrip demonstrated their company's Sense4Baby app running on the new Apple WatchOS 2.
Apple TV with tvOS(tm). Finally, Apple has a near competitive Web-to-TV-Swing and streaming video experience with the beginnings of the interactive features that today's non-passive viewers crave.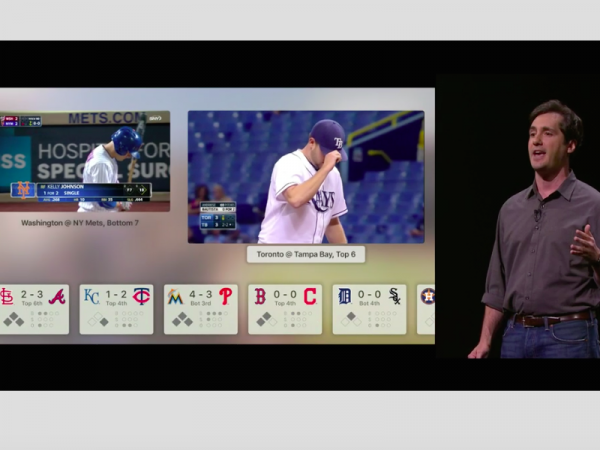 Major League Baseball's At Bat app on the new Apple TV
After seeing the Major League Baseball app demo'd during the announcement, Scott Jordan commented: "Did you see the Major League Baseball app demo? My sense is that is was the most significant and poignant demo of the day, in that it most fully embodied what Steve Jobs was talking about on his deathbed when he said he'd finally cracked television. Just a hunch, but I think you're witnessing that vision's full flowering, and the post-Steve era really starts now.)"
iPhone 6s. An evolutionary step in the iPhone line up. For many, it's the price of entry into the Apple experience. I haven't yet succumbed. But I can feel myself edging closer with each Apple announcement.
The new iPhone feature that I (and some of the Pioneers) enjoyed the most was the 3D Touch. 3D isn't new. Amazon tried it on its phone and bombed. But Apple lets you poke at things on the phone and the depth of your poke zooms you in and then lets you take action on the object. It's quite natural and cool.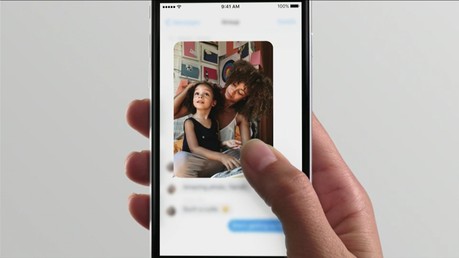 Healthcare Apps.Personally, I agree with Apple that fitness and health are the killer apps for the Apple experience.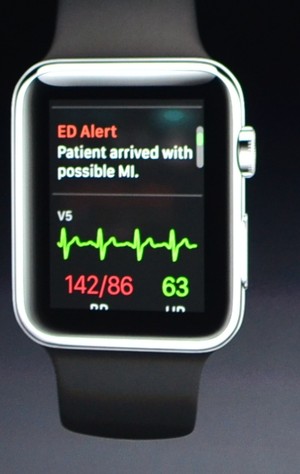 Doctors can afford the technology. It works for them.
Patients (particularly lower income ones) may not be able to afford an Apple Watch or an iPad, but their health insurers may discover that footing the bill to equip and train consumers in the use of wearable sensors in the consumer-friendly Apple form factor will pay off. This is what will no doubt drive me to become an Apple Watch/iPhone wearer/user.
Yes, these same apps will no doubt be available on Android or other mobile devices, but Apple has done an admirable job of wooing the medical practitioner community (at least in the western countries).
How Much is the Apple Experience Worth?
What Apple is selling is NOT these incredibly sexy technological marvels. It's NOT the high resolution graphics and fast processing speed, the recylable aluminum casings and the environmentally responsible raw materials. It's NOT the iOS operating system, nor the iCloud. It's not the Apps. It's not even the developers' platform. It's the APPLE EXPERIENCE.
The question that investors and pundits seem to be asking themselves now, as Apple's stock languishes in the 110's (compared to a 12-month high of 120), is the one my husband correctly asks: "Can Apple become a trillion dollar company anytime soon?" Can Apple continue to grow its customer base globally, or has it topped out?
Personally, i don't care whether Apple makes it to a $1 trillion market cap. I'm not a fan of "bigger = more sustainable." I think that's the wrong question.
I believe the RIGHT question is this: Will Apple continue to set the bar for the consumer experience in communications, computing, health & fitness, and maybe, entertainment? I didn't see anything in the September 9th, 2015 announcements that made me doubt Apple's ability to continue to wow consumers and business users.
0 comments