Will Apple's Tacky Software-Design Philosophy Cause A Revolt? | Co.Design: business + innovation + design
Here's an interesting contrast between Apple's current software/UI design philosophy and Microsoft's. See this article in Fast Company for Austin Carr's fascinating description of what he sees going on.
Here's an excerpt:
Despite consistently glowing reviews from critics and consumers alike, iOS and OS X, Apple's operating systems which tie Macs and iPads and iPhones together, have rubbed some the wrong way in recent years with their design directions. During my reporting for Fast Company's feature on design at Microsoft, which was part of our October design issue, I spoke with a number of designers, Apple veterans, and industry insiders hostile towards Apple's approach to software design. Equally eye opening was the number who genuinely praise Microsoft for its novel approach for Windows 8, the most radical redesign to date of the world's most ubiquitous operating system. The criticism and controversy, much of it revolving around a trend called skeuomorphism, reveal chinks in Apple's armor rarely visible to those outside One Infinite Loop.

"Visual Masturbation"

What's skeuomorphism? If you've ever used an Apple product, you've experienced digital skeuomorphic design: calendars with faux leather-stitching, bookshelves with wood veneers, fake glass and paper and brushed chrome. Skeuomorphism is a catch-all term for when objects retain ornamental elements of past, derivative iterations--elements that are no longer necessary to the current objects' functions."....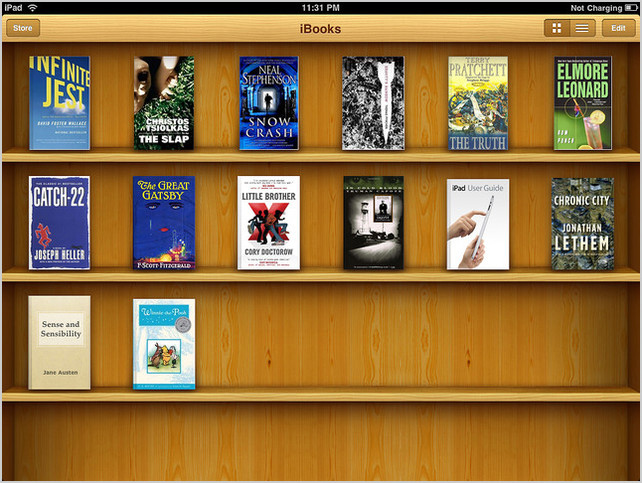 "It's visual masturbation," says one former senior UI designer at Apple who worked closely with Steve Jobs. "It's like the designers are flexing their muscles to show you how good of a visual rendering they can do of a physical object. Who cares?"

Inside Apple, tension has brewed for years over the issue. Apple iOS SVP Scott Forstall is said to push for skeuomorphic design, while industrial designer Jony Ive and other Apple higher-ups are said to oppose the direction. "You could tell who did the product based on how much glitz was in the UI," says one source intimately familiar with Apple's design process."....
Later in the article, he contrasts Apple's approach with Microsoft's:
What's the Alternative?

It's important to note that not all visual metaphors are bad. Rather, it's the excessive UI adornments of these visual metaphors that many insiders I've spoken with find distasteful and inherently confusing.

It's also why many industry leaders are excited for Windows 8. For the design of its new operating system, Microsoft took a surprisingly refreshing approach, distancing itself from skeuomorphism while emphasizing a flat user interface that's minimalist to the core. Sure, real-life visual metaphors still exist in the UI--an envelope to represent the mail app, a camera to denote the photo app--but the icons are without embellishments: no bevel, no 3-D flourishes, no glossiness and no drop shadow. It's Microsoft's stripped-down UI that many find appealing--a welcome alternative to Apple's approach to software design.
0 comments