Our Books
Outside Innovation

How Your Customers Will Co-Design Your Company's Future
By Patricia B. Seybold
Published in October 2006 by HarperCollins
Drawing from dozens of stories of outside innovation pioneers, this book shows you how to win the innovation war.
The faster and better a company innovates, the more likely it is to remain the leader and to set the new rules for others to follow. But the innovation game is changing dramatically. Drawing from dozens of stories of outside innovation pioneers, this book shows how to win the innovation war. Get the hardcopy or Kindle version of this book.
Also see related articles on this site.
The Customer Revolution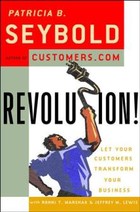 How to Thrive When Customers Are in Control
By Patricia Seybold, with Ronni Marshak
Published in February 2001 by Crown Publishing; Now available from Customers.com Press
You are no longer in control of your company's destiny . . .

In The Customer Revolution, the essential truths of business today are identified: "The Internet economy is the customer economy, and the fundamental source of value in the new customer economy is customers." In the customer economy, the depth of your customer relationships is directly proportional to the value of your business. Attracting and retaining customers will be the core competencies of successful firms. Companies will be increasingly valued based on how they build relationships with their customers and on those customers' long-term value to the company.
The book is available in PDF (for free!), Amazon Kindle eBook, and Audiobook formats.
Customers.com Classic
How to Create a Profitable Business Strategy for the Internet and Beyond
By Patricia B. Seybold, CEO and Sr. Consultant
With Ronni T. Marshak, Published in November 1998 by Times Books; Now available from Customers.com Press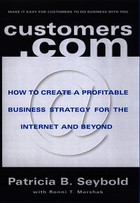 This is the ORIGINAL Customers.com, an Internet business classic in the late 1990s. Research into the case studies summarized in this book revealed a winning strategy: Use the Internet to "make it easy for customers to do business with you." It was invaluable advice at the time. Read this book if you're interested in the HISTORY of how organizations learned how to do business on the Internet. Its Critical Success Factors and Steps to Success remain valid as the basis for any business initiative.
The book is available in PDF format to members of the Customers.com Strategies and Technologies services. Also available in Amazon Kindle eBook and Audiobook formats.
Customers.com Handbook now available in PDF!
BRANDchild

Remarkable Insights into the minds of today's global kids and their relationships with brands.
By Martin Lindstrom, with Patricia B. Seybold
Published in March 2003 by Kogan Page
Based on extensive study of tween attitudes and behaviours, BRANDchild looks in-depth at the phenomena behind global kids and their relationships with brands. Packed with practical advice on how to create kids' brands including more than 50 fascinating, previously unpublished case studies, BRANDchild proposes new innovative ways of marketing to this young audience. The book is available through Amazon.
It Takes a Child to Raise a Village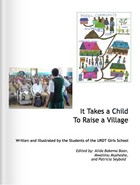 How We Became Change Agents—Improving Our Families' Incomes and Lives—and Role Models in Our Communities
Written by the URDT Girls School Students, edited by Alida Bakema Boon, Mwalimu Musheshe, and Patricia Seybold, May 20, 2010
Enjoy the pictures and stories of 40 remarkable young Ugandan girl students who are transforming the lives of their families and their rural villages. Each girl student is leading her family and her village out of poverty by teaching them what she's learning at the URDT Girls School. This is the ONLY school in the world where parents' incomes INCREASE while their daughter is in school; not after she graduates and gets a job. Why? Because these girls lead their families in making transformative changes in their homes and communities.
You can download the free PDF here.
Patricia Seybold is an internationally acclaimed best-selling author and CEO of the Patricia Seybold Group. Patty's books have been on the bestseller lists of Business Week, Wall Street Journal, New York Times, USA Today, and Amazon.com. There are over 500,000 copies of her books in print in more than 15 languages.