Don't Miss Your Chance to Shape the Future of Medicine
To me, the most exciting initiative that's been triggered by President Obama's focus on Precision Medicine is the Precision Medicine Initiative (PMI) Cohort program. Its goal is to recruit a cohort of 1 million people in the U.S., all of whom agree to share their health data, including their medical histories, their health records, and their genetic data, with researchers and clinicians. The mission of the Precision Medicine Initiative is: To enable a new era of medicine through research, technology, and policies that empower patients, researchers, and providers to work together toward development of individualized treatments.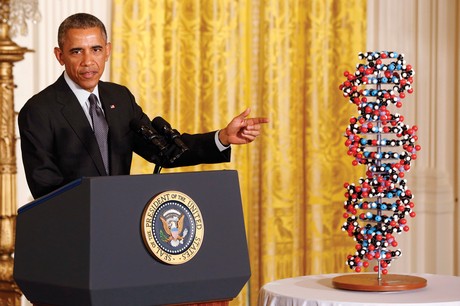 Why would you participate?
To benefit from the opportunity to have medical researchers proactively detect, identify, target and safely and effectively treat any health problems that can be detected by analyzing patterns at the molecular level across populations of people.
In order to accelerate medical research and treatment by contributing your own health data to the commons.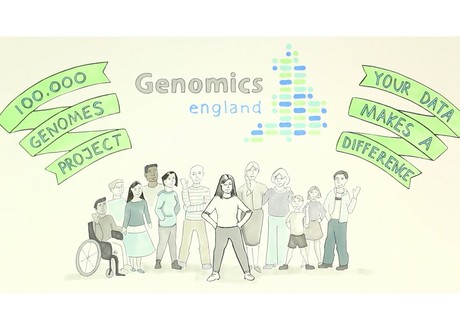 To put this US initiative in perspective, in Iceland, over the past 15 years, 1/10th of the population's genomes have been sequenced and analyzed, providing health breakthroughs that have benefited both the entire population of Iceland, but also people all around the world. The Estonian Genome Project is a population-based biological database and biobank which was established in 2000 to improve public health in Estonia. It contains health records and biological specimens from 52,000 adults. It's goal is to collect genealogical, genome and health data from 5% of the population. The UK's National Health Service has been implementing the UK's 100,000 Genome Project since 2012.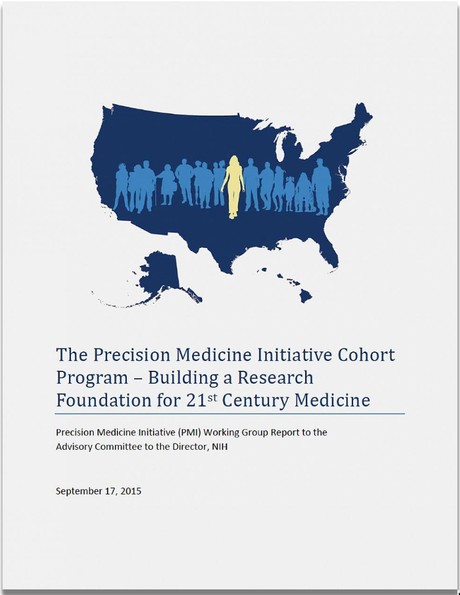 The US Precision Medicine Initiative Cohort Program does not plan to start with whole genome sequencing of 1 million people, but it hopes to wind up there. In the meantime, the goals are a bit more pragmatic: the PMI Cohort Program will be collecting electronic health records, baseline health exams, self-reported measures, and specific panels of genes that act as pharmacogenetic markers. (These markers are used in a clinical setting to determine the efficacy and safety of specific drug treatments for particular groups of patients.) The PMI Cohort will begin with a "direct volunteer pilot."
The PMI Cohort Program has Momentum
On Thursday, February 25th, 2016 President Obama took the next step in making his Precision Medicine Initiative (PMI) 1 Million People Cohort Program real. The National Institute of Health (NIH) announced its selection of the teams of contractors and partners who will:
Target the first "direct volunteers" who will be invited to participate in the program for the first year (79,000 people). These folks will be recruited from active duty military personnel and veterans, from 5 Federally Qualified Health Centers (serving underserved rural and urban populations), as well as volunteer patients from the following health care organizations: Carolinas Healthcare System, Chesapeake Regional Information Service for our Patients (CRISP), Hackensack University Medical Center, St. Joseph Health, The University of California Health System, and Yale New Haven Health. (The rest of us will need to wait a year before we can sign up as volunteer participants.)
Figure out how to Recruit and Educate Patients. The responsibilty for patient education and recruitment was bundled together with the design and testing of the tools patients and familes will use to access the data in a 1-year program called the Direct Volunteers Pilot Studies Program.

Design and test the portal that patients will use to provide their own Electronic Health Records and other relevant health data. The Pilot Studies Program was awarded to a team from Virginia University Medical School which includes experts from Verily (formerly Google Life Sciences) as well as the University of Michigan and the Broad Institute of MIT and Harvard. The Principal Investigator, Dr. Josh Denny from Vanderbilt, who is a pioneer in Precision Medicine said: "We'll pilot how to authentically engage individuals to participate in the program and build the initial informatics and Web infrastructures to support it."
Import Electronic Health Records for the pilot volunteers -- In the first year, this will be done thru "Sync for Science" pilots through an open standards development process with electronic health record developers Allscripts, athenahealth, Cerner, drchrono, Epic and Mckesson.
Design the security and privacy policies and framework required to protect patient's privacy while making it possible to analyze their data, and see patterns across genotypes and phenotypes. On February 25th, the White House released a Draft Data Security Policy Principles and Framework for the Precision Medicine Initiative. Public comments on this policy are welcomed thru March 25, 2016. In addition, the Office of the National Coordinator for Health IT, in collaboration with the National Institute of Standards and Technology (NIST), will, by December 2016, develop a precision medicine-specific guide to the NIST Cybersecurity Framework.
I was interested to note that the draft data security policy assumes that patients' information will be de-identified, but does not presume that is a sufficient safeguard. So all data will also be encrypted. Here's that section of the draft:
"DATA SECURITY

Encryption. PMI data that is reasonably likely to identify an individual should be protected at-rest and in-motion using strong encryption. Examples of data reasonably likely to identify an individual include direct identifiers such as name, birth date, contact information, and Social Security Number.

Encryption Key Security. PMI organizations should store encryption keys separately from encrypted data and establish policies for secure encryption key creation, distribution, access, and revocation.
Physical Security. PMI data should be protected by physical security controls as well as cybersecurity controls.
Service Provider Security. When PMI organizations employ subcontractors, third parties, or vendors (including hosted, cloud, or application service providers) to create, receive, maintain or transmit PMI data, PMI organizations should obtain the necessary assurances that the service provider will appropriately safeguard PMI data, consistent with the PMI organization's security plan.
Integrity Protection. PMI organizations should implement integrity protection controls that detect when unauthorized alterations have been made to PMI data."
I'll leave it to the security geeks among our readers and in our Patty's Pioneers group to pour over this draft document and alert us if it's inadequate.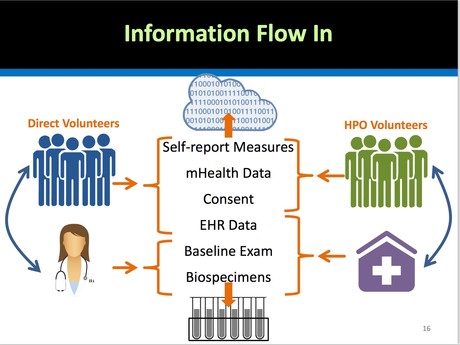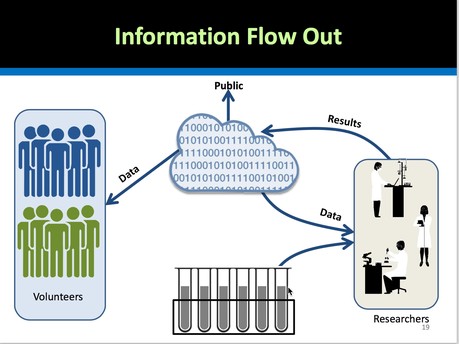 Future projects that will be funded by NIH to scale up this initiative include, among others:
Design and build a BioBank for storing blood and biospecimens.
Develop a Participant Technology Center to identify and validate mobile health apps and sensors to collect data from cohort participants.
The timeline has been quite fast for a government-initiated project. Kathy Hudson, NIH Deputy Director for Science, Outreach, and Policy, explained the timeline. The RFPs for these services were issued in November 2015. The proposals were received in December, 2015 and the awards were announced on February 25th. "That's because President Obama is impatient about this initiative," Kathy explained.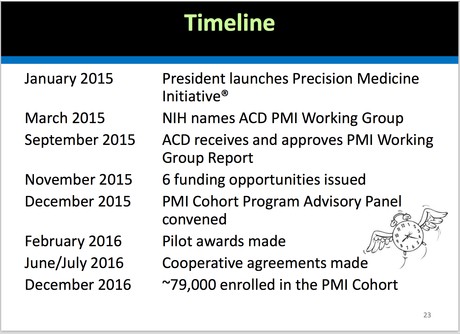 Here's the description of the PMI Cohort from the National Institute of Health website:
"The PMI Cohort Program will seek to extend precision medicine to all diseases by building a national research cohort of one million or more U.S. participants. Many factors have converged to make now the right time to begin a program of this scale and scope — Americans are engaging in improving their health and participating in health research more than ever before, electronic health records have been widely adopted, genomic analysis costs have dropped significantly, data science has become increasingly sophisticated, and health technologies have become mobile. The PMI Cohort Program will be a participant-centered, data-driven enterprise supporting research at the intersection of human biology, behavior, genetics, environment, data science and computation, and much more to produce new knowledge with the goal of developing more effective ways to prolong health and treat disease.

The cohort will broadly reflect the diversity of the U.S. population by including participants from diverse social, racial/ethnic, and ancestral populations living in a variety of geographies, social environments, and economic circumstances, and from all age groups and health statuses. Information from the cohort will be a broad, powerful resource for researchers working on a variety of important health questions. The program will seek to extend precision medicine's success to many diseases, including common diseases such as diabetes, heart disease, Alzheimer's, obesity, and mental illnesses like depression, bipolar disorder, and schizophrenia, as well as rare diseases. Importantly, the cohort will focus not just on disease, but also on ways to increase an individual's chances of remaining healthy throughout life. The goal of the PMI Cohort Program is to set the foundation for a new way of doing research that fosters open, responsible data sharing with the highest regard to participant privacy, and that puts engaged participants at the center of research efforts."
Why Is Precision Medicine the "Next Big Thing?"
It saves lives! It enables healing breakthroughs for many of our most intractable diseases, including many forms of cancer.
It's technology-enabled. Precision Medicine is enabled by the rapid decrease in the costs of analyzing human genomes and the concomitant increase in the availability of data mining analytics using parallel processing compute power, along with the ability to practice medicine at the molecular level, leveraging proteins, bacteria, and highly targeted and precise therapies.
It combines cutting edge medical research with clinical practice, dramatically reducing the cycle time between coming up with a hypothesis, testing an approach, and validating its efficacy and safety in a clinical setting. In order to be effective, Precision Medicine requires the participation of large numbers of people in order to have big enough cohorts to spot patterns at the molecular level. And, it also presumes that a much larger percentage of patients will be participating in clinical trials than is currently the case with adults. (Today, many more children are enrolled in clinical trials, particularly for cancer research, than are adults, and their outcomes are much better.)
It will transform the way medicine is practiced over the next decade. That transformation is actually happening very quickly. The chances are good that you, or a family member, will benefit from Precision Medicine withiin the next 24 months, whether or not you volunteer to participate as part of the PMI Cohort.
What Is Precision Medicine?
I like this definition of Precision Medicine from Mikael Dolsten and Morten Søgaard, from their seminal paper published in May 2012, which elucidates the relationship of Precision Medicine to Personalized Medicine:
"Precision Medicine is an approach to discovering and developing medicines and vaccines that deliver superior outcomes for patients, by integrating clinical and molecular information to understand the biological basis of disease. This approach leads to better selection of disease targets and identification of patient populations that experience better clinical outcomes."

"Ultimately, the potential of Precision Medicine is that it will yield treatments that deliver clinically significant treatment effects, with favorable safety profiles. When appropriate, these new treatments are focused on a particular sub-group of patients with certain genotypic and/or phenotypic characteristics that make them more likely to benefit or less likely to experience side effects."

A related concept, 'Personalized Medicine', has been defined by the President's Council of Advisors on Science and Technology (PCAST) as 'the tailoring of medical treatment to the individual characteristics of each patient to classify individuals into subpopulations that differ in their susceptibility to a particular disease or their response to a specific treatment. Thus, products and diagnostics developed through Precision Medicine facilitate the practice of Personalized Medicine."
Stay Tuned
Over the next few weeks, I'll be providing more background and analysis on Precision Medicine, including a "Patient Bill of Rights" for participation in Precision Medicine research.
0 comments