Apple's Amazing Comeback
How Apple Catapulted Beyond Microsoft, Google, Dell, Sony, IBM, Amazon, and HP in the Hearts and Minds of Customers
How did Apple become one of the most valuable companies in the world, surpassing Google, Microsoft, Wal-Mart, Disney et al? Apple is 34 years old. The last seven years have been characterized by an amazing growth in revenues, stock value, customers, and share of mind. How did Steve Jobs turn Apple around?
I wanted to tell the story of Apple's rise from the near dead and to trace the company's astounding success since Steve Jobs' return to the helm fourteen years ago. How did Apple go from being a has been to becoming the most revered (and valuable) company in modern history?
How did Apple's products become the benchmark for customer experience and customer delight?
To wrap my head around this phenomenon, I reached out to a stalwart and usually vocal group familiarly known as "Patty's Pioneers" and began emailing questions about Apple. A fascinating week-long email discussion ensued, in which the most passionate and spirited contributors turned out to be my brother, Jon Seybold, and my colleague, Scott Jordan. Others chimed in as well. So this article is the result of a week-long collaborative discussion about a topic many of us find fascinating. What has Apple done that is working so well?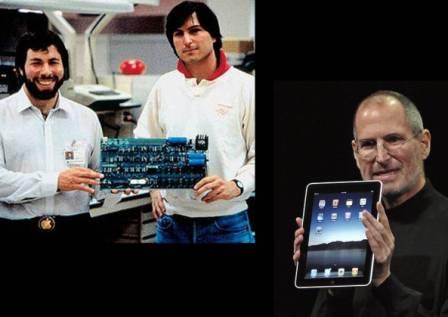 © 1976 and 2010 Apple
Illustration 5. Steve Wozniak and Steve Jobs holding the board for the original Apple 1 in 1976. Steve Jobs holding the iPad in 2010.
2010: APPLE'S AMAZING PERFORMANCE
Apple's Market Cap
As of September 26, 2010, the value of Apple ($267B) had surpassed that of Microsoft ($214B), Google ($168B), IBM ($169B), Intel ($108B),
Amazon ($72B), Nintendo ($39B), Nokia ($39B), and Sony ($31B). "Apple's valuation is now not only higher than any other technology company but it's nearly the most valuable company on the planet," asserted Horace Dediu in a recent post, Apple's Growth vs. the Top 10 Largest Market Caps, pointing out that only Exxon Mobil currently surpasses Apple in total stock valuation.1 What amazes me is that Apple's valuation not only leads that of other technology firms, but also that of major retailers (Wal-Mart $197B, Tesco $56B), and entertainment companies (Disney $64B, Comcast $52B, News Corp $37B, Time Warner $35B).
As Horace Dediu points out, it isn't just Apple's market cap that's impressive but the continued rise in the company's earnings per share:
"The company showed 93 percent EPS growth over a five year period and has a P/E of 22." The company with the next highest total value (Exxon Mobil) had 0.5% growth with a P/E of 12. The company with the next lowest total value (Microsoft) had 13.3 percent growth with a P/E of 12. For an ultra-large cap, Apple's growth is unprecedented and extraordinary. It's in fact off the scale. The average growth of the other 9 top caps is 3.6 percent!"

~ Horace Dediu
I also found the five-year stock price comparison between Apple, Google, and Microsoft enlightening. Apple has far outstripped both Google and Microsoft.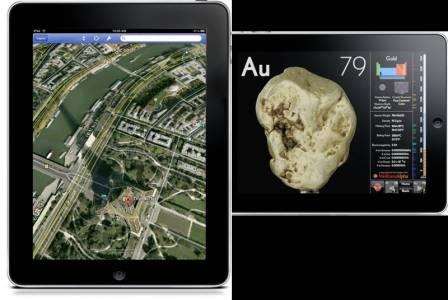 © 2010 Apple
Illustration 11. Google Earth is one of the most popular iPad applications. The periodic table of elements is another application that really shines on the iPad.
Apple's Customer Satisfaction Index
Apple also took the prize for the seventh straight year in the authoritative University of Michigan American Customer Satisfaction Index (ACSI) released on September 20, 2010.
In describing the ACSI findings, Professor Claes Fornell commented:
"Apple continues its dominance, leading the PC category by a wide margin for the seventh straight year. Customer satisfaction with Apple's computer products, including the iPad, rose 2% to an ACSI of 86—the highest score ever for Apple. The company now has a 9-point lead over its nearest competitor. No other company in the ACSI has as formidable a lead within its own industry.

Innovation and product diversification, along with strong customer service, have long been at the center of Apple's success. At times, demand for Apple products has outstripped supply, with over 3 million iPads sold in the second quarter alone. At the same time, sales of Mac computers set an all-time quarterly high, which suggests that the popularity of the iPad has not impacted Apple's desktop computer business. The company's net income rose 78% in the second quarter and stock price, despite recent volatility, was up about 50% compared with one year ago."

~ Claes Fornell
We have long contended that there's a close correlation between the value of a company, its customer satisfaction index, customers' loyalty, and its customer momentum (a growing number of delighted customers who refer other customers)...
Sign in to download the full article
0 comments