How Seniors are Designing Social Support Networks
What's the best way to support your aging parents' desire for independence and your desire for their health and safety? This is a top-of-mind critical concern for many people around the world. What's heartening to me are the number of customer-driven initiatives that have sprung up all over the globe. By "customers" in this case, I'm talking about the seniors themselves. Seniors are organizing their own support communities and networks designed to let them remain in their own homes, and/or in alternative arrangements of their own design and choosing.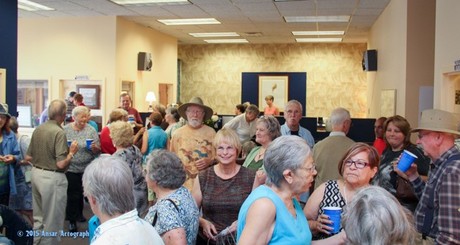 The opening of the Community Center in Boothbay Harbor, ME created by Seniors for their community
Seniors are Taking Charge of their Futures
There are many ways in which seniors are organizing themselves into support networks. In the US, they organize ride-sharing services, create Senior Centers, become phone buddies, participate in programs like Meals on Wheels and Friends in Service Helping (FISH). The best-known national model is the Village to Village Network, which began in the Beacon Hill neighborhood in Boston, and was quickly emulated by other senior citizen groups around the country (and now globally). There are now 190 V2V "Villages" that are up and running and another 150 in the planning stages. These are non-profit organizations that have been formed to provide services to seniors who live in their own homes--think of them as virtual independent living communities. They are all created by the seniors themselves. Not by organizations who want to "serve" senior citizens. Once a group has coalesced, they find or form a non-profit as their umbrella/home organization. Sometimes these are Area Agencies on Aging (state government organizations tasked with providing service to seniors); sometimes they are local non-profits. Often, a new non-profit organization is formed, which may become the hub for several nearby "villages."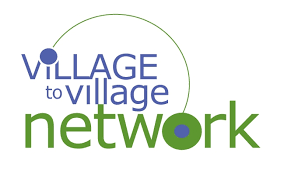 In Boothbay Harbor, Maine, our People Helping People program has been operational for almost a year. It's the second operational V2V "Village" in the state of Maine. It started as a grass roots community effort. We joined the Village to Village Network to be able to share experiences with others online.
Update on Seniors Helping Seniors in Boothbay, Maine
Here's a brief update on the small, grass roots initiative we've created in our community in mid-coast Maine over the past three years. For the background of how this initiative came to be, please see the first article chronicling our start up experience, Designing Solutions for Aging in Place. For background on our Community Center, which was created by local seniors for the community, see Co-Designing a Community Center.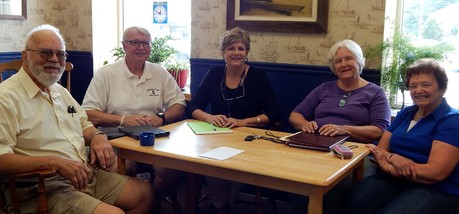 The Community Center Committee is comprised of local seniors who are all on the Board of our Boothbay Region Health & Wellness Foundation who took the initiative to design, launch and operate a Community Center in our region to combat social isolation. The Center is available for free 6 days/week to people of all ages in the Community. It offers free coffee, tea, Wifi and snacks, laughter, smiles & hugs, as well as about 40 free classes and activities each month.
The Community Center initiative was started by a sister group of seniors under the umbrella of the same non-profit Foundation, our Boothbay Region Health & Wellness Foundation (of which I am the President).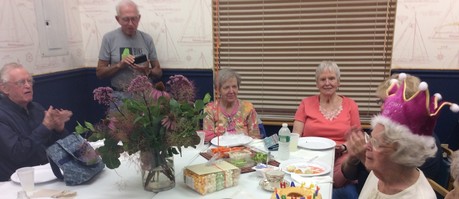 Awesome Seniors' Committee members celebrating a member's 98th Birthday
Awesome Seniors Committee Started in 2013
Our "Awesome Seniors" committee has been meeting at least monthly since the fall of 2013. The group consists of 30 seniors ranging in age from 66 to 98. Two-thirds of the group are year-round residents; one-third are summer residents.
At least five of the members are very low income. Three are also care-givers for older family members. Thirteen have one or more chronic ailment that they are managing: diabetes, COPD, macular degeneration, asthma, etc. Together, we are designing and delivering programs to support ourselves and others in our community. To-date we've created a weekly exercise program and our People Helping People membership program for those choosing to remain in their own homes as they age.
The Awesome Seniors' First Initiative: Exercise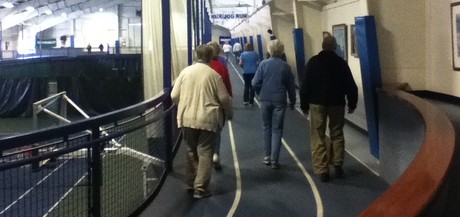 Seniors Walk at the Y (for Free)
The Awesome Seniors committee decided to tackle two issues in parallel: social isolation and physical health. One of our members was an avid exerciser at the local YMCA, so she proposed that we approach the Y and ask them to waive the membership fees for seniors, or at least ask if seniors who were not Y members could use the indoor walking track.
In our coastal community with a year-round population of 7,000 and a seasonal (5-months) population of 25,000, we're lucky enough to have a top notch YMCA with two indoor pools, indoor tennis courts, and an 1/8th mile track. Membership fees at the Y for people 65 and over range from $26 to $39 per month depending on income (with scholarships available). But many seniors don't want to pay that much, nor are they willing to provide copies of their income tax in order to qualify for the discounts. So, two years ago, Jeannie Hamrin, a Y member who was also a member of our Awesome Seniors committee, approached the Y management and its Board and asked to start a 6-month Pilot Program for non-member seniors to walk on the track at times when it wasn't being heavily used. She explained that there were many elderly people who were living alone and isolated, who did not have a chance for regular exercise, particularly in the bad winter weather. She offered that members of our committee would provide transportation for anyone who needed it. The Y management proposed 10 am to noon on Tuesdays and Thursdays, and offered the use of their van, if we would provide drivers who could be checked out. (Which we did.) The pilot began on March 18, 2014 and just completed two years with an awards luncheon hosted by the YMCA on March 18th, 2016.
Two Year Statistics
Over the past two years, 207 people ranging in age from 61 to 98 years old have participated in this "Seniors Walk Free at the Y" program. They have walked a total of 5,088 miles. The average age of those walking is 74 years old. However, the most frequent, consistent walkers range in age from 84 to 88 years old. Each one of these "top walkers" averages over 1.2 miles per session. The average number of laps per person per walking session over the two years is 10 1/2 laps or 1.3 miles.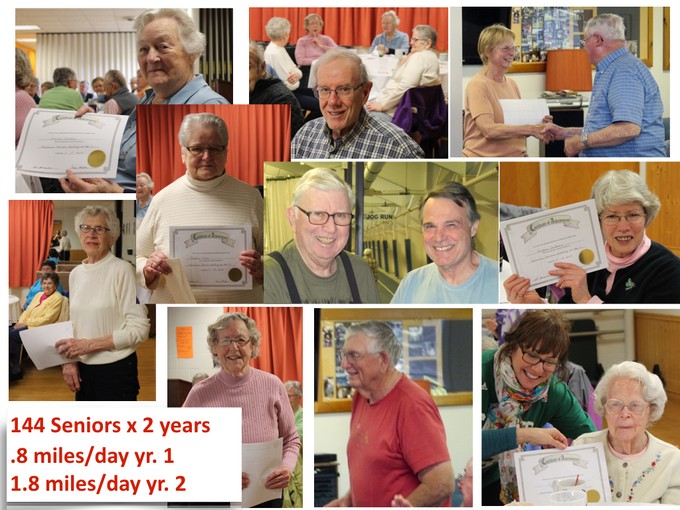 When the program began in March 2014, the average distance walked per person per session was .8 miles. Now, at the end of two years, the average is 1.8 miles. Participants value the opportunity to socialize as well as to exercise. Although it's a small town, many people had lost track of one another since their school years, and have a great time catching up. There's also a wonderful blend of "locals" and "peoople from away" (those who have moved to the region).Each returning or new participant is welcomed warmly, encouraged, and cheered on, as they record their laps each session. They contribute pocket money for fresh fruit, water, tissues, and hand sanitizer. The Boothbay Harbor YMCA continues to be an enthusiastic partner in this twice-weekly program which is open to all who are 62+.
We Designed a Senior Social Safety Net
From the beginning, our group of Awesome Seniors knew we wanted to create a program to help ourselves and others like us age gracefully in our homes with as much independence as possible. After a year of research, and a pilot year with one member/volunteer, we kicked off our "People Helping People program formally in early May, 2015. As part of our design process we joined the Village-to-Village Network, which has provided wonderful resources and guidance. We became the second "Village" in Maine. The first was At Home Downeast in Blue Hill, Maine. Now there are several more springing up, in Bowdoinham, Portland, Rockland, and York.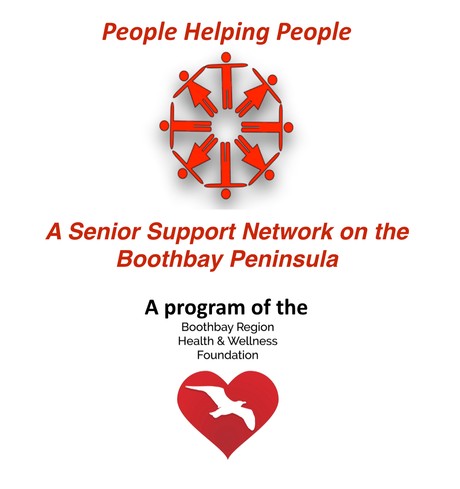 Members & Volunteers Provide Services for One Another
We now have paying 12 members (who also volunteer), 20 non-paying volunteers, and 1 paid part-time coordinator.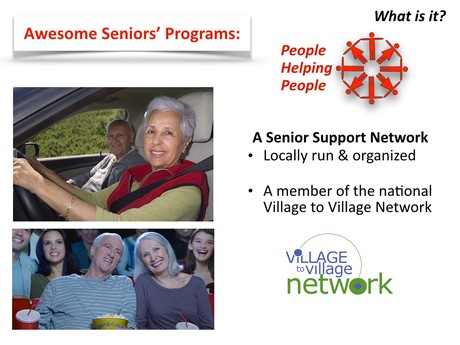 Here's how it works:
People who need services become paying members at $10 to $100 per month, depending on income. With a 3-month minimum membership (to accommodate seasonal residents)
Members receive up to 3 services/week
People who want to, act as volunteers
All members are also encouraged to help others
Members make 1 call to our Coordinator to request services
Services that can't be provided by volunteers (e.g. nursing, house-cleaning, snow-plowing, etc.) are arranged for by the coordinator and the member pays the service provider directly. We maintain a directory of vetted local service providers
The services provided to members include (but are not limited to):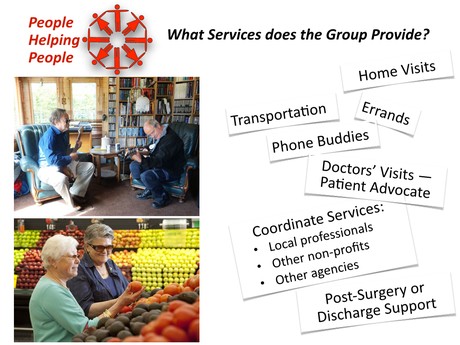 Daily check-in calls
Transportation for any reason
Transportation and Patient Advocacy for Medical Visits
Run errands, for or with the member (grocery shopping, banking, dump runs, etc.)
Social companionship: lunches out, shopping trips, movies, etc.
Pet care & walking
Post surgery or discharge coordination of in-home services
What makes our People Helping People program similar to other Village to Village programs are the following characteristics: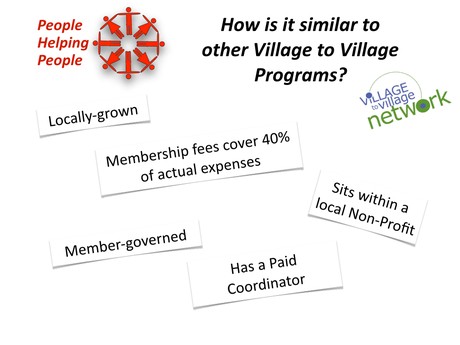 Locally grown and governed
Sits within a local non-profit
Has a paid coordinator
Membership fees cover 40% of total costs; the rest is raised through fund-raisers, charitable contributions, and grants
What makes our program different from many others are: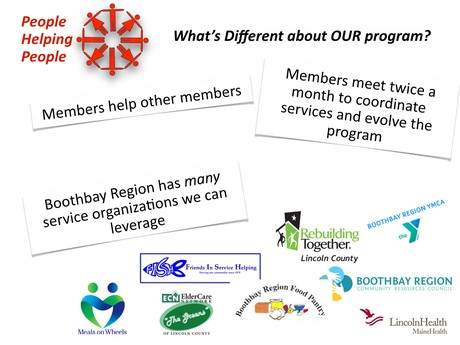 Members and volunteers meet twice a month to run the program and to coordinate services
The wealth of services in our region we can leverage: FISH for medical rides, District Nurse who will visit people in their homes 1x week, Community Paramedics who will also visit patients in their homes, Meals on Wheels, Community Food Pantry, Community social worker, Rebuilding Together, and many other services.
Members are expected to provide 4 hours of volunteer time to one another each month (to keep our costs down and to keep people engaged and active)
We track our volunteers' and members' hours using TimeBanking, so each hour donated earns an hour of service for the donor or for someone else they designate.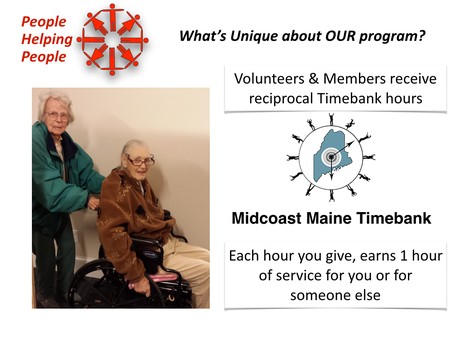 As we near our first anniversary, we've pretty much gotten the kinks out of the program and are ready to grow organically. Most of our referrals come from members and their friends and neighbors. Our biggest source of new members has been the adult children of parents who want to remain living in their homes alone, but the kids don't feel able to help their parents as much as they would like. These kids are very grateful to know that there's a group of committed peers looking out for their parent and letting him or her continue to live with independence and dignity.
So what's the answer to our original question: What's the best way to support your aging parents' desire for independence and your desire for their health and safety? Hook them up with a social support network for seniors and/or get them involved in creating one of their own!
0 comments