Designing Solutions for Aging in Place
Part 1: Boothbay's Awesome Seniors' Initiative—First Year
How do seniors design services that will enable them to thrive in their own homes? They look at what they need. They look at what they have. They experiment. All over the country, as baby boomers' (and their parents) are aging, these 65+ year olds are inventing better ways to stay healthy, active and engaged as they age gracefully. We look at the first year of experimentation by one group of seniors in a rural community.
NETTING IT OUT
We all know that the demographic trend is inexorable. We—the human species—are living longer and getting older. This trend is particularly evident as the huge bubble of baby boomers moves through our "retirement" years in developed countries. I believe that the next twenty years will reshape our economy and spawn many new services designed by and with people who want more control over the quality of their lives as they age.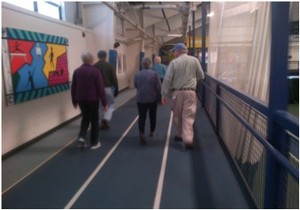 There are big business opportunities as well as huge economic costs associated with our aging demographics. Government organizations, non-profit organizations, and for-profit entitities are all investing in tailoring services for our rapidly aging population. What many designers of services for seniors aren't paying enough attention to, is that it will be the seniors themselves who will drive the transformation of how and where people will live and thrive as they age; not their adult children, nor the many non-profit and for-profit corporations that are busily designing and evolving products and services for seniors.
On a rural peninsula, in coastal Maine—which happens to be home to the most elderly population in the U.S.—a group of "Awesome Seniors" are trying to design their own affordable solutions to help them age gracefully in place, while contributing to their community.
SENIORS DESIGNING SERVICES FOR SENIORS (& OTHERS)
Awesome Seniors Thriving in Place Design Team
Inspired by Dr. Alan "Chip" Teel, the author of Alone and Invisible No More1, who gave a talk in Boothbay Harbor in October 2013 about how to help elders thrive in their homes, a group of local seniors decided to form an "Elder Empowerment" committee to coordinate existing senior services and to design new services for themselves and for others on the Boothbay peninsula in midcoast Maine. One of the compelling points that Chip Teel made in his speech and in his book is that if you harness all the brain power of all the seniors in any region, you will have an organization that probably has more manpower than the largest company in that region.
This committee, which soon dubbed itself the "Awesome Seniors," consists of about 30 seniors, ranging in age from 65 to 97. Twenty-five of these seniors are year-round residents on the Boothbay peninsula. Five of them are seasonal residents (they live here for five months/year). Five of them are low-income (eligible for MaineCare and local Food Pantry). Thirteen have chronic diseases, including four with cancer, one with disabilities due to Lyme disease, two with COPD, three with asthma, four with diabetes. One is confined to a wheelchair. Another has limited mobility. Three are also caregivers for family members who are older or more disabled than they are. They are the designers, volunteers, and eventual recipients of a comprehensive set of services they are coordinating, designing and rolling out for themselves and their peers. They have been meeting and working since September 2013 to design and coordinate services that will keep people healthy and happy in their homes. In Part 1 of this case study in progress, we'll describe the first year of our journey towards true elder empowerment... (more)
(Download the PDF to read the entire article.)
Sign in to download the full article
0 comments