Steps to Success for Personalizing Your Customer Experience
A Roadmap for Personalization
See how pioneers in personalization, including Bakers Shoes and Netflix, use personalization to great advantage. Personalization varies among businesses and among customers, but we offer the specific steps you can take to set and accomplish personalization goals that enhance your business and your customer experience. Establish your personalization strategy, identify your top 3 to 5 initiatives, choose your short-term objective and approach, plan your project, and evaluate results.
NETTING IT OUT
Businesses of all types are striving to create personalized experiences that engage visitors—their goal being to connect them with relevant content and/or products to increase revenue.
Companies like Amazon, Netflix, Google, and Facebook have invested heavily in creating a personalized customer experience, and they keep investing. Personalization delivers significant bottom line results.
The value of personalization varies among businesses and among customers. The right tactics also vary. But there are specific steps you can take to set and accomplish personalization goals.
Personalization is a journey you undertake for your business and for your customers. Customers are the "person" in "personalization." To succeed, you must focus on customers as you develop your own roadmap for personalizing the customer experience.
Our roadmap steps you through developing your personalization strategy, selecting the right initiatives, choosing the right approaches, planning, and evaluating results.
Netflix Personalizes Movie Recommendations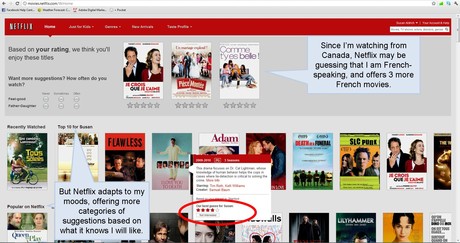 © 2012 Patricia Seybold Group Inc. and Netflix Inc.
1. Netflix is a leader in personalization, offering a prize of $1M for algorithms that would substantially improve its personalized movie ratings. By collecting my opinion of movies I've watched, Netflix can find movies I will like. It finds people who have given ratings similar to mine, and offers me movies that they have enjoyed. The flow of recommendations is endless: Netflix will find suggestions for me in any category.

Netflix. Netflix is responsible for encouraging some of the strides already taken. Netflix sponsored a million dollar prize to any team that could substantively improve its recommendations of movies to subscribers. Netflix's ratings are highly effective. The description of a show may seem unappealing, but if Netflix tells me that this movie is rated at four stars for Susan, I know I will enjoy it.
Facebook. Facebook has the most personalized product ever. I choose who will be on my page and how often. I choose how often a person or group hears from me and what they hear. I can't think of another product that I can customize to this degree and re-customize endlessly. Moreover, Facebook provides information about me and my friends, which enables third parties to improve the information presented to me wherever my digital path takes me. This makes Facebook a player in personalizing the world's digital life.
Google. Whether or not you agree that search should be personalized, there is no doubt that Google has invested heavily in personalizing your Google experience across all of Google's applications and properties.
If anyone doubts the value of personalization, the enormous investments made by Amazon, Google, and Netflix should convince them.
State of Personalization in 2012
But these companies are exceptional—the leaders of the leaders. The average business is just now prepared to take its first personalization steps.
In sectors such as retail, finance, and publishing, the first steps have been taken by many. The leaders in these sectors are capable of automated recommendation of products and content on web pages, display ads, and in emails. The mainstream companies in these sectors are able to tailor the first page experience, either through segmentation or using search terms to create a relevant landing page.
The next steps for the leaders are dynamic customer experiences with personalized content, images, navigation, and paths, as well as leveraging third-party data (such as Facebook's) to enhance the customer profile to improve the dynamic experience.
The dream goal today is to deliver a consistent, streamlined, personalized experience based on recognition across touchpoints. The baby steps in this direction require log in to achieve even modest success, and cross-touchpoint personalization efforts are still in the pilot phase.
Best practices are still a matter of some argument, and what practices are most effective is heavily influenced by the technologies available. Business strategies (and attitudes) vary on the value of, and tolerance for, automation.
The pitfall in the road ahead is privacy...
Sign in to download the full article
0 comments