Alaska Airlines' Evolves Its Mobile Strategy
Catering to Frequent Flyers Pays Off
Alaska Airlines has been delivering mobile apps since 2010. They chose to focus first on the functions needed for "day of travel" rather than online booking. They have switched from a "write once/run anywhere" implementation strategy to an "optimize for each mobile platform" strategy. Customers are intimately engaged in the design and testing of these mobile apps, participating in testing after each two-week agile development sprint.
NETTING IT OUT
Alaska Airlines has a relatively modest budget for mobile app development, yet the airline is hitting home runs with its mobile apps. Their strategy: focus on addressing customers' needs on the day of travel. Alaska Airlines and Horizon Airlines frequent travelers are quite happy with the current functionality. These frequent flyers are also intimately involved with prioritizing and testing new mobile functionality.
In terms of its mobile development strategy, Alaska Airlines has moved from a write once/run anywhere approach to one that optimizes native apps for each mobile platform. They have evolved their mobile website, m.alaskaair.com, to mirror the functionality of their iPhone and Android apps for all mobile device users, are evolving their alaskaair.com website to be tablet-friendly.
As mobile development has become more important with Alaska Airlines, it's bringing some cultural changes. Agile development around user stories is more popular. Arming employees with convenient access to the same accurate, up-to-date information that customers have has also become a high priority.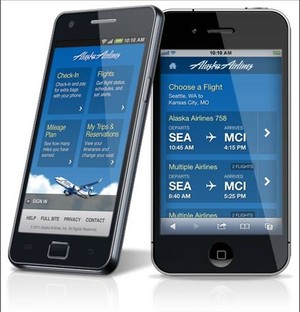 © 2012 Alaska Airlines
Alaska Airlines' second-generation smartphone app was released in August, 2011. It was optimized for the iPhone platform. The Android app was released in November, 2011. They have both achieved good ratings from users (4 stars).
HOW AND WHY ALASKA AIRWAYS HAS EVOLVED ITS MOBILE STRATEGY
DNA = Innovators & Early Adopters
When I decided to chronicle the evolution of Alaska Airlines' mobile strategy to-date, I was startled to discover that there was no single person who had led the charge for mobile at the airline over the past seven years. Usually I find there's a single visionary person who recognizes the impact that a new technology will have on his/her company and who shepherds everyone towards that vision over a period of time. Yet, at Alaska Airlines, the commitment to deploying mobile apps seems to reverberate across a number of lines of business.
Alaska Airlines has been pioneering in mobile applications (see Table A) since the airline started using its first mobile cargo tracking application in 2005. The airline has enabled wireless check-in since 2008. Over the past two years, Alaska Airlines has rolled out several iterations of mobile apps on various multiple platforms as well as two generations of its mobile web site, evolving its front-end and back-end IT architectural strategy as it did so.
I suspect that the need to have state-of-the-art mobile apps is rooted in Alaska Airlines' DNA. Since its inception 80 years ago as a frontier operation flying passengers and cargo to remote dangerous locations in the wilds of Alaska, Alaska Airlines has prided itself on exploring new frontiers and in aggressively, yet pragmatically, adopting new technologies. Alaska Airlines and its sister company, Horizon Airlines, are both frugal operations. They don't spend lavishly on technology. Yet they have often led the way in the airline industry as early adopters of new technology platforms. For example, Alaska and Horizon Airlines were the first commercial airlines to give their pilots Apple iPads to replace flight manuals ...
Sign in to download the full article
0 comments