Amazon Covers the "Last Mile"
Can the Etailer Improve on UPS, et al. to Create a Customer-Delighting Delivery Service?
Amazon is currently testing its new program that will deliver packages the "Last Mile" to the customer's location. How can they improve on what UPS, FedEx, and the USPS are doing? What capabilities will delight customers? Will this strategy just save the company money, ultimately, or will it engender loyalty, customer satisfaction, and result in new customers and Amazon Prime Members?
NETTING IT OUT
Amazon is putting its toe in the delivery service water—no, more, it has waded in up to the ankles. Currently testing its Last Mile delivery service in the United Kingdom and in San Francisco, Los Angeles, and New York City, Amazon is looking to both reduce costs paid to other shippers (e.g., UPS and Fed Ex) and to better control the shipping/delivery experience for customers. The online giant has been working on this project for a number of years, but the disastrous delivery issues of the last holiday season seem to have lit a fire under the company. Amazon is leveraging its Amazon Fresh grocery delivery service (now available in San Francisco, Seattle, and Southern California), which not only has a fleet of Amazon-branded trucks, but is providing experience in the rather complicated ground delivery arena.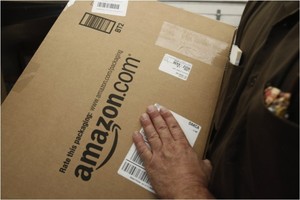 So what's the buzz on the Last Mile? When might it happen? Do we have to wait for drones? And, even more important, what features/benefits would make a customer-delighting service? We address the last question by looking at the Moments of Truth in a customer's delivery scenario—what do we really want, what would make us very happy, and what would send us into a frustrated tizzy!
AMAZON'S LAST MILE DELIVERY SERVICE
In my article, "Recovering from the Crisis of Missed Holiday Deliveries," which documented the disappointment felt by thousands of customers when promised deliveries didn't arrive in time for Christmas, I stated "Don't be surprised if Amazon eventually expands grocery delivery [via Amazon Fresh] into full-service delivery, rivaling UPS." And now it is a reality!
Motivated by Cost Savings and Increased Revenue Potential
A job post on Amazon.com (as mentioned in the Wall Street Journal) formalized the new Amazon delivery program, referred to as "Last Mile:"
"Amazon is growing at a faster speed than UPS and FedEx, who are responsible for shipping the majority of our packages. At this rate Amazon cannot continue to rely solely on the solutions provided through traditional logistics providers. To do so will limit our growth, increase costs and impede innovation in delivery capabilities. Last Mile is the solution to this. It is a program which is going to revolutionize how shipments are delivered to millions of customers."

~ Amazon.com Post
According to the WSJ article on April 24, 2013, entitled "Amazon, in Threat to UPS, Tries Its Own Deliveries," writers Greg Bensinger and Laura Stevens see the motivations for this new service as being financially driven for two reasons:
…(more)
(Download the PDF to read the entire article.)
Sign in to download the full article
0 comments