Angie's List Doesn't Arm Its Front-Line Troops
Don't Ask for Customer Feedback if You Don't Know What's Going On
A recent customer experience with Angie's List went wrong on many levels simply because the company representative didn't know what was going on! Reaching out to a customer for feedback is a good thing, but not when you have wrong information and there has been a problem or issue with a customer's transaction with your company. The result can be a loss of trust and of business.
NETTING IT OUT
When your customer-facing employees don't have all the information they need, they can annoy customers and negatively impact trust in your brand. Recently, Angie's List reached out to get feedback, but didn't have the latest customer information, nor some very vital information on what they were calling about!

Make sure that your CSRs are prepared before calling customers. And make sure that issues with other members of your customer ecosystem don't bite you when talking to valued customers!
ANGIE'S LIST WANTS CUSTOMERS' FEEDBACK, BUT DOESN'T HAVE AN ACCURATE PICTURE OF CUSTOMERS' (OR ITS OWN) HISTORIES
Nagging for Feedback
I have been an Angie's List customer for a few months now. I joined because I was moving, and I knew that I would need advice and recommendations on a lot of services and contractors that would help with the move and with renovating my new home. And, for the most part, I have been very happy with the service. Except for one thing: the company keeps asking me to rate and review providers with whom I haven't done any business. The only thing I did do was look at those companies' profiles on the site. To add to the problem, there seems to be no way to indicate to the company that I didn't actually engage the contractors I viewed, so I'm asked again and again via email to rate them.
In retrospect, I realize that the company has no way of knowing if I actually used any of the providers on the site unless I opted to buy a special deal offered only to Angie's List members or chose to provide a review. All it knows is if I looked at the provider's information posted on the website. But that's not enough to assume that a member actually hired the contractors viewed.
Reps Not Aware Even When There Is an Actual Transaction Through Angie's List
What left me really wondering about how on top of things Angie's List is about their customers' activities is a call I received just a few days ago requesting feedback on a provider with which I actually did purchase a deal through the site. Here's the story:
SIGNED UP FOR A DEAL TO EVALUATE AND POTENTIALLY FIX WATER DAMAGE. It's been a tough winter for us in New England with historic snow fall levels. So many home owners have experienced roof collapses, damage from water dams, and leaks that need repairs. As a first time owner of an actual house (I previously owned a condominium where I wasn't responsible for roof repairs), I was a bit overwhelmed, especially when it looked like I might have some roof damage.
Seeking help on Angie's List, I found a deal offered from Newton Fire and Flood that would provide a water damage inspection and, if needed, a $500 credit towards any repairs. The cost was $47, and another roofing company that I contacted had quoted almost that much just for the inspection. So I bought the deal.
The next day, a local company that a friend knew of and referred me to contacted me to arrange to clear off my roof and break up my water dams. The owner, Linn Livesey of CapeAble Construction & Roofing, also said that he would do any damage inspection for no additional cost. So I contacted Angie's List and cancelled my deal with Newton Fire and Flood under the 30-day cancellation policy. That went just fine. Angie's List makes it relatively easy to call a customer service rep with questions and to make cancellations.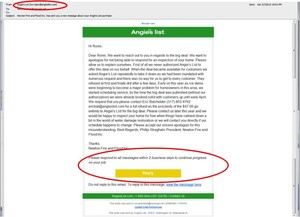 RECEIVED NOTICE THAT ANGIE'S LIST SOLD UNAUTHORIZED DEAL. So all was settled, right? But then, two weeks later, I get the following email message (sent from Angie's List) with the subject line: Newton Fire and Flood Inc. has sent you a new message about your Angie's List purchase... (more)
(Download the PDF to read the entire article)
Sign in to download the full article
0 comments