Apple Sacrifices Customer Experience for Revenue
Lowering Customer Satisfaction by Adding Friction to a Seamless Experience
Apple is exacting a higher commission on digital media purchased from within publishers' own iPhone apps, forcing them to modify the seamless customer experience. You used to be able to buy a new book from Amazon within the Kindle app. But now, Apple takes 30% of those revenues. That's forcing app owners like Amazon to remove the link and force customers to go to their Web browsers. The result is angry customers and a potential hit to the Apple brand. When working within a customer-centric ecosystem, it's important to recognize the value that partners bring in supporting critical customer scenarios and providing a seamless customer experience.
NETTING IT OUT
A customer-centric ecosystem thrives when it provides a seamless experience that helps customers reach their goals. But when the rules change to improve the bottom line for one player in the ecosystem, not only do the other partners suffer, but, often, so do the customers. But charging partners too much to sell their wares through your ecosystem can erode the perceived value of the entire ecosystem, and adding friction to the customer experience can be a showstopper for customers.
Apple has changed the rules of how e-publishers share revenue for customer purchases on iPhone, iPod, and iPad apps. As a result, partners such as Amazon (with its downloadable Kindle app) and others have been "forced" to sacrifice the seamless experience they offered customers. The result is angry customers and a potential hit to the Apple brand.
Consider the consequences of interfering with what customers want to do when working with your ecosystem partners. Revenue isn't the only consideration. Having a vibrant, growing sustainable customer-centric ecosystem that customers value is vital to your ability to generate revenues and profits in the long haul. Having a friction-free end-to-end experience is important to customers.
IMPEDING SEAMLESS EXPERIENCE WHEN WORKING WITH PARTNERS
Buying an iPhone
When I first purchased my iPhone about a year and a half ago, it was an impulse purchase. I am not a Mac user and have never really used any Apple products other than iTunes (which I accessed from my Windows-based laptop). But my old cell phone (Nokia) was in trouble. The phone charger no longer worked and, since the phone was about five years old—ancient in mobile phone years—I could no longer buy a charger, even though the telephone worked just fine. I found this out at the AT&T store, where I had gotten my account. As I shopped for a replacement, I discovered that the iPhone 3 was only $1 more than a Nokia replacement, the Apple product had a lot more features, and it was just plain sexy. I wanted it! So I bought it.
I thought it was odd that the sales person, who was going to help me get set up by setting, my email accounts, etc., started by handing me the iPhone box, shrink wrapped and all, and telling me to open it. He explained that Apple wanted to give me the "pleasure of the experience of opening the box myself."
Okay. It was kind of fun since the box was well designed. But it wasn't a big deal for me. I would have had the same fun playing with the box after the fact. But it reminded me how much Apple cares about the customer experience, and that was good.
Kindle on the iPhone Increases Usage and Loyalty
I liked my iPhone well enough. It was great to be able to access my email and the Internet from my phone. It took a while to get used to typing on the touchpad keyboard, but I finally did. And I quickly learned that, when on a call, if I held the iPhone too close to my ear, I accidentally pressed the mute button, and the person at the other end of the line thought the call was lost. But it was not a device close to my heart. I did take it with me for the telephone and email capabilities, but, when I was home, it sat in my pocketbook except when I left my home office, leaving my laptop and home phone behind.
And then my brother told me about the free Kindle app download. Driving to visit family in New Jersey, we sat having lunch and I bemoaned having to carry the heavy book I was reading. David took my iPhone, and downloaded Kindle for me in about three minutes (although the actual download took a while longer). I don't know if I every loved my brother more!
Kindle on the iPhone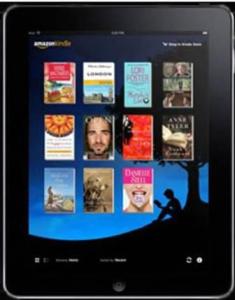 © 2011 Apple and Amazon
Illustration 1. The Amazon Kindle application is a free download on the Apple iPhone.
Suddenly, the iPhone was a source of comfort, of entertainment, of edification. Children of a book-a-day avid reader, our mother once told me, "as long as you have a book with you, you are never afraid to be stuck in an elevator—until, of course, you need the bathroom." With the Kindle on my iPhone, I would never be alone without my dearest companions—my books!
Since that day, July 3, 2010, I use my iPhone every day now that I have my reading material on it. I carry my iPhone everywhere, even within my home, just in case I want to read for a bit. I make sure the battery is fully charged. I recommend the Kindle app, and, by association, the iPhone, to everyone I know touting how I can read in the dark (which you can't do on the standard Kindle), how I don't have to worry about bringing a separate reading device, and how easy it was to get used to reading on the iPhone screen. My romance with my iPhone has expended because it is so much more than a phone or email device now. I take more pictures, I play more games, I listen to more music, all because I have downloaded an application that is so important to me. My respect for the Apple brand has gone up, and I've actually been considering moving to more Apple platforms (iPad, anyone?).
Changing the Rules
And then, last week, I got the following email:
"Dear Amazon.com Customer,

We'd like to update you on a change to the Kindle application that affects the way that you access the Kindle Store. In order to comply with recent policy changes by Apple, we've removed the "Kindle Store" link from within the app that opened Safari and took you to the Kindle Store.

You can still shop on iPad, iPhone, or iPod touch—just open the Safari web browser and go to Amazon.com. (For quick access, we recommend creating a bookmark in your web browser.) Your Kindle books will be delivered to your Kindle application and automatically downloaded when you open the app. Thanks for being a Kindle customer."
It took me a few seconds to comprehend the message because I hadn't really thought about how I accessed the Kindle Store. I just did it. The process was seamless, and, thus, invisible to me.
Once I understood, I got mad. Why was Apple making something so important to me more difficult? I researched and discovered that ...
Sign in to download the full article
0 comments