Apple/IBM Enterprise MobileFirst Partnership
Will Enterprise IT Execs & Mobile App Developers Embrace IBM's MobileFirst iOS Offerings?
The exclusive partnership between IBM and Apple to support mobile devices and apps in the enterprise is significant. It marks a turning point in which IBM acknowledges that the majority of interactions with computing will be done via mobile phones and tablets, not PCs. Apple devices have already proliferated in enterprise accounts. So what additional value is IBM bringing to the table?
NETTING IT OUT
IBM is trying to run around in front of the iDevice parade in the enterprise. The recent IBM/Apple exclusive worldwide partnership for enterprise mobility is an interesting concession. It's saying, "Apple has won in mobile devices in the enterprise, so we (IBM) need to make it easy for our clients to integrate Apple devices."
IBM sees this as an opportunity to sell professional services and mobile device management services in the enterprise. Apple is fine with that.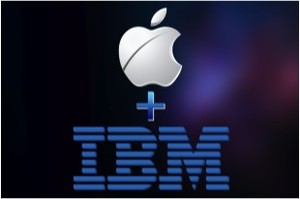 But this attempt by IBM to co-opt the customer ecosystem that has already sprung up around Apple in the enterprise is probably too little, too late. Mobile app developers are not interested in IBM's software development tools. Enterprise CIOs are no longer in thrall to IBM's complex software services. IBM remains an "also ran" in the Apple Enterprise Customer Ecosystem[1].
WHAT'S THE IMPACT OF IBM & APPLE'S EXCLUSIVE PARTNERSHIP FOR ENTERPRISE MOBILITY?
Apple/IBM MobileFirst Alliance: Deep Partnership that Helps IBM More Than Apple
On July 15, 2014, the news erupted that Apple has appointed IBM to be its exclusive worldwide enterprise partner. IBM wants to make it very clear that this is much more than a sales partnership; it's a deep joint development partnership as well. IBM and Apple are partnering on engineering, product development, customer support, distribution, software management, and analytics.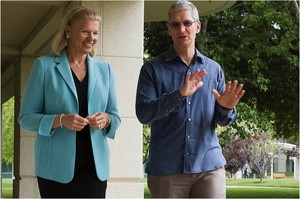 One goal of the partnership is to make it easier for IBM's large corporate customers to develop innovative native iOS apps that can be securely deployed to their employees and their end-customers. Another goal is to make it easier for IBM to help its enterprise customers support and manage all the Apple phones, iPads, laptops, and Macs in their IT environments. During their announcement, IBM's execs mentioned that they had commissioned interviews of 600 enterprise clients, the majority of whom revealed that they had already embraced Apple devices in their enterprises and were developing apps for both employees and end-customers.
Marie Wiek, General Manager of IBM Mobile First & IBM Websphere, said that there are already over "5,000 people at IBM working in mobility today." So the IBM "MobileFirst for iOS" offerings provide job security for those 5,000 IBM professionals.
What does the partnership do for Apple? Apple doesn't really need IBM to penetrate large corporate accounts. It has already done that. But working with IBM to sell AppleCare support contracts to corporate accounts will bring..(more)
(Download the PDF to read the entire article.)
---
[1] We coined this phrase "Apple Enterprise Customer Ecosystem" to denote a network of business services and suppliers that has formed organically around enterprise customers' needs to support and to manage iDevices, software and to connect these into back-end systems of record. This is NOT an ecosystem that was created by Apple. It's an ecosystem that was created by Apple's customers and the suppliers they have gravitated towards.
Sign in to download the full article
0 comments