Attensity Analyze and Attensity Respond
Multi-Channel Monitoring, Analysis, and Interaction
Attensity Analyze and Attensity Respond provide multi-channel (social web and internal channel) monitoring, analysis, and interaction. Powerful, patented text analytics are the offerings' key characteristic, strength, and differentiator. These offerings should be a top choice for organizations that want to listen to and respond to all of their customers on every channel.
NETTING IT OUT
Attensity Analyze and Attensity Respond are the social-service offerings from Attensity. Attensity Analyze monitors customer conversations on both the social web and internal channels. Attensity Respond is a response management application that supports automated- or assisted-service response and interaction with customer conversations monitored by Attensity Analyze.
Organizations license Attensity Analyze and Attensity Respond for cloud or on-premise deployment. To date, Attensity claims that 110 customer organizations have licensed Attensity Analyze and that 60 customer organizations have licensed Attensity Respond.
Attensity's social-service offerings earn excellent grades on the Customer Social-Service Report Card—exceeds-requirements grades in analytic functionality and in customer service integration, and meets-requirements grades in product viability and company viability. No major improvements are needed.
Attensity Analyze and Attensity Respond best fit customer social-service with these characteristics:
Deep analysis of customer conversations through powerful and sophisticated technology
Large volumes of customer conversation data
Large B2C organizations
If these characteristics match your organization and the products that you offer, then Attensity's offerings can be excellent choices for the software to help you deliver excellent customer social-service.
Topic Velocity Report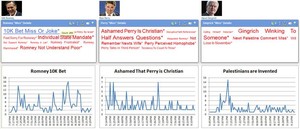 © 2012 Attensity Group
Illustration 3. This illustration shows an example of a Topic Velocity report.
CUSTOMER SERVICE
Answer Customers' Questions and Solve Customers' Problems
Customer service products help organizations deliver answers to their customers' questions and solutions to their problems through their case management, knowledge management, account management, and social network management capabilities—capabilities that support self-service, assisted-service, and social-service channels. These products help answer and solve customers' questions and problems about products and services; about business policies, processes, and practices; or about the elements of their customer relationships such as accounts, bills, orders, and contracts.
Customer Service in the Social Cloud—Customer Social-Service
These days, customers spend much of their time online in the social cloud. Some of that time is spent on the products and services that they use in their lives or that they use to do their jobs. They want help from their peers to learn about those products and the products' suppliers, to get advice on purchasing decisions, and to get answers and solutions to questions and problems in installing and using the products. In other words, customers get customer service in the social cloud.
It certainly follows that suppliers should deliver customer service to the social cloud. How? They must be aware of customer conversations about them and their products. They should try to ensure that the answers and solutions that customers receive from their peers are correct. They should deliver the answers and solutions themselves. And they must try to interact with customers publicly or directly to help customers find correct answers and solutions.
Social-service products help suppliers deliver customer service to the social cloud.
ATTENSITY ANALYZE AND ATTENSITY RESPOND
Attensity Analyze is Attensity's offering for monitoring and analyzing the "Voice of the Customer" (VoC). Analyze monitors and analyzes customer conversations on internal channels—email, web, SMS, (snail) mail, and (via voice message) telephone, as well as on the social web.
The strength of the offering and its most significant differentiator is...
Sign in to download the full article
0 comments