Avail Intelligence Behavioral Merchandising
Platform Automates Merchandising, Recommendations, Social Search
Recommendations can improve customer experience, improve search results, and boost Web site KPIs. Avail Behavioral Merchandising, a recommendation solution from Avail Intelligence, stacks up very well against our evaluation criteria. If you are in retail or B2B ecommerce, Avail Behavioral Merchandising should be on your short list. Avail has an intimate model of client care, provides its technology both on-premise and SaaS, hosts its service with Amazon Web Services, and its recommendation algorithms include unique capability for merchant collaboration.
NETTING IT OUT
Recommendation engines are a way for content owners—such as merchants, marketers, and publishers—to present the most interesting content to each customer at each step in the interaction. Recommendations were popularized a decade ago by Amazon's famous "other people who looked at this bought that" style of recommendation. Today, recommendation solutions are available from a variety of sources, including software-as-a-service providers such as Avail.
If you are in retail or B2B ecommerce and are looking for a recommendation solution or a means to personalize interactions, Avail should be on your short list.
Avail's focus is recommendations and personalization for retail ecommerce. Customers include Neckermann, Bokus, Evans Cycles, Redcats, Game, Nokia Siemens Networks, Splash Direct, and Wilkinson.
The key strengths of Avail Behavioral Merchandising are Avail Client Success, which provides strategic advice from leading practitioners; its recommendation algorithms, which support not only the recommendation types one would expect but also support collaborative merchandising and syndicated merchandising; the Avail Control Panel, which provides immediate previews and tests of changes; and the Amazon Web Services hosting for Avail SaaS which ensures scalability and disaster backup.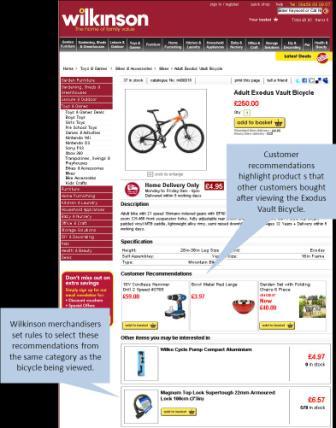 © 2010 Patricia Seybold Group and WilkinsonPlus.com
Illustration 1. At WilkinsonPlus.com, shoppers see two types of recommendations on product pages. The first band of recommendations is based on the behavior of other customers and their purchases after viewing this particular product. Below this band of "customer recommendations" is a list of items selected based on rules set by merchandisers, presented as "items you may be interested in."
OVERVIEW OF AVAIL
Avail
Avail Intelligence, founded in 2000, is based in Malm?, Sweden, with offices in the US, UK, France, Italy and Germany. Avail Intelligence has approximately 100 customers that have deployed Avail Intelligence's behavioral targeting on more than 250 Web sites, spanning 25 countries and 18 languages. The company, which is privately held by its founders, employees, and investors, claims a compound growth rate of 80 percent for the past three years.
Avail Intelligence is focused exclusively on retail ecommerce. Its clients typically see revenue increases ranging from 5 to 30 percent per visitor.
Avail Products
Avail Intelligence's flagship product is called Avail Behavioral Merchandising. Avail Intelligence envisions behavioral targeting and personalization across the customer interaction cycle, and has developed Avail Behavioral Merchandising to support not only shopping and buying, but customer acquisition, customer re-engagement, and customer service and support. Avail Behavioral Merchandising thus supports delivery of targeted content during search and browsing, as visitors arrive from other sites or search engines, for contact center representatives, and for email and mobile marketing packages.
Avail Behavioral Merchandising can be licensed either as SaaS or as on premise software.
Avail has created four retail sector packages: sports and fashion, home and furniture, media and entertainment, and consumer electronics. These packages encapsulate Avail's best practices for each of these sectors. Each package contains training, tools, and partner products as well as algorithms specific to the retail sector. Avail's consumer retail research has uncovered specific optimizations of its collaborative filtering algorithms for various retail industry verticals and shopper behaviors.
Smaller online retailers can take advantage of Avail Express, an entry-level, self-sell packaging of Avail Behavioral Merchandising. Express comes with an Avail contact and 30 days free use.
EXAMPLE: WILKINSONPLUS.COM
Wilkinson is a UK-based retailer with 322 stores and four million visitors per week. Wilkinsonplus.com, which was launched in 2004, offers more than 800,000 items. Wilkinson uses the Behavioral Merchandising module, supplied by Avail Intelligence, that comes with their Venda e-commerce platform to increase conversion rates and average order size. Wilkinson's merchandisers rely on Avail's automation to select recommendations, setting few rules. In this example, a single rule in the product detail template ensures that three recommendations will be made from the same category as the product being viewed, presented as "other items you may be interested in." The "customer recommendations" are selected based on what other customers bought after looking at this item.
SUMMARIZING THE RECOMMENDATIONS EVALUATION FRAMEWORK
Recommendations are hot, solving problems from order size to search to personalization. My guess is that recommendations will be ubiquitous within the next three to four years. I'm always optimistic on these guesses, but since recommendations are widely available as a service, rollout can be very swift. Through customer interviews and research, we have identified the requirements and evaluation criteria. These criteria are set forth in our evaluation framework,1 which we will be using in 2010 to analyze a handful of the leading recommendation solutions, culminating in a detailed comparison.
The framework describes requirements in seven categories: guidance and advice, recommendation structure, managing recommendations, integration, operations, vendor's development and maintenance, and product and company viability. The evaluation requirements are presented in Table B.
AVAIL PERFORMANCE AGAINST CRITERIA
Bottom Line
If you are in retail ecommerce, Avail should be on your short list. Table A summarizes our evaluation of Avail Intelligence Behavioral Merchandising in each of our evaluation categories.
Strengths
Avail Behavioral Merchandising is strong in all areas of our evaluation. There are a few differentiators to call out: Avail Behavioral Merchandising support collaborative merchandising among merchants in its network (you sell safaris, I'll cross-sell the clothes); it supports syndicated merchandising (let's team up to sell plane tickets, guides, clothes, and hotel rooms); it packages optimized offerings for four retail sectors; the Avail Control Panel provides previews of the impact of rules, and tests for searches and recommendations; and it supports SNMP alerts to network management consoles. All of these differentiators are also strengths.
Additional strengths of Avail Behavioral Merchandising are the support provided by its Client Success Team, which provides very active and ongoing support in optimizing and trouble shooting, and also offers strategic advice from leading practitioners; Amazon Web Services hosting for Avail SaaS which ensures scalability and disaster backup; and encryption of daily file uploads. Avail's integration and technical support are further demonstrated by the fact that Avail technology is OEM'd in five third-party solutions.
Weaknesses
There is nothing weak about Avail Behavioral Merchandising. However, it does fail to match up to our exacting evaluation criteria in a few areas. Like its peers, Avail does not yet provide e-learning or self-study for its customers; and it lacks workflow and check-in/check-out to control changes.
More importantly, to Avail Intelligence and to its customers, there is not yet a third party developer ecosystem of any magnitude. Avail is certainly attractive to other developers—it has already achieved a handful of OEM agreements. But it is early for the developer network to blossom, given Avail's reach and the market's immaturity.
Summary Evaluation
Please download the PDF to see the table.
Table A. This table presents our summary of Avail's performance in each of our evaluation categories.
Recommendation Platform Evaluation
Avail Behavioral Merchandising Recommendation Solution Capabilities
Please download the PDF to see the table.
Table B. This table presents our recommendation evaluation criteria, and the performance of Avail Intelligence against those criteria.
Contact Info:
Avail Intelligence
Pontus Kristiansson, CEO
Email: pontus.kristiansson@avail.net
Internet: http://www.avail.net
***ENDNOTE***
1) "Recommendation Evaluation Framework, Version 1," January 7, 2010, by Susan E. Aldrich
***ENDNOTE***
Sign in to download the full article
0 comments