Brand Loyalty
The Direct Path to Customer Satisfaction, Referrals, and Revenue
The combination of great products and a good customer experience will keep customers loyal to your brand. Add in a "personal" relationship with the customer, and that customer will become a fervent fan and an evangelist for your company.
NETTING IT OUT
There are two important factors leading to brand loyalty: 1) quality products and services, and 2) providing an excellent customer experience. The companies that do both will win customers. But it is the customer experience—based on a real relationship and trust—that will keep them coming back again and again.
Creating Brand Loyalty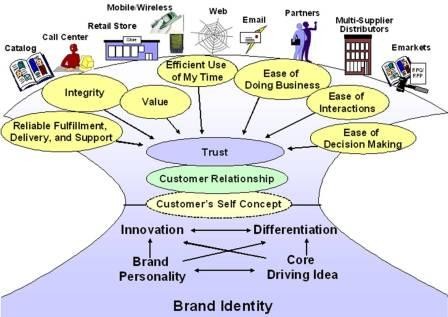 © 2011 Patricia Seybold Group Inc.
Illustration 1. Loyalty to a brand depends on innovating and differentiating offerings as well making it easy on customers by providing multichannel access and support. But it is the excellence of the customer experience and the value that both you and your customer place on your relationship that yields the longest lasting results.
CREATING LOYALTY TO YOUR BRAND
Common knowledge states that it is significantly less expensive to retain an existing customer than to acquire a new one. So your bottom line is all about creating brand loyalty. We maintain that there are two equal parts to creating this type of loyalty: great offerings and a great customer experience. Notice that we don't mention great prices—loyal customers are usually willing to pay a premium for products they love and an enjoyable (and consistent) experience with your company.
Underlying any great brand is product/service innovation and differentiation. But loyalty results from the customer's perception of your brand. There are three key factors surrounding this perception (see Illustration 1 above):
* Does it fit my self-concept? Think about buying cars. Most customers tend to stick to the same make when upgrading to a newer model or when buying a second (or third) family car. Personally, I drive a Nissan, and have loyally done so for the past three generations of my car. Nissans have been called "the Lexus of the middle class." I consider myself middle class, but worthy of luxury and class on the Lexus level. Thus, my car fits my image of myself.
* Does the company value its relationship with me? Sticking with the car theme, although I am loyal to the Nissan brand, I do not go to the dealership for service unless it is a warranty issue. The dealer doesn't know me or have a relationship with me. But my local auto repair service (Hynes Auto Repair) knows me and my car and each person who works there takes the time to interact with me to explain what repairs I need, to provide little extras that make my life easier (such as picking me up or driving me home), and just to chat about the latest sports (don't get us started on the Red Sox, but go Pats!). By establishing this relationship with me, I have remained loyal to Mike Hynes and his business for over 25 years and have referred at least a dozen people to his shop.
* Do I trust the brand? My loyalty to Nissan began when my husband had an accident in our first Altima. I had bought the car almost on impulse because I liked the features, the drive, the look, and the price. But when Brian rolled over the car on a stormy night, and the police came with the jaws of life expecting to find a dead body, and Brian emerged with a small cut on one leg and general soreness, I immediately went out and bought another Altima. I trusted that we were safe in the car. And, over the years, when the replacement Altima was still driving excellently after 10 years and over 120,000 miles, I trusted that an investment in another Nissan would be well worthwhile. Similarly, I trust Hynes Auto to tell me the truth, charge me a fair price, and do good work that they stand behind.
So, here I've mentioned two companies to which I have brand loyalty. The first—my loyalty to Nissan—is based on product excellence, as well as having had pleasant and seamless buying experiences. The second—my loyalty to Hynes—is primarily based on the great customer experience it offers. In both cases, I believe I get excellent value for my money and I have reliable service. Both provide me with multiple contact channels: phone, email, physical locations.
Hynes goes the extra step of making efficient use of my time—by driving me home so I can work while my car is being repaired—and they even have a computer set up with Internet access for customers to use while they are waiting, so I have often ended up working there. They also go the extra step by providing me little extras, such as replacing a brake light bulb for free when I stopped by and they noticed it was out.
If I were forced to abandon one of these brands, however, there is no contest. Although I love my Altima, I'm sure I could find another make and model that I could enjoy. However, I'm not willing to give up my relationship with Hynes and the amazing customer experience it offers. The occasional free repairs, the extra time the employees spend just chatting, they are paying off big time with the revenue and referrals they have realized from me over the years.
Sign in to download the full article
0 comments