Certona Resonance Recommendations
Automated Optimization Balanced with Granular Control
Recommendations can improve customer experience, improve search results, and boost Web site KPIs. Certona Resonance Recommendations stacks up very well against our evaluation criteria. If you are in retail or B2B ecommerce, Certona should be on your short list. Resonance offers a high degree of automation for optimizing your site, and a console that gives you a high degree of control over those spots that you want to manage. Certona has exceeded all customer SLAs for the past year.
NETTING IT OUT
Recommendation engines are a way for content owners—such as merchants, marketers, and publishers—to present the most interesting content to each customer at each step in the interaction. Recommendations were popularized a decade ago by Amazon's famous "other people who looked at this bought that" style of recommendation. Today, recommendation solutions are available from a variety of sources, including software-as-a-service providers such as Certona.
If you are in ecommerce and looking for a recommendation solution Certona's Resonance family should be on your short list.
Certona's focus is recommendations and personalization for retail ecommerce.
The key strengths and differentiators of Certona are its high degree of automation and its Insight console. Resonance can automatically optimize your site, or a section of it, to your specific goals. And you can set rules where you want to be in control, preview the impact, and rollback and audit changes. Certona's operations have exceeded SLAs for all customers for the past 12 months.
OVERVIEW OF CERTONA AND RESONANCE
Certona
Certona was incorporated in 2005. Headquartered in Del Mar, California, the company has 50 employees and is growing, supporting 250 sites comprising $20B in annual revenue.
Certona's recommendations are delivered as a service. Its clients are primarily ecommerce retail, and include Staples, Guess, Petco, Puma, Kenneth Cole, Personal Creations, Lillian Vernon, and Redcats USA.
Certona has been named to Internet Retailer's Top 500 Guide as a top personalization vendor for 2009 and 2010, based on the number of Top IR 500 retailers using Certona.
Certona Resonance Product Family
Certona offers its services under the Resonance brand. Resonance manages recommendations and personalization cross-channel and cross-lifecycle. It has a strong management console and reporting. It combines a high degree of automated optimization with a high degree of merchant control. It can leverage offline purchase data and data for logged-in customers.
Certona's offerings are defined by channels. All offerings share the Resonance Personalization Platform. The Resonance family includes:
Resonance Recommendations. Self-optimizing recommendation engine personalizes customer experience based on each shopper's current behavior, history, and other attributes.
Resonance Email. Personalizes email marketing campaigns and transactional emails such as order acknowledgements. Images and content are delivered when the email is opened, making the campaign dynamic.
Resonance Call Center. Provides recommendations for customer service representatives using contact center applications.
Resonance Alerts. Helps merchants bring customers back by automating personalized notifications, triggered by events such as abandoning the cart, back-in-stock, new products, new sales, and promotions.
Resonance Personalization Platform. The platform provides the algorithms, optimization, merchandising rules, interfaces, and reporting used by the Resonance services.
EXAMPLE: STAPLES.COM
Staples is the world's largest office products company, doing business online and in stores in 27 countries worldwide.
At Staples.com, recommendations are deployed throughout the site, from the home page to category pages to search results to comparison pages to shopping cart. The recommendations are created using not only the visitor's current behavior, but also online and in-store purchase history and other customer data. Staples customers typically log in to shop because they want to see special deals and prices that apply to them.
In our example, I have put a file cabinet in the shopping cart, and then looked at some Uniball pens and HP ink cartridges. Not surprisingly, printer paper and file folders are among the recommendations, as are additional furniture that matches my file cabinet choice. See Illustration 1.
Recommendations at Staples.com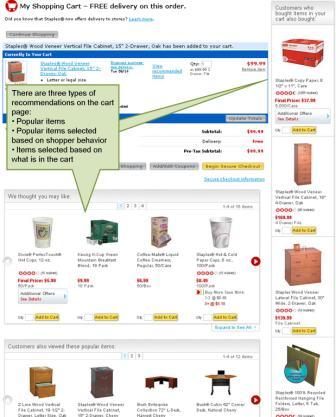 © 2010 Patricia Seybold Group and Staples.com
Illustration 1. Visitors to Staples.com are offered recommendations throughout the site. The Shopping Cart offers general recommendations, recommendations based on behavior during this visit, and recommendations based on the contents of the cart.
Contact Info:
Certona Corporation
www.Certona.com
Download the PDF to see the entire report.
Sign in to download the full article
0 comments