Co-Designing Health & Care with a Community
How a Prospective Provider in Boothbay Maine Is Gathering Customer Requirements
Boothbay Region Health Care, Inc. is a start up non-profit chartered to provide primary healthcare for the residents and visitors to the Boothbay, Maine region. It was created by a group of concerned citizens who believe there's a better way to provide local care in their community. They have used customer co-design as part of their planning process in the design of their proposed Boothbay Region Health Center. Forty community members created five Customer Scenarios to capture their requirements for improved healthcare. Here are two of the Customer Scenarios the community members created.
NETTING IT OUT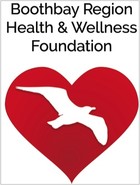 Since the Spring of 2013, a group of concerned citizens has been conducting needs analysis and business planning to create an innovative health center in a coastal community in Maine. This group formed organically under the auspices of The Boothbay Region Health & Wellness Foundation to explore alternatives as our community's local hospital and 24-hr ER were closed by MaineHealth. The group investigated many options, and decided in the end to focus on improving preventive, primary care to reduce the need for emergency services and hospitalization.
The strategic planning committee includes patients, physicians, nurses, social workers, retired healthcare administrators, business people, and retirees, as well as myself. The planning has been carried out in stealth mode for the first two years because we didn't want to get peoples' hopes up, tip off the incumbent primary care provider, or increase the divisions in the community.
In early 2015, the group decided to "go public" to involve more of the community in the decision about whether to launch this new venture. The goal: a community-governed integrated primary care practice designed to serve year-round and seasonal residents. Its name is The Boothbay Region Community Health Center. If it comes into being, it will be run as a non-profit, with a board comprised of patients. No physicians nor members of management will sit as voting members on the board. The governance structure is dictated by two factors:
The board that voted to shut down our 107-year old St. Andrews Hospital was comprised of 49% management and physicians who worked for the healthcare system.
In order to eventually qualify as a Federally-Qualified Health Center, the board needs to be a community board with no employees or physicians as voting members.
In addition to involving many community members on the design committee, we ran a public customer co-design session in June 2014 with about 40 members of the community to "co-design the future of healthcare in our region." This article summarizes some of the findings from that customer co-design session. As I believe you'll see from the stories that follow, business needs analysis that relies on statistical research and customer interviews can provide the broad brush strokes. But, as customers put themselves in one anothers' shoes to describe their real lives and what they're willing to do to reach their goals—in this case, better health—the priorities, the constraints, and the success metrics become very clear.
LOCAL START-UP IS DESIGNING A NEW PRIMARY CARE PRACTICE
Healthcare Spending in One Small Region
The year-round population on the Boothbay peninsula is close to 7,000. This swells to an additional 21,000 people in the five "summer" months. If you add the five months' worth of summer people to our year-round population for planning purposes, the total population requiring healthcare services averages out to 14,000 people per year. If we use the State of Maine's Health and Human Services 2009 estimate of total healthcare spending of $8,500 per person, that means that total healthcare spending in our region is $119 million/year or $1+ billion over the next 10 years.
Primary care typically accounts for only 5 percent of the total healthcare costs per person (health insurance, hospitalization, outpatient treatment, lab tests, procedures, doctors' visits, and prescriptions and over the counter medications, etc.). According to Dr. Rushika Fernandopulle[1], if we spent 10 percent on the right kind of primary, preventive care, the total cost of healthcare per capita would be reduced by 20 percent.
Current Primary Care Services Offered
There are currently two medical practices and a walk-in Urgent Care Center available to serve this year-round and seasonal population on the Boothbay peninsula.
One doctor's office—the Family Care Center—is run by a subsidiary of MaineHealth, the state's largest healthcare system. The Family Care Center has three primary care physicians and a nurse practitioner serving the community. Their practice also includes a full-time social worker, a pharmacist, several nurses and medical technicians. As part of a larger regional primary care practice run by a large healthcare system, the group also provides... (more)
(Download the PDF to read the entire article.)
---
[1] In a speech, on May 9, 2013, at Mayo Clinic Transform 2013 -- Connecting for Change, Rushika Fernandopulle, M.D., a practicing physician and co-founder and CEO of Iora Health, a healthcare services firm based in Cambridge, Mass., discusses his mission is to build a radically new model of primary care. His segment begins about 4:00 minutes into 26:03 video.
Sign in to download the full article
0 comments