CohesiveFT Makes It Easy to "Roll Your Own" Virtual Servers
Customer-Led Innovation in Virtualization, Service-Oriented Infrastructure and Cloud Computing
Cohesive Flexible Technologies is a software start-up whose story to-date provides six best practices in customer-led innovation.
They ran in front of the parade to commercialize what lead users (advanced IT architects) were already doing.
They added value by tackling the hardest problems – ones these lead customers were struggling with.
They provide structure and scaffolding to enable customer creativity.
They convert customers' free prototypes into robust commercial solutions those customers can test and use.
They make it easy for lead users to share their creations and learnings with one another.
They look for patterns in the way the customers use your tools to build their tools—that's your competitive advantage and your future direction!
NETTING IT OUT
In my book, Outside Innovation , I profiled CohesiveFT to explain the subtleties in open source software business models. The evolution of this technology start-up continues to fascinate me. Now, two years later, here's a brief update. This case study in progress provides important take-aways for two different audiences:
For Business Execs: How do you design and evolve a business strategy that is powered by customer-led innovation? The evolution of start-up CohesiveFT provides six key principles that can be applied to many customer-led business ventures. Jump to "How to Design a Business to Leverage Crowd-Sourcing" on page 18 for this discussion.
For IT Architects: How do you design and maintain a computing architecture that is as dynamic as your business? How can you take advantage of virtualization to increase agility while lowering costs? Cohesive Flexible Technologies (CohesiveFT) enables IT architects to build and manage custom application stacks that are deployed in virtual computing environments. CohesiveFT's Elastic Server On-Demand enables technologists in small and large enterprises to quickly configure custom-manufactured system architectures to meet industry-specific and company-specific "long tail" requirements.
COHESIVE FLEXIBLE TECHNOLOGIES
Mission
CohesiveFT is a technology start-up based in Chicago with offices in Palo Alto and London. Its goal is to empower IT architects and developers to assemble, deploy, and manage customized software environments on virtual computing servers. CohesiveFT makes it easy for developers to "roll their own" application stacks or middleware by mixing and matching the specific infrastructure services that their firms' particular applications require.
FOUNDERS' BACKGROUNDS. CohesiveFT was founded in 2006 by three long-time partners: Craig Heimark, Patrick Kerpan, and Dwight Koop, and a new member to the group, UK-based Alexis Richardson. The three men began working together over 20 years ago at O'Connor, a high-tech derivatives firm that was acquired by Swiss Bank (now UBS). Craig became the first global CIO of Swiss Bank Warburg. Pat became a Managing Director at CIBC and Executive Director at Swiss Bank. Dwight was global head of data center operations and technical security for Swiss Bank's capital markets division. Pat and Dwight sold their start-up, Bedouin, to Borland, where Pat served as General Manager of one of Borland's most profitable divisions and later as CTO. Dwight Koop worked as Pat's VP. Together they convinced Borland to acquire Starbase. Meanwhile, Craig Heimark became a consultant. His clients included Reuters and the Chicago Board Options Exchange (CBOE). Craig currently serves as a board member for Deutsche-Bourse in addition to his role as CEO and Chairman of CohesiveFT.
CohesiveFT's Elastic Server on Demand Custom Manufacturing Platform
Produces a Custom-Built Virtual Server in Minutes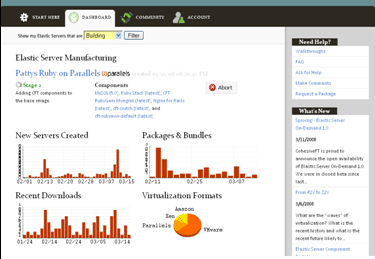 © 2008 Cohesive Flexible Technologies
Illustration 1. You can watch the progress of CohesiveFT's Virtual Server Manufacturing operation online as customers' built-to-order application stacks are being built. It's a little bit like watching customer-configured Dell computers roll off the assembly line. In this shot, we're three minutes into the build of my Ruby on Rails virtual server.
As both Pat and Dwight were wrapping up their respective ventures, Craig and Alexis had met and begun brainstorming what kind of businesses would come from the world of open source software and the use of loosely coupled architectures. Alexis also has a background in derivatives trading and software startups. Soon the four-man team became convinced a new type of product and company could be formed.
When they first founded CohesiveFT, the team decided to leverage their background in financial technologies to provide software configuration and management for advanced technologists in financial firms—hence the original name of the firm—CohesiveFT (for financial technologies). Over the course of the firms' two-year history, the founders have discovered that the solutions they've developed are of value to technologists in many different industries, so they decided that the "FT" stands for Flexible Technologies rather than Financial Technologies.
Running in Front of the Parade
CohesiveFT's founders noticed a few years ago that forward-thinking IT architects were taking advantage of open source software and virtualization to create and deploy highly-customized virtual servers to support their firms' specialized applications. Instead of buying and maintaining large, monolithic application servers like BEA WebLogic or IBM WebSphere, which are designed to support horizontal applications in a variety of industries, these maverick lead users were configuring their own application stacks, combining open source modules like TomCat, Mule, Spring, and/or Hermes with proprietary services like IBM WebSphere MQ and then adding their own secret sauce to support industry-specific and firm-specific production applications. These custom-configured systems were being used to run financial trading applications, manufacturing operations, and other high-risk, high-value production environments. Maintaining and constantly evolving these optimized application environments was costly and required a high-degree of architectural expertise.
But CohesiveFT's founders also noticed that these custom application stacks were increasingly being configured and deployed as Virtual Machines using VMWare, Xen, or Parallels. They were even being provisioned and deployed on Amazon's Elastic Compute Cloud (EC2). Virtualization enabled these complex computing environments to be created and deployed as virtual appliances without the overhead and expense of having to deploy and manage separate hardware servers.
Assemble Your Own Virtual Server Starting with
Your Favorite Brand of Software Components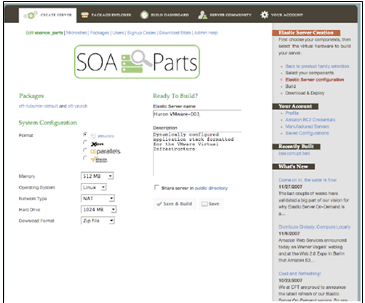 © 2008 Cohesive Flexible Technologies
Illustration 3. You assemble your own application stack by starting with the most appropriate set of software components for the task at hand. You can select different configuration and deployment options. Then you can mix and match these components with others that are available in CohesiveFT's component repository, or create your own component and add it to the manufacturing build.
Since virtual appliances are hardware-indifferent and software operating system agnostic, they can be deployed in a data center or in "The Cloud." Think of these as "long tail" virtual computing environments. You now have the flexibility to roll your own custom computing environment and deploy it anywhere with very little cost or overhead. The benefits are lower hardware costs, lower energy costs, and lower personnel costs with increased agility and flexibility.
After watching what lead users were doing and where they were having difficulties, the founding team at CohesiveFT realized that they knew how to design a software configuration and manufacturing environment that would make it much easier for developers to custom-configure, deploy, and manage their application stacks...
Sign in to download the full article
0 comments