A Community Fights for Its Right to Healthcare
Customers Enlist Regulators to Preserve Services In Boothbay, Maine
What recourse do you have when your sole supplier refuses to provide the services that customers need? You can go elsewhere. But that's difficult when you're in your eighties, you can't see well, and it's dark and stormy at night. Or you can fight for your right to be served. That's what the people on this hard-to-reach peninsula of mid-coast Maine are doing. Here's one part of their story.
NETTING IT OUT
The healthcare customers on the scenic Boothbay Maine peninsula have been fighting to retain their local hospital, emergency room, and skilled nursing beds. The Maine Commissioner of Health and Human Services threw them a proverbial bone. Mary Mayhew required the healthcare system that has shut down their hospital, closed their emergency room, and eliminated hospital and nursing beds, to at least provide 24-hour walk-in urgent care service. MaineHealth is saying "no" to the Commissioner.
This is the story of how members of the community are fighting through every channel they can to save or restore healthcare services to this small scenic peninsula that is home to the most elderly population in the country.
HOW I SPENT MY SUMMER IN MAINE
Call to Action
I got the phone call on Friday, June 27th, 2014. That was the last day that MaineHealth—the largest healthcare system in Maine—could request that Mary Mayhew, Maine's Commissioner of Health and Human Services, "reconsider" any of the conditions she attached to her approval of the Certificate of Need required by law for a hospital merger. The phone call came from Cindy Wade, the SVP of hospital operations at Lincoln County Healthcare—our local subsidiary of MaineHealth. It was a courtesy call. "I just wanted to let you know that we are filing a request for reconsideration," she said. "You'll see the email shortly, but I wanted to personally call and let you know. We're asking the Commissioner to reconsider her 'Condition 3'—the requirement for us to extend the operating hours of the new Urgent Care Center from 12 hours to 24 hours 7 days/week."

Photo by Joe Phelan, Portland Press Herald
Mary Mayhew, Maine's Commissioner of Health and Human Services.
I appreciated the courtesy and the outreach, but I have to admit that the call spoiled my weekend. It also triggered a fascinating and challenging process that is new to those of us who don't spend their lives as hospital administrators. So here I was—a volunteer in a community non-profit formed to increase access to local health and wellness services for our local population. And, now, I needed to confront a large corporation in a public hearing.
This is the story of "how I spent my summer." I think it's worth sharing because it's a true "David and Goliath" tale. "Goliath" is a $2-billion healthcare nonprofit. "David" is a small band of community activists who believe that customers should have some control over what kind of healthcare they receive for their healthcare dollars.
Repurposed Community Hospital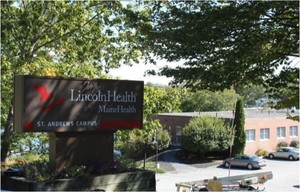 Photo Credit: Boothbay Register
2. What's left on the St. Andrews campus is an Urgent Care Center, physical therapy, wound care center, and a Family Care Center with primary care physicians.
This same story is playing out all across our country. Hundreds of small rural hospitals are being closed down by larger healthcare systems. These actions are irrevocable. It's very difficult to gain regulatory approval for a new hospital. These small community hospitals are part of a social safety net for people who live in rural areas. They have been supported financially by special "cost plus" reimbursement by Medicare as Critical Access Hospitals. They generally serve populations that have been marginalized in some way. They are elderly (our case), poor (also our case), and often minorities. Probably the most well-publicized of these current hospital closures is in Belhaven, North Carolina, whose mayor, Adam O'Neal, walked 237 miles to Washington D.C. in early August to protest the closure of his hospital with the support of the NAACP. You can follow the Belhaven story on their Facebook page.
Why Are Hospital Closures Rampant in the U.S.? Healthcare costs are very high in the U.S. Hospital stays account for a large percentage of those costs. 1) In an effort to save money, many healthcare systems consolidate their hospital operations so they can provide more services at high volumes in larger centers. 2) Unreimbursed ER visits and hospital stays are high in poor, rural areas in states that have refused to accept Federal Medicaid expansion (including Maine). Without Medicaid coverage, low income people can't afford to pay their hospital bills. 3) In most states, there is no need for regulatory approval to downsize or close a hospital; only to open a new one or to merge two existing ones.
How We Responded
The "we" in this case is the Boothbay Region Health & Wellness Foundation, an all-volunteer non-profit member organization, whose mission is to support access to local health and wellness services for the 7,000 people who live year round on our peninsula and the 24,000 people who live here from May to October. (See the history in the Timeline, below). Like many non-profits, the Foundation has a Board, members, supporters, and people it serves (who may not be members). What's wonderful about these community organizations is that…(more)
(Download the PDF to read the entire article.)
Sign in to download the full article
0 comments