Content Management Framework
Our Revised Criteria for Evaluating and Comparing Enterprise Management Systems
Content Management is a hot area, and choosing the right product can be difficult, especially when you aren't clear on what features to look for. This reports provides a framework with which to evaluate Enterprise Content Management Systems.
NETTING IT OUT
Organizations need to deliver a consistent set of experiences across multiple customer touchpoints. They need to manage, in a systematic manner, the different kinds of information they publish and ensure that their customers receive current content just in time. Thus an enterprise content management system (ECMS) combines the capabilities of a Web content management system (WCMS), an electronic document management system (EDMS), and a digital asset management system (DAMS). To embed the necessary structure and intelligence into the content, organizations are also relying on XML publishing capabilities.
We use the following six criteria to assess an ECMS:
• Content Management Lifecycle. To evaluate the content management lifecycle, we examine how content is created, how it is organized and staged, how it is produced and delivered, as well as how it is aged and archived.
• Content Granularity. To evaluate content granularity, we describe the content components--ranging from entire documents to discrete chunks—that a product manages.
• Metadata Management. To evaluate metadata management, we examine how a product categorizes content components into discrete categories.
• Application Integration. To evaluate application integration, we identify the tools and techniques for integrating content management capabilities with ebusiness portals, CRM systems, and other enterprise applications.
• Administration. To evaluate administration, we determine whether a product provides a single point of administration and an easy-to-use administration environment.
• Globalization. To evaluate globalization, we examine a product's support for translation and localization when managing content for worldwide distribution.
The line-of-business staff within an organization should be able to manage the content for the day-to-day operations on their own, without involving the technical staff. An ECMS provides the environment for organizing, storing, and publishing the content that fuels a total customer experience.
THE CASE FOR ENTERPRISE CONTENT MANAGEMENT
Converging Technologies to Support Key Business Processes
Organizations, we believe, are facing a crisis of content as they build interactive environments to sustain relationships with customers and business partners. Firms can no longer tolerate stovepiped business processes in which the content they produce for their Web sites, channel partner sites, emarketplaces, and ebusiness portals is separate and distinct from the content produced for print distribution. Companies and government agencies alike need to deliver a consistent set of experiences across multiple customer touchpoints. They need to manage, in a consistent manner, the different kinds of information they publish and ensure that their customers receive current content just in time.
Thus we are witnessing the convergence of four separate approaches to creating an enterprise content management system: Web content management, electronic document management, digital asset management, and XML publishing. (See Illustration 1.)
Creating an Enterprise Content Management System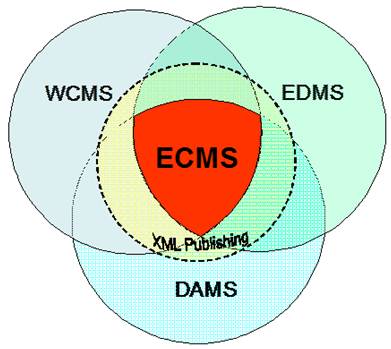 © 2004 Patricia Seybold Group Inc.
Illustration 1. An enterprise content management system (ECMS) combines the key capabilities of Web content management systems (WCMSs), electronic document management systems (EDMSs), and digital asset management systems (DAMSs). XML publishing (represented by the dotted circle in the middle) provides an enhanced structure for tagging and managing any type of content component in the ECMS.
WEB CONTENT MANAGEMENT. A Web content management system (WCMS) delivers a comprehensive framework for creating and editing information for various Web sites. It provides a template-driven environment that separates the instances of individual content elements (such as text, graphics, images, and sounds) from their form and appearance within a Web browser. Most importantly, a WCMS overcomes the "Webmaster bottleneck" for content delivery. A WCMS provides the processes that the line-of-business staff within an organization (those who are responsible for creating content and keeping it up-to-date) can use to publish content on the Web on their own, without requiring the ongoing support from Web-savvy technologists.
ELECTRONIC DOCUMENT MANAGEMENT. An electronic document management system (EDMS) manages the various stages of a document lifecycle. It includes a structured document repository together with extensive workflow capabilities. With an EDMS, organizations can set in place standard operating procedures to determine how staff members create new documents, edit and review them in a systematic fashion, and secure approval for their publication. The output of an EDMS is essentially electronic renditions of physical documents (such as Microsoft Office application files, .PDF files, and Web pages) with static images and graphics.
DIGITAL ASSET MANAGEMENT. Organizations that already work extensively with multimedia content (such as images, sounds, animation, and full-motion video) have often implemented digital asset management systems (DAMSs). Beyond simply ingesting, digesting, and distributing alternative multimedia file types (and, in so doing, managing very large repositories as well as multiple media-editing tools), a DAMS provides the capabilities for searching through a multimedia collection, finding individual assets, maintaining copyright protections, and delivering them to output devices.
XML PUBLISHING. Organizations are also facing an additional challenge: the need to embed structure into their content management environments by using XML-tagged documents. XML allows companies to decompose their content into globally identifiable semi-structured "chunks," or content components. These components, in turn, can be dynamically assembled for multiple purposes, such as tailored collections based on predetermined profiles or context-specific criteria. In addition, organizations can organize collections of XML tag sets into metadata schemas, from which end users and applications can infer relationships among multiple entities. As a result, companies can begin to link ad hoc content components to specific business processes and to transactional systems.
Companies that produce product catalogs—both online and in print—are currently migrating toward XML publishing. So, too, are manufacturers who supply technical documentation, product descriptions, and customer decision-making parameters to the distributors and retailers who sell the supplier's products. This widespread migration to XML publishing on the part of virtually every company that produces or sells products is one of the key drivers for the investments being made in content management solutions today.
AN EVALUATION FRAMEWORK
Six Key Criteria
An enterprise content management system blends the critical capabilities of a WCMS, EDMS, and DAMS; organizes them into an integrated platform; and exploits the embedded capabilities of XML tag sets and related metadata schemas. In order to best understand the strengths and weaknesses of individual vendors' product offerings, we have developed an enterprise content management (ECM) framework. As shown in Illustration 2, this framework focuses on the following six key criteria...
Sign in to download the full article
0 comments