Customer Service Supplier and Product Update 3Q2011
3Q2011 Was a Quiet Quarter for Customer Service
3Q2011 was quiet quarter for customer service. Customer growth was mixed but mostly down, mixed financial performance resulted, and there were few product or company announcements. The biggest company news was Oracle's acquisition of RightNow.
NETTING IT OUT
3Q2011 was quiet quarter for customer service.

Customer growth was mixed but mostly down for the quarter. Only two of our suppliers—Moxie and Salesforce.com—improved in both new and repeat customers.
Mixed financial performance resulted. IntelliResponse, Moxie, and Salesforce.com had big financial quarters.
3Q2011 was a quiet product quarter. Four of our ten suppliers did not make any product announcements. Two others announced only new product features. RightNow delivered the regular, quarterly release of its customer experience suite. eGain and Salesforce.com announced several new products.
Company activity was low in the quarter. Seven of our suppliers did not make any company announcements. Salesforce.com made another significant acquisition, its third of the year. The biggest company news was Oracle's acquisition of RightNow, the third of our customer service suppliers that Oracle has purchased this year!
One of our suppliers earned Customer Service Stars for 3Q2011—Salesforce.com.
Social-service continues to be the hottest trend in customer service. We call it social-service because it's about customers using social networks to get answers to their questions and solutions to their problems by monitoring and searching social media.
We've begun a research series on social-service. Our first evaluations will be completed soon.
Oracle | InQuira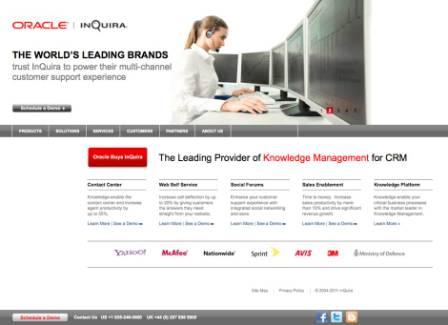 (Click on image to enlarge.)
© 2011 Oracle Corporation
Illustration 1. This illustration shows the home page of Oracle InQuira.
QUARTERLY REPORTS ON THE PERFORMANCE OF CUSTOMER SERVICE SUPPLIERS AND THEIR PRODUCTS AND SERVICES
With this report, we continue our seventh year of quarterly updates on the suppliers and products in customer service. These updates focus on factors that are important in the evaluation, comparison, and selection of customer service products. More specifically, we examine these factors in our quarterly updates:
• Customer acquisition and overall customer growth
• Product activity
• Company activity including mergers and acquisitions, partnerships and alliances, and hiring
• Company financial performance
In our evaluations of quarterly performance, we want to see continuing customer growth, ongoing improvements in products, steady company viability, and good financial performance. We don't want to change our evaluations based on a quarter's news, but we do want to raise a red flag when that news deviates from a positive, multi-quarter trend, or to wave a green flag when that news is particularly good. When significant product and company events occur, we identify and highlight those that could have an impact on customer service products and technologies, suppliers, and the market landscape.
Customer Service Suppliers and Products
Here are the 10 customer service suppliers and products that we cover:
• Astute Solutions ePowerCenter and RealDialog
• Attensity Group E-Service, Voice of Customer Suite, Social Media Suite
• Consona Corporation Knova
• eGain Service
• InQuira 8
• IntelliResponse Answer Suite
• KANA 10 Service Experience Management, Overtone
• Moxie Software Customer Spaces Knowledgebase (formerly nGenera CIM nGen KB)
• RightNow CX
• Salesforce.com Service Cloud
A QUIET 2Q2011 IN CUSTOMER SERVICE
Overall, customer service performance was quiet for the quarter in customer growth, financial performance, product activity, and company activity. Two exceptions: Salesforce.com made a lot noise in all four areas, and RightNow was acquired by Oracle, becoming ...
Sign in to download the full article
0 comments