Customizing Greeting Cards Online
How Well Did American Greetings and Hallmark Meet My Customer Scenario?
Putting AmericanGreetings.com and Hallmark.com through a detailed customer scenario revealed some important lessons for all businesses. Among these lessons: keep your promises, provide a seamless experience throughout your customer ecosystem, and make sure help is helpful. The online greeting card market is an excellent example of customizable, on-demand product manufacturing.
NETTING IT OUT
Now that you can buy and send greeting cards online, there are so many other possibilities, like customizing cards, having them physically mailed to the recipient directly from the site, etc. We go through a card-buying customer scenario based on how I want to be able to purchase, personalize, customize, and send both electronic and paper cards.
We run both AmericanGreetings.com and Hallmark.com through the steps of the scenario to see how well they meet my needs.
Each site excels in certain areas and could use improvement in others, as is almost always the case.
But we identify some important lessons to be learned for all businesses along the way, including:
You must always live up to promises made on your site, so be sure that when you change something, all references to it are also changed.
Your brand is a single face representing your partners in your customer ecosystem, so provide a seamless experience for customers where they can manage all their information in one place.
Make sure that your help is helpful, so always allow customers to reach a person on the phone if they need to, and make your online help good enough and compelling enough so that they don't need to.
Enabling customers to customize your products will inspire more creativity and create a strong bond with your brand.
Navigating AmericanGreetings.com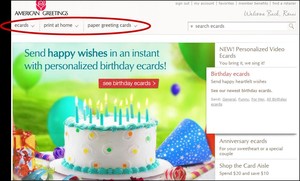 © 2013 AmericanGreetings.com
These three tabs appear on every site page.
EVALUATING THE ONLINE EXPERIENCE OF CUSTOMIZING GREETING CARDS
The Customer Scenario
Since the best way to evaluate how well a company is really doing at supporting customer needs is with a customer scenario, we tested two different online sites by following the scenario: I want to find, customize, and send perfect greeting cards to my family and friends with minimal cost and effort.
For the first time in all the years I'm been conducting these customer experience audits, instead of using a composite persona, I decided that I am the prototypical customer for this scenario. I always want to send the perfect card to each of my recipients—one that expresses exactly what I want to say, that has the appropriate tone for the recipient and occasion (humor, heart-felt, spiritual, etc.), and I want to be sure the card will arrive on the right date whether sent electronically or physically via snail mail. I take great pride in how I communicate with those that I care about, and I want my "voice" to be heard through the cards I choose to send, and so I admit to spending too much time searching for the card that my family member or friend—and that I—will remember long after the event is over. Just to share one such successful card, a few years before my father passed away, I came across the perfect Father's Day card. Although I sent that card over 10 years ago, I still remember what it said, and my step-mother remembers how much that one card touched my dad as he read it. The card read:
"Dad, I always wanted you to be proud of me.
But all you ever wanted was me to be proud of myself.
Happy Father's Day."
I still choke up when I think of how well that card expressed how I felt and what I knew my father felt.
I have never found a pre-printed card that was so on target since. But I am a writer, and I was delighted when online greeting cards became inexpensive and easy to create and send because I could craft a message to add to the card, if not create the entire card myself.
So, in this customer experience web self-service audit, our customer persona is me, Ronni, a 59- year old work-from-home consultant and writer, with lots of family and friends who range in ages from toddlers to senior citizens. I believe it is important to acknowledge people that I care about. However, because I work at home, and actually don't enjoy, nor have much time for physical shopping, I didn't used to send many greeting cards. I often missed acknowledging important dates in the lives of my loved ones due to basic—I'll admit it—laziness. As longtime readers know, I'm a great fan of online gift giving, and the ability to shop for and send cards electronically has allowed me to hide my laziness and makes me look like a hero for always remembering to reach out on important events.
My scenario is, "I want to send the perfect cards to the people I care about that arrive on time and that don't require me to leave the house to send."
Steps in the Scenario
The steps that I want to take to meet my scenario are listed in Table A. I'll follow those steps with three different online greeting card providers to see how each stacks up in helping me reach my goal…
(Download the PDF to read the entire article.)
Sign in to download the full article
0 comments