Desk.com from Salesforce.com
Customer Service for Small to Midsize Organizations
Desk.com is Salesforce.com's cloud-based customer service offering for very small to medium-sized businesses. Its strengths include case management and reporting capabilities, as well as channel and mobile device support. Case management capabilities are broad and deep. Reporting capabilities include dashboards and a large set of predefined reports, including reports on knowledge usage and performance. Desk.com's knowledge model and knowledge management services support multiple languages very well.
Its closest ompetitors are Freshdesk, Microsoft Dynamics CRM Service, and Zendesk. All of these offerings are built on a case management core with knowledge management, community, social customer service, chat, and contact center as included and/or add-on features. All of them deploy in the cloud and support mobile devices. All offer tiered packaging and pricing. Salesforce Desk.com's pricing is at the high end, but Desk.com has the deepest capabilities, especially in knowledge management and reporting.
NETTING IT OUT
Desk.com is Salesforce.com's customer service offering for very small, small, and mid-sized businesses as well as for small departments in larger organizations. The product is based on technology that came to Salesforce.com In its acquisition of Assistly in September of 2011. To date, we estimate that approximately 20,000 customer accounts have licensed Desk.com.
Desk.com provides case management, knowledge management, and communities/forums capabilities across assisted-service, self-service, and social customer service channels. Customers purchase subscription licenses for Desk.com for cloud-computing deployment using Amazon Web Services.
The product's self-service apps—knowledge management and search as well as communities/forums—support 50 languages.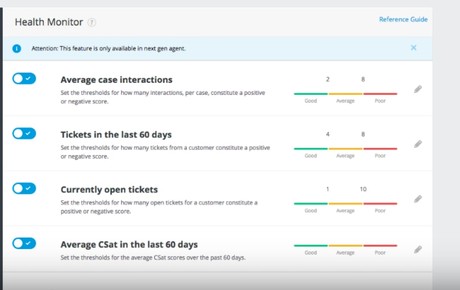 One of its most interesting characteristics is its Customer Health Monitoring. Customer Health puts the feedback of Customer Satisfaction scores into the context of recent case management activity, including the average number of case interactions, the number of cases in the last 60 days, the number of currently open cases, and the average CSat score in the last 60 days. On the other hand, Customer Health does not include customer self-service activities.
Desk.com earns a good report card. The product earns Exceeds Requirements grades in Knowledge Management, Customer Service Integration, and Company Viability. It earns Meets Requirements grades in Search and Product Viability. And, it earns a Needs Improvement grade in Reporting because it does not instrument or report on self-service activities.
Small and rapidly growing businesses with customer service staffs from one to several dozen should consider Desk.com. The product is easy and fast in its initial deployment and in its ongoing management. It provides broad and deep customer service capabilities and excellent channel support....
The product strategy for Desk.com described in this Product Evaluation Report transforms Desk.com from a customer service app to an application platform that combines customer service and sales functionality. This transformation recognizes that customer service agents are the post-initial sales face of a brand and the primary point of contact for customers. That customer service agents can become effective sales people has been a question for some time. However, if they can, then Desk.com will give them the facilities they'll need to become so....more
Members of our Customers.com Technologies' Advisory Service may download and read Mitch Kramer's full product evaluation.
Sign in to download the full article
0 comments