Do You See What I See?
Why Customer Service Reps Need to Be Able to Access What Customers Actually Saw
When customers can see information within their account pages on your website that your support agents can't see, how can they trust your CSRs to really help when there are problems? Make sure that your support personnel have the complete picture of your customers' transactions, interactions, and communications to and from your organization.
NETTING IT OUT
Ever talk to an "expert" and realize that you know more about the topic than she does? That happens too often when customers contact customer support representatives who don't have access to all the information that the customers can see on the web site, in their online accounts, in email from your company, or in snail mail notices and offers you've received.
Recently, I experienced two such incidents where I called for customer support and ended up having to "educate" the CSRs about what was going on in my account and what information I had access to. In both cases, they couldn't see the same things that I could see when I was in my personal account view of their organizations' websites.
So here are my stories of what went wrong with Hallmark.com and BankofAmerica.com customer support as well as my recommendations about what you should do to ensure that your CSRs are always armed with complete information. Only then can customers completely trust that they will be well taken care of.
INCORRECT INFO IN "MY ACCOUNT" ON HALLMARK.COM
Personalizing a Birthday Card
Last month was an important birthday for my beloved Aunt Edith—her 85th. And I wanted to send her a special card. As I have done for two years, I decided to customize a Hallmark card on Hallmark.com and have it mailed to her. I wrote about customizing and mailing paper cards with Hallmark.com a year ago in my article, "Customizing Greeting Cards Online1," raving about the site's customization capabilities:
"Here is where Hallmark excels. Virtually all paper cards and ecards allow a personal note to be added. But most [Hallmark] cards/ecards also allow you to modify or even completely change either the complete message or part of the card message! This is very impressive—for a very reasonable price, typically ranging from $1.59 for postcard size to $3.49 to $5.99 per standard paper card, you can basically create your own cards using the professional graphics and designs offered by Hallmark. (See Illustration 1.)
Hallmark.com does a great job [with mailing paper cards to recipients]. Your customized cards can be mailed via USPS to your U.S.-based recipients upon request... You just pay for standard first class postage, which is added to your credit card charge. This is one of my favorite features. I have a number of elderly relatives without email to whom I have Hallmark send customized cards. These cards are widely shown to their friends, and they are so touched by the customized messages!"
Customizing a Greeting Card on Hallmark.com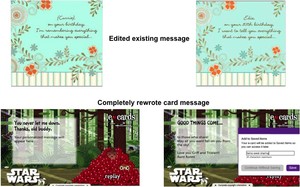 © 2014 Patricia Seybold Group Inc.
1. A great feature of Hallmark.com is that you can completely modify a greeting card, taking advantage of the professional graphics, animation, and audio that Hallmark provides.
So, on May 11, seven days before Edith's birthday, I went on the site and customized a card (see Illustration 2). I scheduled for it to be sent three days later to arrive a day or two before her Sunday birthday on the 18th.
Card Didn't Arrive—Site Said Order Was Cancelled!
But when I called her on her birthday, she hadn't received it. And when I called two days later, it still hadn't...(more)
(Download the PDF to read the entire article.)
[1] Customizing Greeting Cards Online: How Well Did American Greetings and Hallmark Meet My Customer Scenario?, by Ronni T. Marshak, June 20, 2013, Customers.com Press, http://dx.doi.org/10.1571/ce06-20-13cc
Sign in to download the full article
0 comments