E-Merchandising at drugstore.com
How drugstore.com Organizes and Automates Product Merchandising and Marketing
The online health and beauty store, drugstore.com, has organized its merchandising and marketing teams and automated its keyword management to enable a consistent customer experience from Google to shopping cart. At the same time, the merchandising and marketing teams are running a continuously changing array of site promotion and search engine ads and managing a 30 percent annual turnover of SKUs.
NETTING IT OUT
A buyer's search usually includes both search engines and on-site searches. In fact, more than half of all visitors to commerce sites start at a product detail page located through a Google or other Internet search. It makes sense, then, to establish consistent findability and marketing strategies that span both site search and Internet search. A major online retailer, drugstore.com, has done just that. It has incorporated a level of automation that ensures a consistent customer experience and more consistent marketing results.
Business Context
Online merchants want to deliver a great customer experience, in which buyers are swiftly connected with the products they need and are enticed with appealing offers. Achieving those goals requires not only a good search technology on the site, but also well-designed promotions and highly effective search engine marketing so that seekers on search engines such as Google will click through to the site.
E-merchandising and search engine merchandising can be extremely labor intensive. As each new product is added to the assortment, Internet search engines need to "know" about the product, searching for similar products must trigger ads for the site, the product must be optimally tagged and categorized so that buyers who reach the site will find it, and the product must be folded into existing or new promotions so that it is offered to customers at the most effective moment.
At drugstore.com, marketing and merchandising for new products and promotions is highly automated. A relatively small team manages 18,000 items (including 5,000 new items per year) and a million advertising keywords, while managing campaigns that add a million new customers per year.
Drugstore.com Customer Experience
Before we delve into how drugstore.com manages merchandising and marketing, let's look at the customer experience that those functions have to support.
The five primary methods drugstore.com uses to connect customers with products are:
Click-throughs from Internet search engines (like Google), portals (like MSN), and affiliate sites
Click-throughs from drugstore.com emails, box-stuffers, and other communications with its customers
On-site search/browse (for example, entering a search term or clicking a navigation link on the site)
Browsing "Your List," which is a list of items you've bought in the past or explicitly added to Your List
Suggestions and promotions, which are all driven by rules that factor in a buyer's past behavior
The merchandising and marketing staff at drugstore.com have several responsibilities: First, a buyer must find the product she needs immediately. Second, during her visit, she should discover other products that may interest her and new products she may not have been thinking about when she started her task. Great merchandising delivers suggestions that help a buyer with her task, rather than interrupt or annoy, and great merchandising is one of drugstore.com's aspirations. The buyer experience with the drugstore.com home page is presented in Illustration 1.
The drugstore.com Home Page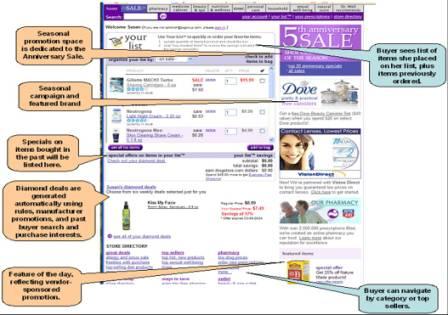 Illustration 1. The drugstore.com home page provides a wealth of promotions and offers and decent navigation for buyers.
While commercial software is available for Web sites, drugstore.com chose to develop its own proprietary search technology. It offers parametric search as well as full text search on name, package information, and ingredients. Items are recategorized based on people's browsing and buying behavior. The algorithm for selecting items to include in search results factors in past purchases of not only the seeker, but also the entire drugstore.com customer community. So, for example, if people who search on the term "migraines" repeatedly choose to read about ginseng, ginseng would be added to the migraine category, and/or it would be recognized as more relevant to the migraine search.
Sign in to download the full article
0 comments