Educating a Generation of Change-Makers
Meet Some Graduates of URDT's Breakthrough Curriculum
Uganda Rural Development and Training (URDT) has evolved and refined an educational curriculum that empowers students to become creators, leaders, and entrepreneurs. Meet some of the graduates of this innovative educational approach and hear their stories. These young women are changing our world as they teach their families, neighbors, and others how to create a vision for a profitable, sustainable life and help them achieve their dreams.
NETTING IT OUT
By Patty Seybold
Visionaries around the globe are focusing on improving our educational systems to nurture change-makers, creators, and entrepreneurs. For over 25 years, URDT has been evolving and delivering a secular educational curriculum that empowers people to envision a better future for themselves and their planet and equipping them with tools to achieve that vision and to teach others how to do so as well. These two young Ugandan women have benefitted from a unique education on the campus of Uganda Rural Development and Training (URDT).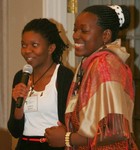 Catherine Namwezi and Godliver Businge speaking at an African Food and Peace Foundation fundraiser.
Catherine Namwezi attended the URDT Girls' School as a young orphan, and, while attending this free boarding school, used what she learned to manage her family and to improve their living conditions. As a sophomore in an American College—Hope College in Michigan—she spent the spring and summer of 2014 as an intern for the African Food and Peace Foundation which supports URDT. She returned to Uganda and spent some of her time tracking down students who had attended the URDT Girls' School since 2000, arranging their first reunion, and visiting with many of them in their homes.
Godliver Businge came to URDT as a young high school graduate looking for a job. Instead, she was offered a scholarship to the African Rural University on campus, where she learned visionary leadership and how to master the creative process. After two years at the University, she realized she really wanted to become an engineer, so she transferred to the URDT Vocational Institute. Grounded in the creative orientation, she quickly excelled in all the building trades she learned, and went on to study to become a civil engineer. Now she teaches other women to build water tanks, water filters, and toilets to provide clean, safe water in their communities, and soaps and perfumes in order to generate income.
HOW ARE URDT GIRLS' SCHOOL STUDENTS, ALUMS & THEIR FAMILIES DOING?
By Catherine Namwezi
Collecting Stories in the Field
During my summer internship, I went out to the field in 16 different subcounties to collect stories from the young women who attended the URDT Girls' School since its inception in 2000. I went out with a team of two people, and we occasionally worked with a third member, who would be the Epicenter Manager of the subcounty we worked with. Epicenter Managers are graduates of the African Rural University employed by URDT to work in different subcounties as Rural Transformation Specialists.
We had to cover 16 subcounties in 6 days. Therefore, the week was extremely busy and required a lot of time commitment and co-operation with the team members. The purpose of the field trip was to document some of the impacts of URDT on the lives of people within the Kibaale district.
We had planned to only consider the success stories of the students that passed through the Girls' School. However, while in the field, we realized that other people—like the parents of current students and community members who are only connected to URDT through Epicenter managers—were very interested in telling us how URDT has impacted them. Therefore, we decided to look at the impact of URDT Girls' School on old students, current students, and community members, but mostly focusing on the old students. This worked out really well. In cases where the parents or the students were no longer living in the community, we talked to community members instead, and even these interactions showed very positive results.
I was personally extremely impressed by how much impact URDT has had on the people in the different communities where we visited.
A lot of people constantly told us that before joining URDT, they did not have:
Co-operation in the family
A vision for the family
Good living conditions—they lived in very poor conditions—in terms of housing structure, nutrition, health, and domestic violence—and so many other factors
However, after joining the URDT Girls' School, the school taught them about the importance of having a family vision, the importance of working together as a family, and the importance of working towards having a better home in terms of peace, nutrition, and health. Today, a lot of people are very thankful that their daughter joined URDT Girls' School, simply because they now have very wonderful homes, both in terms of peace and prosperity.
For me, a few stories really stood out... (more)
(Download the PDF to read the entire article.)
Sign in to download the full article
0 comments