The Evolution of African Rural University
Co-Designed by Its Faculty, Students, and End-Customers (People the Grads Will Serve)
In all third-world countries, young people flee their parents' subsistence farms to seek education and jobs in the cities. For 25 years, URDT (Uganda Rural Development and Training programme) has been reversing that trend by providing education and vocational training to local men, women, and schoolgirls. The African Rural University is the most recent addition to URDT's 80-acre campus. Its mission: empower women to be effective change agents so that ARU graduates can create conditions for people to improve their lives, transform their communities, awaken inherent leadership, and increase their capacity for self-generating and sustainable change.
NETTING IT OUT
This is the story of the creation of a unique institution—one that is likely to impact the lives of millions of people in Africa. It's a story about having and realizing a vision—a BIG vision. The vision isn't the creation of a successful university. The vision is about the work that the graduates of that university will be empowered to do. The vision is about the seeds of creativity and innovation that will be planted in the people these graduates touch.
The African Rural University (ARU) is not a religious institution. It is fiercely secular. Yet the design for the institution that has emerged through its infancy and childhood resembles that of a religious institution. It attracts people—women—who want to make a difference in their world. It equips them with a creative orientation and a set of methods, tools, and experiences that make them uniquely qualified to engage in grass roots integrated rural development. When these women graduate, it sends them out into the field to teach others what they have learned and to empower them to create their own prosperity and happiness.
This is the story of how a group of innovative young women have been involved in co-designing the innovative University they decided to join.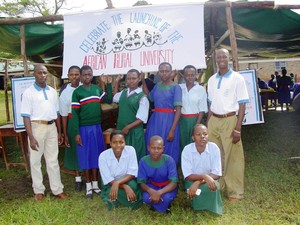 The "Launch" of the African Rural University—before we even had pilot students and faculty (or a building) was celebrated by Girls School students and teachers.
INNOVATIVE INSTITUTION GRADUATES RURAL TRANSFORMATION SPECIALISTS
University Education to Create Sustainable Development in Rural Areas
Many universities in third-world countries are located in urban areas and prepare their students for jobs in urban areas. ARU's founders wanted to create an institution of higher learning that would educate people who want to devote their careers to "bottoms up" integrated rural development. ARU graduates would work—not in the cities, but in remote villages—to promote sustainable development in rural areas of Uganda and the rest of Africa.
ARU education is contextualized in rural communities. One of its goals is to enable national and international "experts" to listen to, and learn from, rural people in their own communities.
Outgrowth of Community-Driven Development
For over 25 years, the local people in the Kibaale District of western Uganda have been participating in community-driven integrated development. Although the infrastructure in this rural district lags that of more populated urban areas (little electricity, no paved roads, no public water supply, little government support for local schools, inadequate healthcare, etc.), the people in this region have improved their education, sanitation, nutrition, health, and income-generating capabilities dramatically. Approximately three million people have been empowered due to the holistic methods and the creative mindset they have learned from a locally-founded and run non-profit, Uganda Rural Development and Training (URDT) Programme which is located in the town of Kagadi. For 25 years, URDT has been training local children, young adults, farmers, and entrepreneurs—both men and women—in visionary leadership and creative approaches to development. The training takes place both on URDT's 80-acre campus, through its educational institutions and through its radio programs, as well as through working directly in the communities with local people who become excited about taking charge of their own destiny and making things happen.
Although the founders of URDT envisioned and planned for an institution of higher learning when they founded URDT in 1987, the vision for the African Rural University began to crystallize in 2001. Mwalimu Musheshe articulated the idea for ARU when he was recognized as an Ashoka Fellow in 2001. Ashoka considered the African Rural University a systems changing idea. The need for the University became more urgent in 2003 to 2005. The URDT Girls School had started in 2000. In 2006/7 it would have its first high school graduates—young women who had already become de facto leaders in their local communities—who were thirsty for further training as rural development specialists. At the same time, the URDT founders recognized that the university was a logical organic outgrowth of all the development work that had been going on in the surrounding communities. There was so much information and knowledge flowing from the strengthened rural population that had been taking charge of its own development, they needed a way to capture and disseminate that learning and knowledge.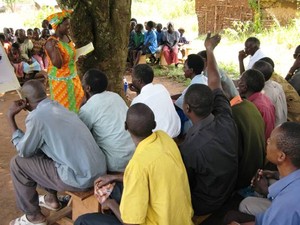 Resty Namubiru leading a community visioning workshop in Kabamba village during her third year at ARU. Resty is one of the "Researcher-Students" who is now employed as an Epicenter Manager.
First All Women's University
The African Rural University is the first all Women's university in Uganda. Part of the reason for restricting admission to women is:
To create a core of visionary female leaders to champion rural transformation.
To rapidly produce women leaders and role models.
To help achieve gender parity in higher education in Uganda and to reduce infant mortality. (According to Unicef, infant mortality rates decrease 100% once women have a college education.)
When the URDT founders first envisioned an institution of higher learning back in 1987, they had no gender bias. But they gained experience over 25 years working with the people in local communities, with the students of the Girls School (which was founded in 2000), and with the families of those girl students. By the time that ARU began to be formalized, its founders were more convinced than ever that women were the most effective change agents and leaders to champion rural transformation. They felt that…
(Download the PDF for the entire article.)
Sign in to download the full article
0 comments